CURRENT STATE AND PROSPECTS OF EVENT MANAGEMENT DEVELOPMENT IN UKRAINE
Keywords:
event management, development, strategy, event platforms, funding
Abstract
The modern world is characterized by the extremely rapid development of technology and science. The purpose of the article is to study the current state and development prospects of event management in Ukraine. The methodological basis of the article was the use of general scientific research methods, such as: analysis and synthesis, induction and deduction, as well as special research methods, such as: comparative analysis, graphic method, generalization method, etc. This trend has affected almost every sector of the economy in recent years. Automation and artificial intelligence in machines make life easier for employees every year and help them perform their duties much faster. Processes related to event management, such as organizing, conducting, and collecting feedback, are no exception. The latest event platforms and technologies have completely changed the views of specialists on conducting this particular type of activity.
Downloads
Download data is not yet available.
References
Carter L. event planning. Author's House, 2007, p. 3.
Tolkien J., Norton P. Event management. Elsevir Butterworth-Heinemann, 2006, 279 p.
Romantsov A. Event Marketing: the essence and features of the organization: textbook. Moscow: Dashkov & Co., 2011. 116 p.
Shawn A., Parry B. Successful Event Management: A Practical Guide. Cengage Learning EMEA, 2004, p. 13.
Shone, A. and Parry, Successful Event Management: a practical handbook, Cengage Learning: EMEA, Andover, UK.
Tassiopoulos D. Event Management: A Professional and Developmental Approach, D. Tassiopoulos ed. Juta Pty Ltd, 2013. 510 р.
Tum J., Norton P., Nevan J. Management of Event Operations Wright. Oxford: Elsevier/Butterworth Heinemann, 2006. 280 p.
Zelenskaya L., Romanova A. Event Management: dictionary-reference of the event organizer. Moscow: NAKKKIM publ., 2015, 84 p.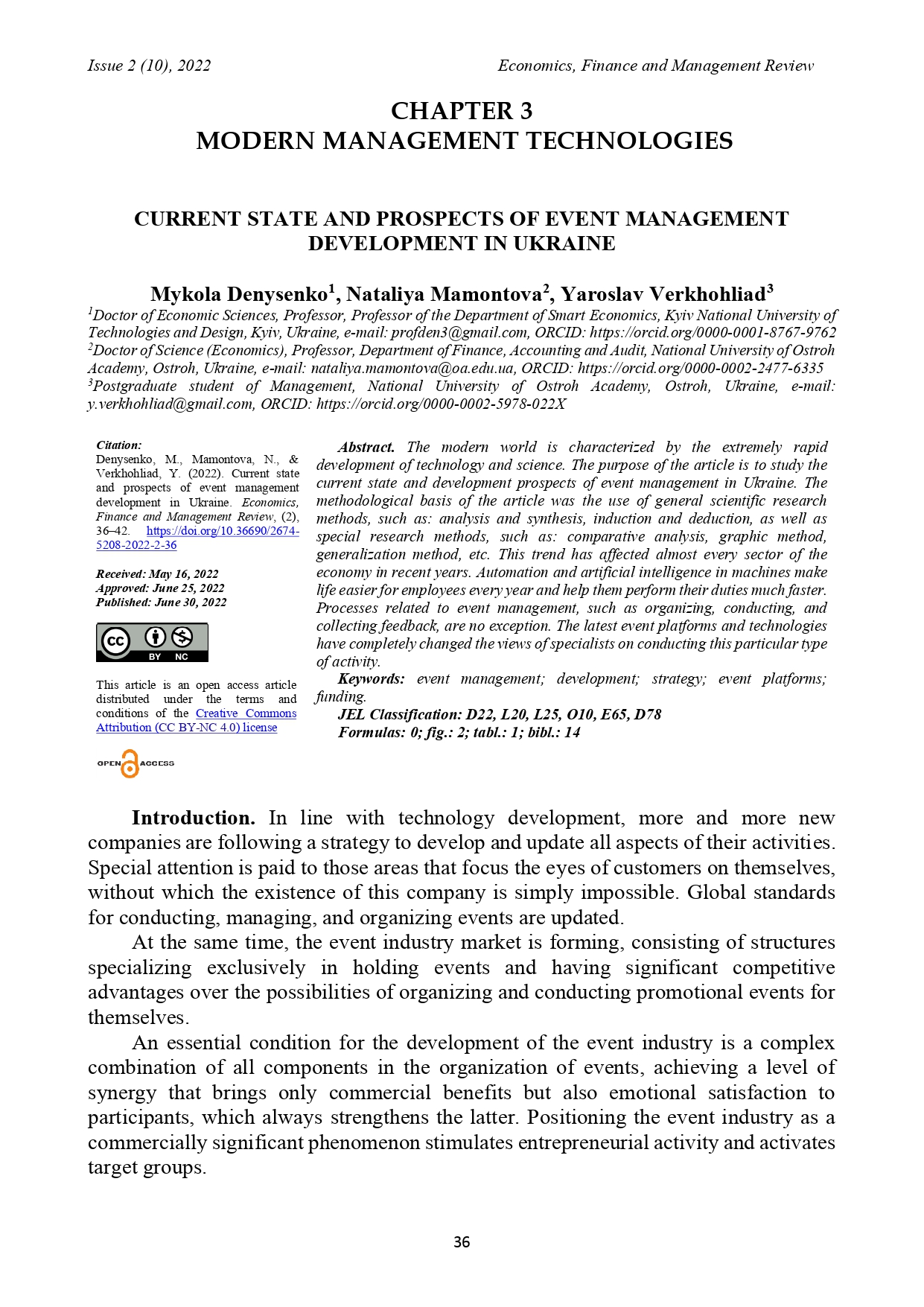 Downloads
How to Cite
Denysenko, M., Mamontova, N., & Verkhohliad, Y. (2022). CURRENT STATE AND PROSPECTS OF EVENT MANAGEMENT DEVELOPMENT IN UKRAINE. Economics, Finance and Management Review, (2), 36–42. https://doi.org/10.36690/2674-5208-2022-2-36
Section
Chapter 3. Modern management technologies
License
This work is licensed under a Creative Commons Attribution-NonCommercial 4.0 International License.