BUSINESS REPUTATION OF ENTERPRISES: DEFINITIONS, STRUCTURE AND REPUTATION RISK MANAGEMENT
Keywords:
business reputation, reputational risk, company's business reputation, image, information transparency, security, compliance
Abstract
The article is devoted to the study of the essence of the scientific category "business reputation", as well as its structure and components. The purpose of the article is to establish the impact of business reputation on the economic security of enterprises based on the study of the main definitions and structure of business reputation. The main methods of research are the methods of analysis and synthesis, the method of comparative analysis, the method of systematization, and the graphic method, which contributed to the achievement of the set purpose. The main results of the article are the author's interpretation of the concept of "company's business reputation". The article also summarizes the main components of the company's business reputation, namely: image; reputation of the manager; information transparency; transparent organizational culture; financial stability of the company; goodwill social adaptability of the company; product quality; compliance. As a result of the research carried out by the author, the definitions of the scientific phenomenon of business reputation were systematized according to the multi-level principle in terms of different approaches; legal; marketing; marketing and accounting; marketing process; accounting; accounting and legal. According to the results of the scientific work on reputational risks, we systematized the main types of such risks: direct actions of your company and company practices; actions of employees, leaders, investors, or anyone that directly represents your business or has a relationship with your business; direct actions by partners or suppliers; as a result of external factors, like customers. Effectively managing reputational risk involves five steps systematized, namely: assessing company's reputation among stakeholders; evaluating company's real character; closing reputation-reality gaps; monitoring changing beliefs and expectations; putting a senior executive below the CEO in charge. Therefore, taking into account the above, the main measures for effective management of reputational risk are proposed, which can become the basis of further research.
Downloads
Download data is not yet available.
References
Barnett, M., Jermier, J. & Lafferty, B. Corporate Reputation: The Definitional Landscape. Corp Reputation Rev 9, 26–38 (2006). https://doi.org/10.1057/palgrave.crr.1550012.
Fombrun, Charles J., The Building Blocks of Corporate Reputation: Definitions, Antecedents, Consequences, in Timothy G. Pollock, and Michael L. Barnett (eds), The Oxford Handbook of Corporate Reputation (2012; online edn, Oxford Academic, 21 Nov. 2012), https://doi.org/10.1093/oxfordhb/9780199596706.013.0005.
Gotsi, M. and Wilson, A.M. (2001), "Corporate reputation: seeking a definition", Corporate Communications: An International Journal, Vol. 6 No. 1, pp. 24-30. https://doi.org/10.1108/13563280110381189
Wartick, S. L. (2002). Measuring Corporate Reputation: Definition and Data. Business & Society, 41(4), 371–392. https://doi.org/10.1177/0007650302238774
Eckert, C. (2017), "Corporate reputation and reputation risk: Definition and measurement from a (risk) management perspective", Journal of Risk Finance, Vol. 18 No. 2, pp. 145-158. https://doi.org/10.1108/JRF-06-2016-0075
Robert G. Eccles, Scott C. Newquist & Roland Schatz (2007). Reputation and Its Risks. Harvard Business Review. URL: https://hbr.org/2007/02/reputation-and-its-risks
Schanz, KU. Reputation and Reputational Risk Management. Geneva Pap Risk Insur Issues Pract 31, 377–381 (2006). https://doi.org/10.1057/palgrave.gpp.2510092
Korzhevskyi Igor (2022). BUSINESS REPUTATION - ORIGIN, EVALUATION CRITERIA, GROUNDS FOR STUDY, OPPORTUNITIES AND INSPECTION TOOLS. Science Notes of KROK University, (1(65), 76–83. https://doi.org/10.31732/2663-2209-2022-65-76-83
Mihus, I. (2021). HISTORICAL ASPECTS OF THE FORMATION OF SECURITIES RATING IN UKRAINE. Science Notes of KROK University, (4(64), 9–20. https://doi.org/10.31732/2663-2209-2021-64-9-20
Mihus, I. & Dmitrenko, V. (2020). The role of corporate governance in ensuring economic security of enterprises in the construction industry. Corporate management: from creation to success. Scientific Center of Innovative Researches OÜ, Tallinn, Estonia. 175 p. pp. 6-22. DOI: https://doi.org/10.36690/CMCS-6
Lemke, F. and Petersen, H.L. (2013), "Teaching reputational risk management in the supply chain", Supply Chain Management, Vol. 18 No. 4, pp. 413-429. https://doi.org/10.1108/SCM-06-2012-0222
Nobanee, H.; Alhajjar, M.; Abushairah, G.; Al Harbi, S. Reputational Risk and Sustainability: A Bibliometric Analysis of Relevant Literature. Risks 2021, 9, 134. https://doi.org/10.3390/risks9070134
Power, M., Scheytt, T., Soin, K., & Sahlin, K. (2009). Reputational Risk as a Logic of Organizing in Late Modernity. Organization Studies, 30(2–3), 301–324. https://doi.org/10.1177/0170840608101482
Van, D. (2013). Reputational risk management in the corporate world. Keeping Good Companies, 65(4), 215–220. https://search.informit.org/doi/10.3316/informit.324234888878814.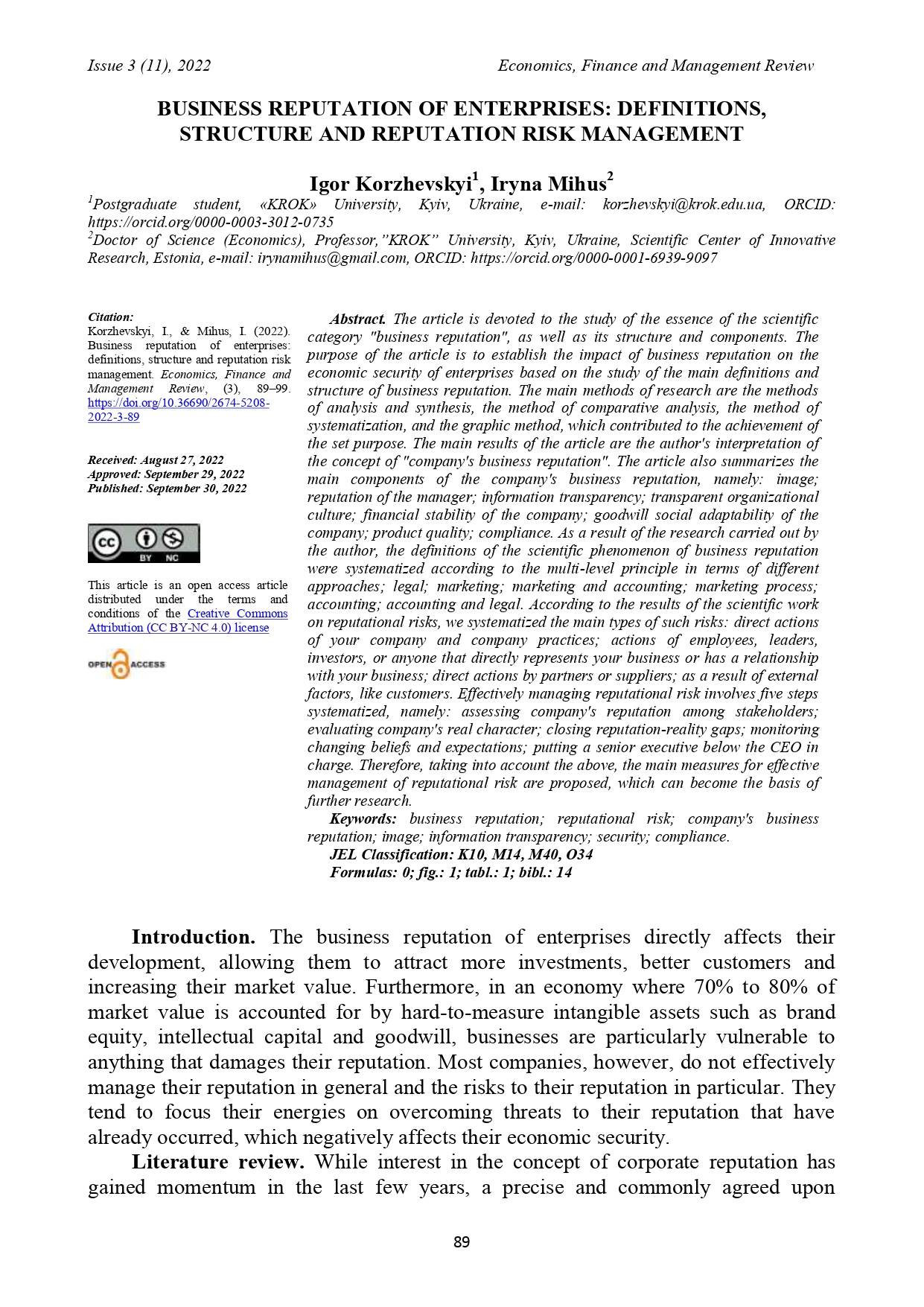 Downloads
How to Cite
Korzhevskyi, I., & Mihus, I. (2022). BUSINESS REPUTATION OF ENTERPRISES: DEFINITIONS, STRUCTURE AND REPUTATION RISK MANAGEMENT. Economics, Finance and Management Review, (3), 89–99. https://doi.org/10.36690/2674-5208-2022-3-89
Section
Chapter 3. Modern management technologies
License
This work is licensed under a Creative Commons Attribution-NonCommercial 4.0 International License.