CREATIVE INDUSTRIES AND THEIR ROLE IN UKRAINE'S ECONOMIC SYSTEM
Keywords:
creative economy, creative industries, economic and social innovations in economics
Abstract
In 2019, the United Nations General Assembly declared 2021 the International Year of the Creative Economy for Sustainable Development, recognizing the growing role of the creative industry in the economic development of both developed and developing countries. The importance of CI, which lies at the crossroads of art, business and technology, is constantly growing, they have become a strategic direction for increasing competitiveness, productivity, employment and sustainable economic growth (UNCTAD 2019). Creative industries are types of economic activities aimed at cr eating added value and jobs through cultural (artistic) and / or creative expression, respectively, their products and services are the result of individual or joint creativity, skills and talen. These economic activities include activities that are directly related to the creation of a creative product. At the same time, a significant contribution to the creative economy is made by related areas that provide support, facilitate, service and/or enable the creation, production and distribution of a product generated by the creative industries. UNESCO has defined the creative industries as industries whose purpose is to "create, produce and commercialize creative content that are intangible and cultural in nature". The main directions of creative goods export are Germany, the Russian Federation, Poland, Denmark, Belarus and Latvia. The largest suppliers of creative goods to Ukraine are China, Turkey, Poland, Germany and Italy. Over the last two decades, there has been a growing understanding of the importance of creative industries for society and the economy through the dissemination of concepts, ideas, skills, knowledge, which contribute to the development of innovation, technological progress, quality of life, etc. In particular, creative industries are important drivers of economic and social innovation in the economy. Creative industries contribute to the introduction of new ideas and technologies in other sectors, increase their productivity and competitiveness.
References
UNCTAD, 2019. How the creative economy can help power development. https://unctad.org/news/how-creative-economy-can-help-power-development
UNCTAD, 2004. Creative Industries and Development. https://unctad.org/system/files/official-document/tdxibpd13_en.pdf
Law of Ukraine "On Culture". [Electronic resource] // Verkhovna Rada of Ukraine: [official web portal]. - Access mode: https://zakon.rada.gov.ua/laws/show/2778-17#Text . - Screen title
Order of the Cabinet of Ministers of UKRAINE of April 24, 2019 № 265-r "On approval of economic activities that belong to the creative industries". - Access mode: https://zakon.rada.gov.ua/laws/show/265-2019-%D1%80#Text. - Screen title
List of codes of economic activities according to the national classifier. [Electronic resource] // State Tax Service of Ukraine: [official web portal]. - Access mode: https://tax.gov.ua/dovidniki--reestri--perelik/pereliki-/128651.html. - Screen title
European Statistical System Network on Culture, 2012. Final Report. https://ec.europa.eu/eurostat/documents/341465/3199631/essnet-culture.pdf/a6518128-69b3-4d89-82b8-060a3ad0d1d5
Department for Digital, Culture, Media and Sport, 2019. DCMS Sector Economic Estimates Methodology https://assets.publishing.service.gov.uk/government/uploads/system/uploads/attachment_data/file/829114/DCMS_Sectors_Economic_Estimates_-_Methodology.pdf
O. Nikolaeva. Creative industries: influence on the development of Ukraine's economy / O. Nikolaeva, A. Onoprienko, S. Taran, Yu. Sholomytsky, P. Yavorsky // [Electronic resource] - Access mode: https://kse.ua/wp-content/uploads/2021/04/KSE-Trade-Kreativni-industriyi.pdf - Screen title
Tax revenues to the Consolidated Budget of Ukraine in creative industries (2019-2020) // [Electronic resource] - Access mode: file:///C:/Users/Admin/Downloads/Creative%20Industries%20Taxes%202019-2020%20Ukraine.pdf - Screen title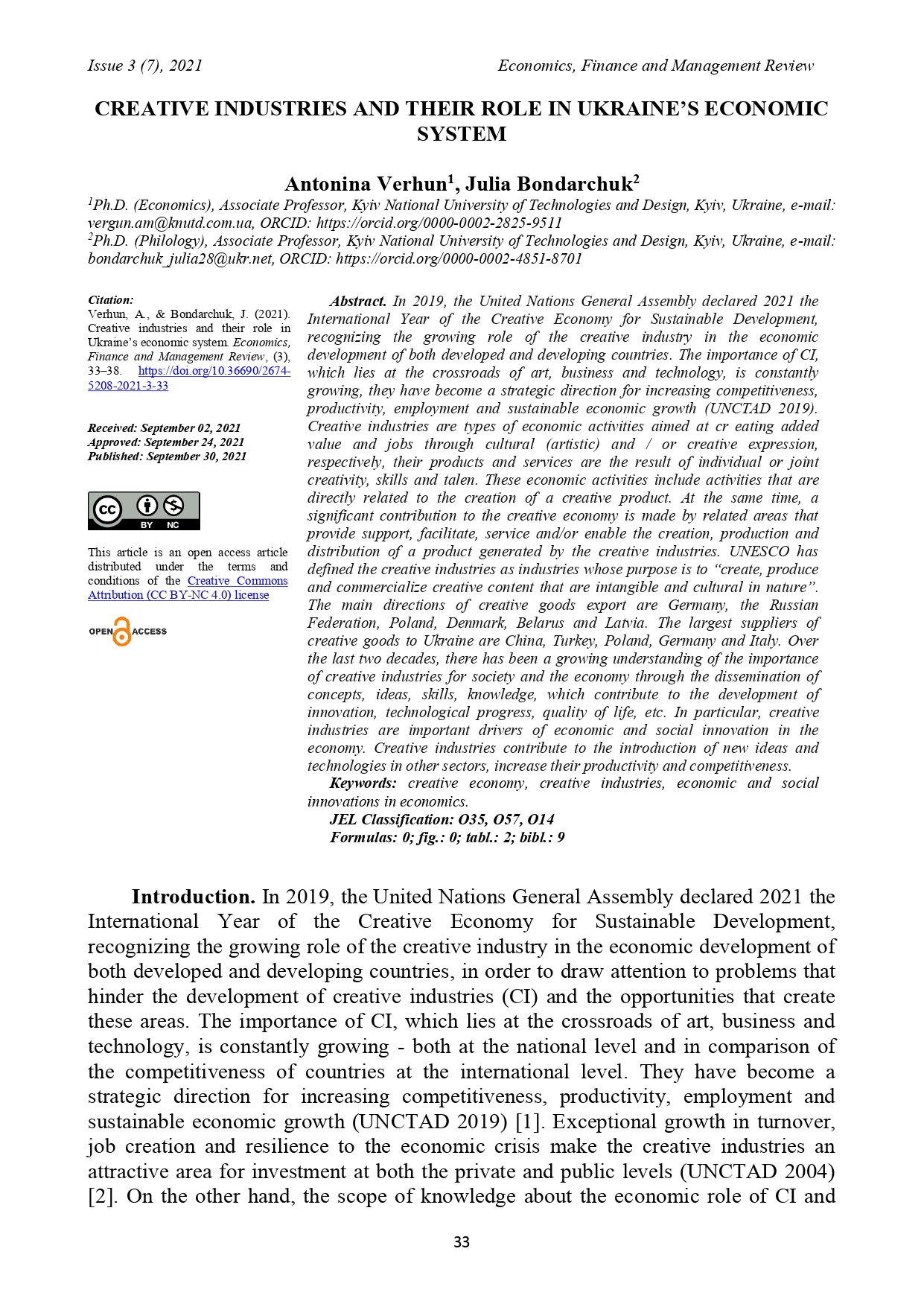 Downloads
How to Cite
Verhun, A., & Bondarchuk, J. (2021). CREATIVE INDUSTRIES AND THEIR ROLE IN UKRAINE'S ECONOMIC SYSTEM. Economics, Finance and Management Review, (3), 33–38. https://doi.org/10.36690/2674-5208-2021-3-33
Section
Chapter 1. Current trends in economic development
License
Copyright (c) 2021 "Scientific Center of Innovative Researches" OÜ
This work is licensed under a Creative Commons Attribution-NonCommercial-NoDerivatives 4.0 International License.