IMPACT OF THE STATE REGULATION OVER INVESTMENT PROCESSES IN THE CONSTRUCTION SECTOR: FOREIGN EXPERIENCE AND POSIBILITY TO THE UKRAINE
Keywords:
economic security, security management, enterprises in the construction industry, government management
Abstract
The article examines the main areas of investment in the development of enterprises in the construction industry, which are used in different countries. The most developed countries such as the United States, Britain, Germany, France and China have been studied. Methods and tools of state regulation of the process of attracting investment in construction have been studied. The government of Great Britain is a supporter of attracting foreign direct investment to the country, which is accompanied by the introduction of advanced foreign technology and an increase in the number of jobs. German provides equal business conditions to foreign and national investors. German law does not impose any restrictions on the import and export of foreign capital, on the participation of foreigners in the capital of companies that are established or on the holding of senior positions by foreigners in such companies. The attitude of France to foreign investment is generally friendly although the government's position towards it is changing from time to time. Investment of foreign capital is not allowed or it is limited only in certain sectors of the economy like subsoil exploration, mining or pharmaceutical industry. The main priorities of the USA investment policy are to attract investment to the country, as well as to stimulate foreign investment in order to create additional jobs and economic recovery. Thanks to foreign investment, China the issue of employment is solved, the transition to high-tech production is carried out, the economy is transitioning to a market format and becomes integrated into the world economy. The experience of attracting investment from foreign countries can be useful for the Ukrainian government.
Downloads
Download data is not yet available.
References
Buhrynets, R.A. (2009), "Regulation of foreign direct investment in some countries", Visnyk Donetskoho natsionalnoho universytetu. Ser. V: Ekonomika i pravo, №1, pp. 360-365.
"Financial Ukraine" is an information and analytical portal of the Ukrainian Financial Development Agency (2020), retrieved from: http://www.ufin.com.ua/index.htm.
Isaienko, D. (2011), "Housing construction abroad: experience for Ukraine", Publichne upravlinnia: teoriia ta praktyka, №3(7), pp. 146-151.
Rakhman, Y.A. (2001), "Foreign experience in regulating investment and construction activities", Эkonomyka stroytelstva, №6, pp. 45-52.
Investment funds and the investment mechanism in Germany (2020), retrieved from: http://www.ereport.ru/articles/finance/geinvest.htm.
Bulhakov, Y. Kazantsev, S.V. and Fynkel, S.M. (2003), Ynvestytsyonnoe obespechenye эkonomycheskoho razvytyia: kapytal, vlozhenyia, stroytelnыi kompleks, proektyrovanye [Investment support of economic development: capital, investments, construction complex, design], VO «Nauka», Novosibirsk, Russia, 186 p.
Investment policy USA (2016), retrieved from: http://www.ufin.com.ua/index.htm.
Investing in China. Forms of investment (2015), retrieved from: http://vchae.com/investitsii-v-kitay-formi-investicii/.
Turekulova, A.B. (2015), "State regulation of investment activity: the experience of foreign countries", retrieved from: http://www. rusnauka. com/16_EI SN_2015/Economics/15_194308.doc.htm.
Corporate governance in the system of economic security of joint stock companies of Ukraine (Denisenko M.P., etc.), 2012 (Ukrainain).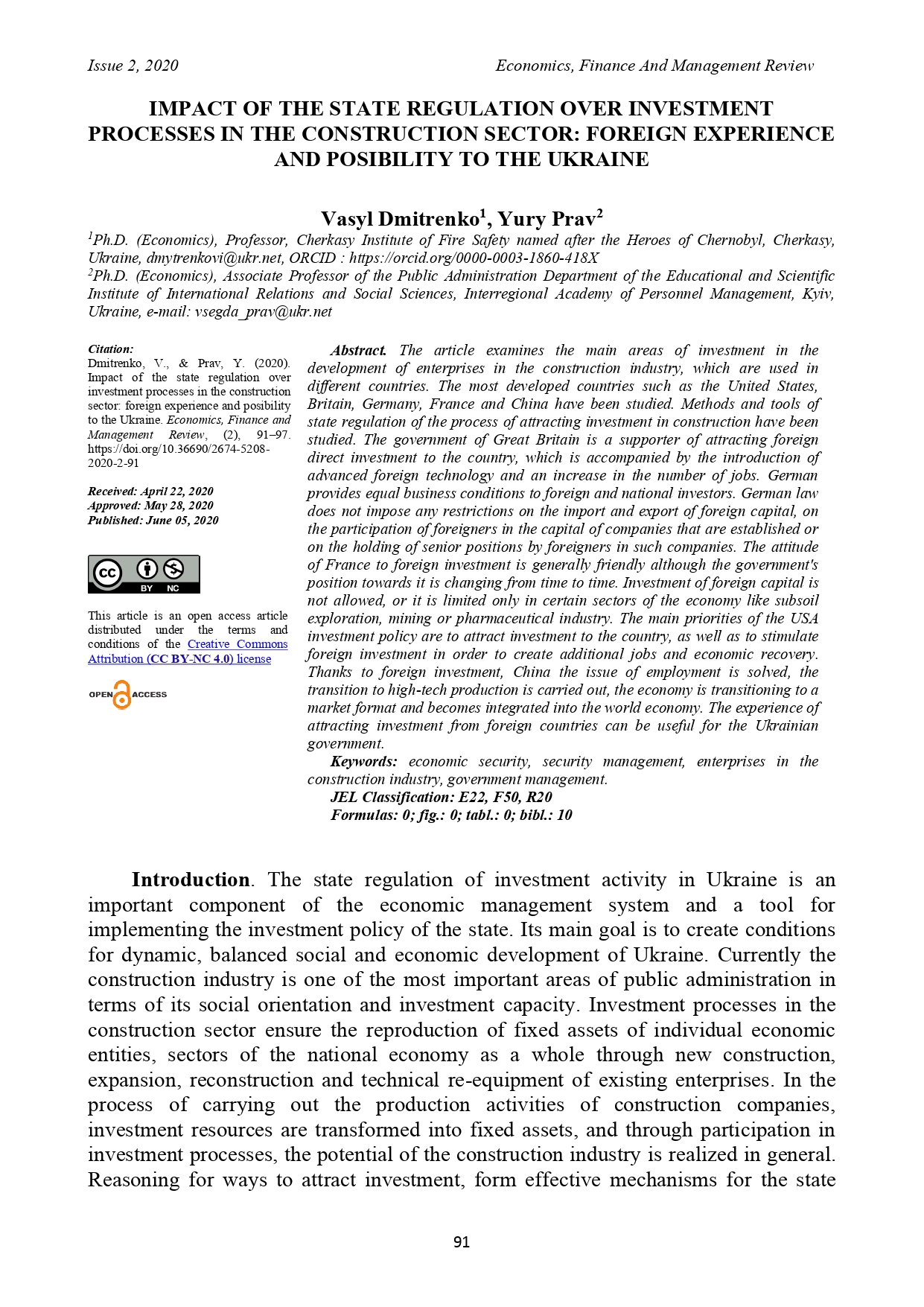 Downloads
How to Cite
Dmitrenko, V., & Prav, Y. (2020). IMPACT OF THE STATE REGULATION OVER INVESTMENT PROCESSES IN THE CONSTRUCTION SECTOR: FOREIGN EXPERIENCE AND POSIBILITY TO THE UKRAINE. Economics, Finance and Management Review, (2), 91–97. https://doi.org/10.36690/2674-5208-2020-2-91
Section
Chapter 3. Modern management technologies
License
This work is licensed under a Creative Commons Attribution-NonCommercial 4.0 International License.