SECURITY THINKING: THE UKRAINIAN CONTEXT
Keywords:
security thinking, security mindset, security landscape
Abstract
In an increasingly interconnected world, the security landscape has become exponentially more complex. Organizations and individuals face a myriad of threats, from sophisticated attacks to ever-evolving vulnerabilities. In order to successfully navigate this treacherous terrain, it is critical to develop a safety-focused mindset. Taking this proactive approach can pave the way for resilience to complexity, where strong defenses and adaptive strategies work in tandem to protect our security ecosystem. Security Thinking is a proactive approach to analyzing and addressing potential risks and vulnerabilities in order to enhance security measures. It involves a mindset that prioritizes prevention, preparedness, and adaptability to protect against various threats and challenges. Security Thinking encourages individuals and organizations to consider security implications at every level, from technology and processes to human behavior, promoting a resilient and secure environment. It is a continuous and dynamic process that seeks to stay ahead of emerging threats and evolve in response to changing security landscapes. At the same time, there is another definition. Security Mindset is an individual's or organization's way of thinking that places a strong emphasis on security and risk management. It involves being proactive in identifying potential threats, vulnerabilities, and weaknesses in systems, processes, and behaviors. Developing a security mindset is not an end point, but a continuous journey. Using intellectual rigor and an innovative spirit, you can significantly influence the formation of a security ecosystem. The principles of resilience to complexity and a holistic approach to security, guided by a security-centric mindset, are becoming a dynamic force in protecting the security ecosystem. By integrating physical security, modernized legislation, social engineering, data privacy protection and psychological security, we can build a fortress against a wide range of threats. However, the unprecedented challenges associated with Russia's full-scale war against Ukraine have significantly complicated the architecture of modern security, creating a need for the development of a new paradigm of security thinking and practical tools for its application. 
Downloads
Download data is not yet available.
References
Disaster Resilience: A National Imperative URL: https://www.nap.edu/download/13457
Stephen M. Bellovin, Thinking Security: Stoping Next Year's Hackers, Addison-Wesley Professional Computing ISBN: 978-0-13-427754-7 380 р.
Buzan B., Waever O. Security: A New Framework for Analysis. — Boulder: Lynne Rienner Publishers, 1998.
UNDP. Human Development Report 1994. Oxford : Oxford University Press, 1994. URL: http://hdr.undp.org/sites/default/files/reports/255/hdr_1994_en_complete_nostat s.pdf
Held D., McGrew A. The End of the Old Order? Globalization and the Prospects for World Order. Review of International Studies. 1998. Vol. 24. No. 4. Pp. 219– 245.
Chandler D. Resilience and human security: The post-interventionist paradigm. Security Dialogue. 2012. No. 43(3). Рp. 213–229.
Reznikova О., Voytovsky K., Lepihov A. Organization of the national resilience system at the regional and local levels : Analytical Report]. К. : NISS, 2021. 140 p
Reznikova О. (2022). Strategic analysis of the security environment of Ukraine / O.V. Kyiv: National Institute of Strategic Studies https://niss.gov.ua/news/statti/stratehichnyy-analiz-bezpekovoho-seredovyshcha-ukrayiny.
Frederick, B., Charap, S., Boston, S., Flanagan, S.J., Mazarr, M.J., Jennifer, D.P., Moroney, J., and Muller, C.P. (2022). Ways of Russian escalation against NATO from the war in Ukraine. RAND Corporation, https://doi.org/10.7249/PEA1971-1
Benjamin, J., Adrian, B. (2022). The coming storm: Ukraine's views on the escalation of modern warfare. CSIS Center for Strategic and International Studies. https://www.csis.org/analysis/coming-storm-insights-ukraine-about-escalation-modern-war
Sweiss, T., Bertolini, M. (2022). How wars end. Stopping the War: Perspectives on the Russian-Ukrainian War. The Hague: The Hague Center for Strategic Studies https://hcss.nl/wp-content/uploads/2022/05/How-Wars-End-HCSS-2022.pdf
https://ms.detector.media/kiberbezpeka/post/30938/2023-01-03-vid-pochatku-vtorgnennya-v-ukraini-zafiksuvaly-1500-kiberatak-sered-golovnykh-tsiley-informatsiyni-operatsii-ta-vkydy
https://nv.ua/ukr/ukraine/events/rf-vikoristovuye-socmerezhi-dlya-raketnih-udariv-po-ukrajini-novini-ukrajini-50291904.html
https://www.visionofhumanity.org/maps/#/
https://www.heritage.org/index/country/ukraine
https://www.theglobaleconomy.com/rankings/human_flight_brain_drain_index/Europe/
Reznikova O. O. National stability in the conditions of a changing security environment: monograph. – Kyiv: NISS, 2022. – 532 p.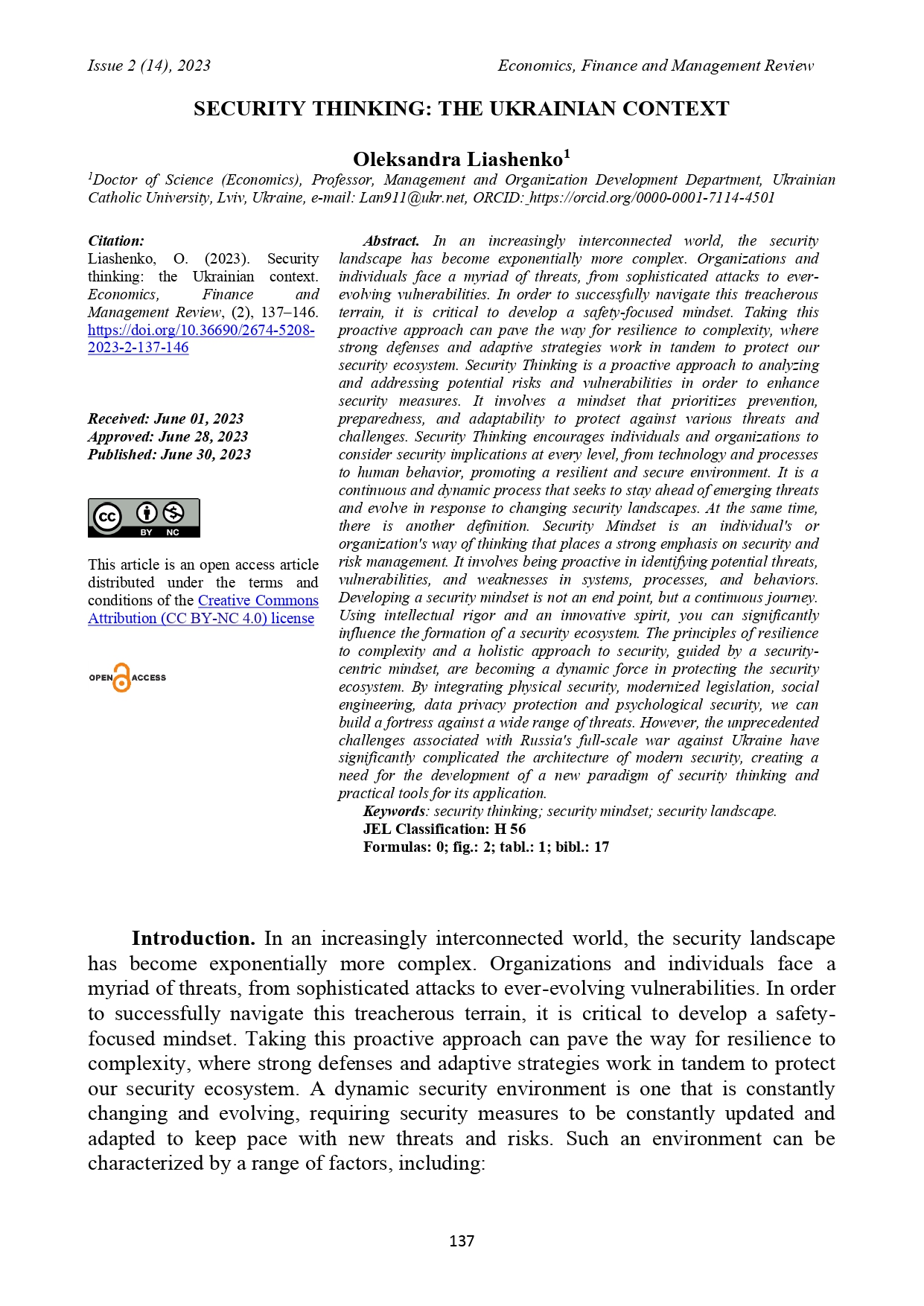 Downloads
How to Cite
Liashenko, O. (2023). SECURITY THINKING: THE UKRAINIAN CONTEXT. Economics, Finance and Management Review, (2), 137–146. https://doi.org/10.36690/2674-5208-2023-2-137-146
Section
Chapter 3. Modern management technologies
License
This work is licensed under a Creative Commons Attribution-NonCommercial 4.0 International License.