THE MAIN WAYS OF LEAKING COMMERCIAL SECRETS AND MEASURES TO PROTECT THEM
Keywords:
corporation, information, commercial information, trade secret, flow of information, information protection
Abstract
The study is devoted to the study of international experience in the protection of trade secrets in the leading countries of the world. The purpose of the study is a comparative analysis of the features of international experience in protecting the commercial secrets of corporations. The methodological basis of the study was the use of methods of comparative analysis, methods of analysis and synthesis, as well as an expert survey and a graphic method for presenting the results of the study. The main results of the study are the systematization of commercial information according to the degree of protection, as well as the generalization of the practice of the EU member states regarding the protection of commercial secrets. The main ways of disclosing information constituting a commercial secret are classified: communication of the specified information to other persons, in particular to competitors; providing documents containing information constituting a commercial secret to other persons for perusal; notification of the above-mentioned information in mass media, etc. Systematized measures for the protection of confidential information constituting a commercial secret, namely: organizational, legal, physical, technical and psychological. Organizational measures include a set of measures to protect information that is important for the enterprise by restricting access to it. Technical means involve the use of special programs and equipment that make it impossible to view and/or copy important electronic information. Legal measures involve bringing the internal documents of the corporation into compliance by making appropriate additions to them. The study presents the results of a survey of representatives of EU commercial structures regarding the leakage of trade secret information and tools for protection against leakage.
Downloads
Download data is not yet available.
References
François Dessemontet. Protection of Trade Secrets and Confidential Information. URL: https://www.unil.ch/files/live/sites/cedidac/files/Articles/Protection%20Trade%20Secrets.pdf
Study on Trade Secrets and Confidential Business Information in the Internal Market. URL: с
Barbe, A. & Linton, K. (2016). Trade Secrets: International Trade Policy and Empirical Research: Draft Version: (August 5, 2016) https://www.oecd.org/sti/144%20-%20OECD%20Trade%20Secrets%202016-8-5.pdf.
Information and Data Security. URL: https://www.idc.com/getdoc.jsp?containerId=IDC_P33456
Friedman, David D., William M. Landes, and Richard A. Posner. 1991. "Some Economics of Trade Secret Law." Journal of Economic Perspectives, 5 (1): 61-72.
Linton, K. (2016). The importance of trade secrets: new directions in international trade policy making and empirical research. J. Int'l Com. & Econ., 1.
Farouq Ahmad Faleh Alazzam, & Rasha Bashar Ismail Al sabbagh. (2021). The importance of non-tariff barriers in regulating international trade relations. Public Administration and Law Review, (1), 92–104. https://doi.org/10.36690/2674-5216-2021-1-92
Coe, R. N. (1994). Keeping trade secrets secret. J. Pat. & Trademark Off. Soc'y, 76, 833.
Mihus , I., Akimova , L., Akimov О., Laptev , S., Zakharov , O., & Gaman , N. (2022). Influence of corporate governance ratings on assessment of non-financial threats to economic security of joint stock companies. Financial and Credit Activity Problems of Theory and Practice, 6(41), 223–237. https://doi.org/10.18371/fcaptp.v6i41.251442.
Alshunnaq, M. F., Alsabbagh, R. . B. I., & Alazzam, F. A. F. (2021). LEGAL PROTECTION OF intellectual property rights under jordanian legislation and international agreements. Public Administration and Law Review, (3), 18–32. https://doi.org/10.36690/2674-5216-2021-3-18.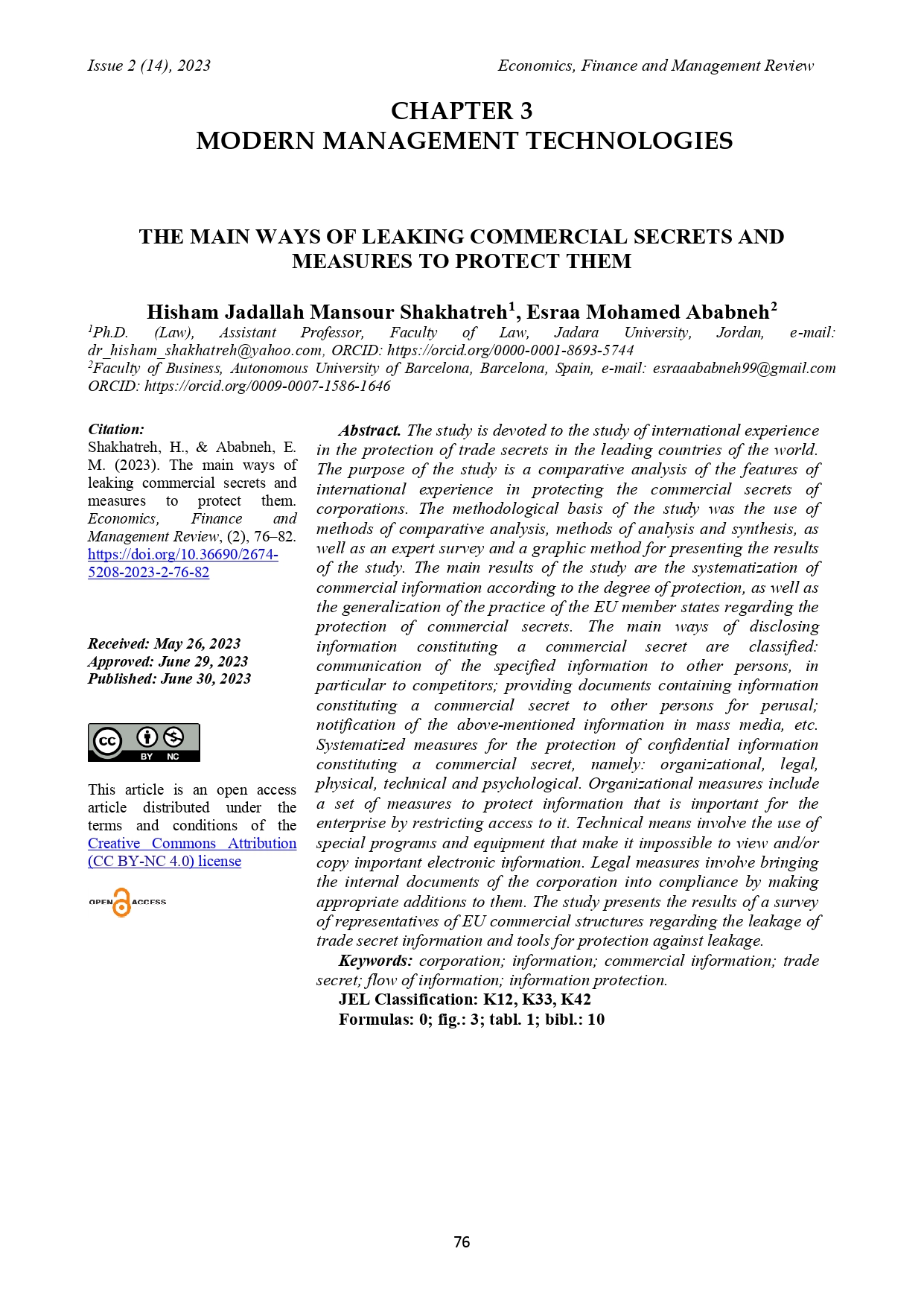 Downloads
How to Cite
Shakhatreh, H., & Ababneh, E. M. (2023). THE MAIN WAYS OF LEAKING COMMERCIAL SECRETS AND MEASURES TO PROTECT THEM. Economics, Finance and Management Review, (2), 76–82. https://doi.org/10.36690/2674-5208-2023-2-76-82
Section
Chapter 3. Modern management technologies
License
This work is licensed under a Creative Commons Attribution-NonCommercial 4.0 International License.