The impact of COVID-19 on the economy and management of international companies
Keywords:
world economy, financial markets, unemployment rates, economic, pandemic, global economy, global economic indicators, precautionary measures, COVID-19
Abstract
The Coronavirus (COVID-19) pandemic has dealt a severe blow to a global economy already in fragility. Although the full scale of the human and economic impacts of the pandemic will not be clear for some time، the losses in these two areas will be significant. Already existing macroeconomic weaknesses make emerging market and developing countries vulnerable to economic and financial turmoil، and this may limit the capacity and effectiveness of policy support at a time when it is most needed at the global and national levels. These implications are the necessity to close all institutions that have been affected. With the pandemic، which was represented in schools، universities، companies، factories، places of entertainment and tourism companies، the government had to take a set of decisions and measures to confront the economic and health crisis، which resulted in economic and social repercussions that had an impact on society، and then was the state's focus on Egyptian workers، especially workers In the private and informal sectors، which resulted in the deterioration of their conditions and the loss of their basic materials to meet the basic needs of their families. The study consisted of knowing what the Corona pandemic is، how it affected global economies، the effects that resulted from the Corona pandemic and its impact on business sectors، and also knowing the most important consequences of the global crisis on unemployment rates، through this and in light of the crisis the International Labor Organization of the United Nations A report indicating the most important consequences that occurred in the business sector as a result of the outbreak of the new Corona virus "Covid-19" and the following measures that include reducing employment and also reducing the number of working hours and sectors most affected by the spread of the Corona virus.
References
Ahmed, H. (2002). A microeconomic model of an Islamic bank (Islamic Research and Training Institute Research Paper No. 59). Jeddah, KSA: Islamic Research and Training Institute, Islamic Development Bank.
Albers, S., & Rundshagen, V. (2020). European airlines' strategic responses to the COVID-19 pandemic (January-May, 2020). Journal of Air Transport Management, 87, 1-7.
Anderson, J., Bergamini, E., Brekelmans, S., Cameron, A., Darvas, Z., Jíménez, M.D., & Midões, C. (2020). The fiscal response to the economic fallout from the coronavirus. Bruegel datasets. Retrieved from: https://bit.ly/3l2l9Hc.
Ashraf, B.N. (2020). Stock markets' reaction to COVID19: Cases or fatalities? Research in International Business and Finance, 54, 1-7.
Ashraf, D., Rizwan, M.S., & Ahmad, G. (2020). Islamic equity investments and the COVID-19 pandemic (Working paper). Retrieved from: https://bit.ly/ 3nOQlvI.
Al-Awadhi, A.M., Al-Saifi, K., Al-Awadhi, A., & AlHammadi, S. (2020). Death and contagious infectious diseases: Impact of the COVID-19 virus on stock market returns. Journal of Behavioral and Experimental Finance, 27, 1-5.
Mihus, I., Laptev, S., Parashchenko, L., Koval, Ya., Odarchyk, K., Panchenko, O. (2021). The impact of the COVID-19 pandemic on the loyalty of employees. Ad Alta-journal of interdisciplinary research. URL: http://www.magnanimitas.cz/ADALTA/110117/papers/A_07.pdf.
Blustein, D.L., Duffy, R., Ferreira, J.A., Cohen-Scali, V., Cinamon, R.G., & Allan, B.A. (2020). Unemployment in the time of COVID-19: A research agenda. Journal of Vocational Behavior, 119,1-4.
Bourkhis, K., & Nabi, M.S. (2013). Islamic and conventional banks' soundness during the 2007-2008 financial crisis. Review of Financial Economics, 22(2), 68-77.
Deb, P., Furceri, D., Ostry, J.D., & Tawk, N. (2020). The economic effects of COVID-19 containment measures. IMF Working Paper No. WP/20/158. Retrieved from: https://bit.ly/36YR7iJ.
Deutsche Bundesbank. (2020). Monthly report October 2020 (Vol. 72, No. 10). Frankfurt, Germany: Author. Retrieved from: https://bit.ly/392mRpz .
International Monetary Fund. (2021). IMF DATAMAPPER: GDP Growth. URL: https://www.imf.org/external/datamapper/ngdp_rpch@weo/oemdc/advec/weoworld/lby/can.
World trade primed for strong but uneven recovery after COVID-19 pandemic shock: Press Release (2021): World Trade Organization. URL: https://www.wto.org/english/news_e/pres21_e/pr876_e.htm.
UNCTAD (2021) World Investment Report 2021. URL: https://unctad.org/webflyer/world-investment-report-2021.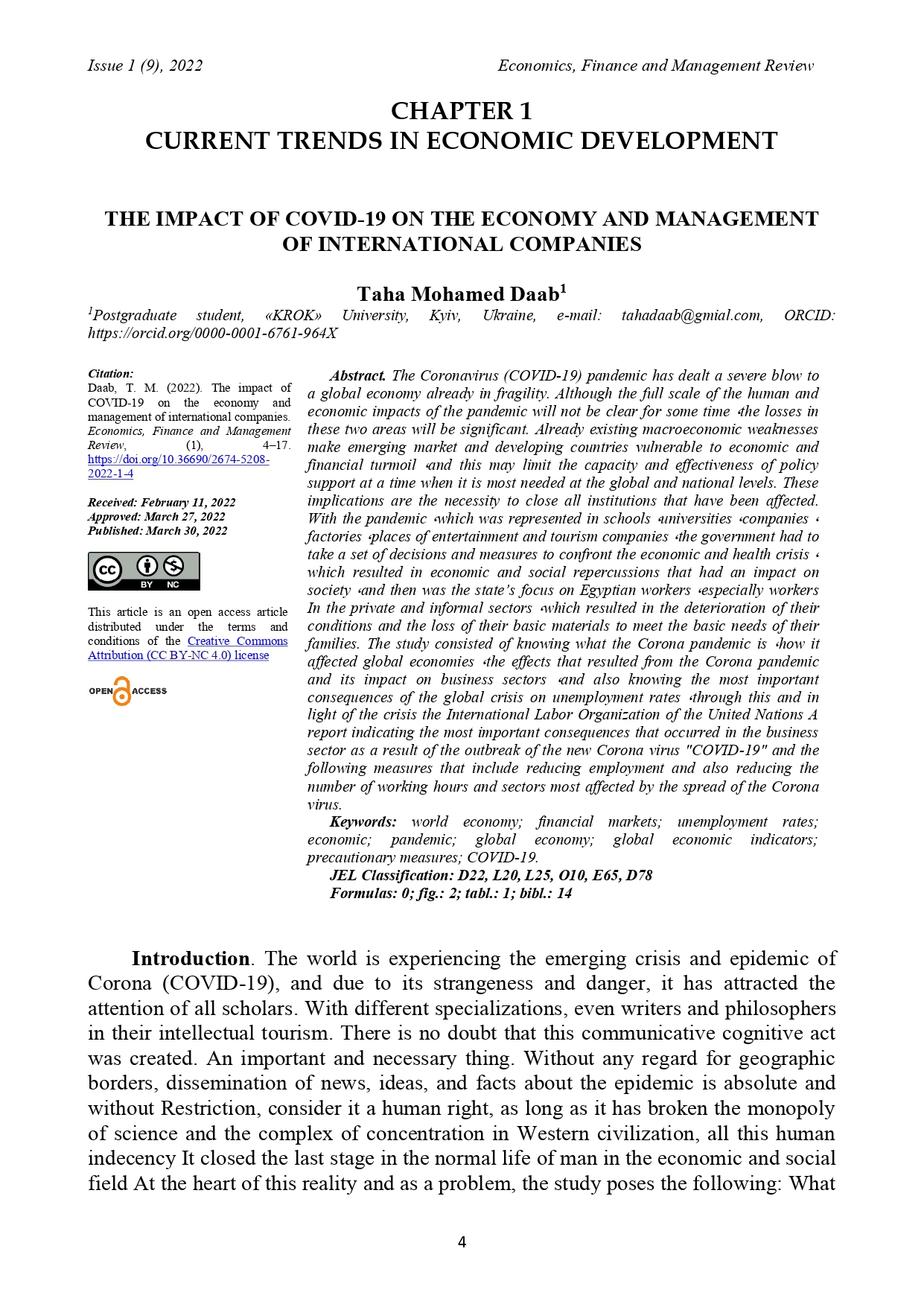 Downloads
How to Cite
Daab, T. M. (2022). The impact of COVID-19 on the economy and management of international companies. Economics, Finance and Management Review, (1), 4–17. https://doi.org/10.36690/2674-5208-2022-1-4
Section
Chapter 1. Current trends in economic development
License
Copyright (c) 2022 Taha Mohamed Daab
This work is licensed under a Creative Commons Attribution-NonCommercial-NoDerivatives 4.0 International License.