COMPETITIVENESS OF UKRAINE'S ECONOMY UNDER THE CONDITIONS OF GLOBAL INSTABILITY
Keywords:
globalization, instability, competitiveness of economy, competitiveness index, COVID-19 pandemic
Abstract
The academic paper is devoted to investigation of the competitiveness of Ukraine's economy under the conditions of global instability. The purpose of the research lies in identifying key factors contributing to the competitiveness of the economy and, conversely, inhibiting it. In order to achieve the purpose outlined, the following methods have been used in the research, namely: analysis and synthesis of information, comparison and generalization. Along with this, the V-U-L method has been used in order to predict the tendencies of economy revitalization after the pandemic. SWOT analysis has been carried out for generalizing the information received. The relevance of the research is underpinned by the realities of global instability due to COVID-19, which have wrecked the economies of almost all world countries. It becomes more and more difficult for countries to compete in such conditions; consequently, in order to at least maintain the positions in the market, it is necessary to apply modern production and management technologies. Herewith, in order to improve the competitive positions, advanced and innovative technologies should be applied, the potential of which in Ukraine is quite high, but the real state of affairs leaves much to be desired. At the same time, the investigation of the report of World Economic Forum was conducted for assessing the competitiveness of Ukraine's economy, according to which the rating place of Ukraine among other economies of the world was established. The crucial indicators influencing competitiveness are as follows: principal, reinforcing and innovative. SWOT-analysis of Ukraine's competitiveness was conducted in the research; strengths, weaknesses, prospects and threats were identified. In order to improve the level of competitiveness, it is necessary to develop innovative industries, to support them, which, as a result, will have a positive effect on the commodities markets. Based on the results of the research conducted, generalizations have been made that will make it possible to ensure the development of Ukraine under the conditions of global instability.
References
Babich, L., Lyubokhinets, L. (2010). Macroeconomic analysis of global indices of rating assessment of competitiveness of the national economy. Bulletin of Khmelnytsky National University, 3, 3, 154–159.
Bazilyuk, J. (2002). Competitiveness of the national economy: the essence and conditions of provision. Kyiv: NISS.
Exports of Ukraine (2020). Ministry of Economy of Ukraine. URL: https://www.me.gov.ua/Documents/Download?id=60701de2-ad1b-4b08-afab-befe4a1902cb
Gubsky, B. (1998) Ju Investment processes in the global environment. Kyiv: Scientific opinion.
IMD World Competitiveness Center. URL: http://www.imd.org/wcc/.
Kizim, M., Kryachko, E. (2010). Formation of the state target program of increase of competitiveness of regions of Ukraine. Kharkiv: VD "INZHEK".
Krouskos, S. (2020). How do you find clarity in the midst of the COVID-19 crisis? EY.URL: https://www.ey.com/en_kz/ccb/how-do-you-find-clarity-in-the-midst-of-covid-19-crisis
Kvasnyuk, B., Kireev, S., Bolkhovitinova, O. (2006). Competitiveness of the Ukrainian economy. Kyiv: Institute of Economics and Forecasting.
McKinsey. Coronavirus: Leading Through the Crisis .URL: https://www.mckinsey.com/featured-insights/coronavirus-leading-through-the-crisis
Melnyk, A., Vasina, A., Zhelyuk, T., Popovych, T. (2011) National Economy Kyiv: Knowledge.
Mocherny, S. (2001). Economic Encyclopedia: in three volumes. (2). Kyiv: Publishing Center "Academy".
Porter, M. (2001). Competition. Moscow: Williams, 2001.
Shvidanenko, O. (2007). Global competitiveness: theoretical and applied aspects. Kyiv: KNEU.
The Global Competitiveness Report 2019. WEF. URL: http://www3.weforum.org/docs/WEF_TheGlobalCompetitivenessReport2019.pdf
World GDP indcators. (2020) World Bank. URL: https://data.worldbank.org/indicator/SL.UEM.TOTL.ZS?end=2020&start=1991&view=chart
World Economic Outlook (2021). URL: https://www.imf.org/en/Publications/WEO/weo-database/2021/April/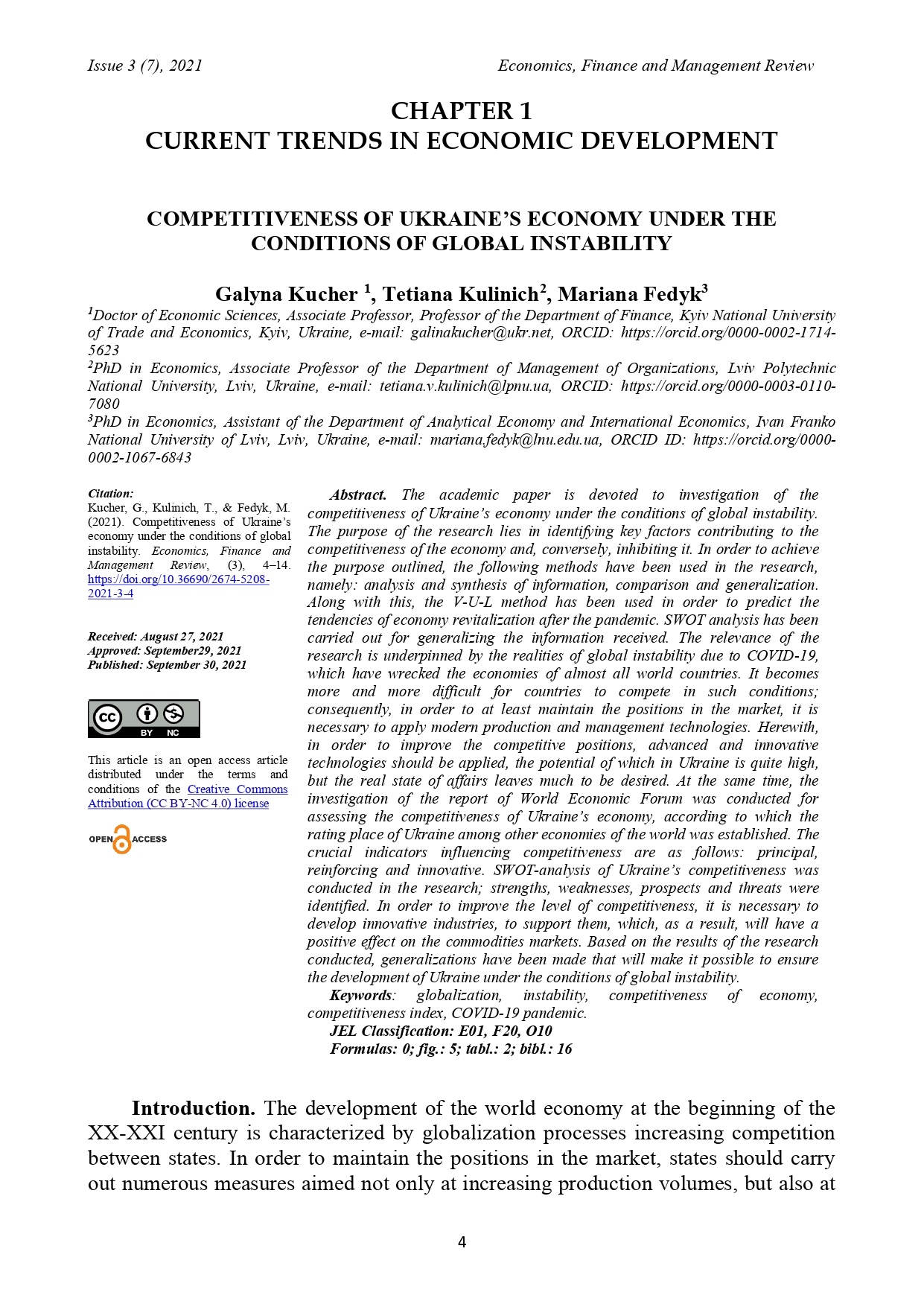 Downloads
How to Cite
Kucher, G., Kulinich, T., & Fedyk, M. (2021). COMPETITIVENESS OF UKRAINE'S ECONOMY UNDER THE CONDITIONS OF GLOBAL INSTABILITY. Economics, Finance and Management Review, (3), 4–14. https://doi.org/10.36690/2674-5208-2021-3-4
Section
Chapter 1. Current trends in economic development
License
Copyright (c) 2021 "Scientific Center of Innovative Researches" OÜ
This work is licensed under a Creative Commons Attribution-NonCommercial-NoDerivatives 4.0 International License.