FEATURES OF FORMATION AND USE OF METHODICAL APPROACH IN DETERMINING THE IMPACT OF BUSINESS ACTIVITY INDICATORS ON PROFITABILITY INDICATORS USING MATRIX APPROACH
Keywords:
business activity, profitability, matrix approach, industrial enterprises
Abstract
In modern time conditions, the goal of any enterprise is to make a profit, to expand activities, to enter new markets. However, the results of enterprises are reflected at the level of profitability and constantly influenced by factors of internal and external environment, which accordingly affect the indicators of business activity, financial stability, profitability, solvency. This study focuses on business activity indicators and their impact on the level of profitability. A methodical approach to determining the impact of business activity indicators on profitability indicators using a matrix approach has been formed, which helps to maximize the results of activities. It is determined that the evaluation of the efficiency of the enterprise can be formed using a balanced system of indicators, which contributes to a comprehensive assessment of the financial and economic state. Enterprises need to form links with the external environment, which ensure the creation of an effective economic mechanism. To ensure the effectiveness of economic processes at the enterprise, it is advisable to reorganize the economic mechanism of managing the development of an industrial enterprise in sense of its efficiency.
References
Bakuta A.V. Suchasnyi stan mashinobudivnogo kompleksu Ukrayiny: problemy i perspektivy. Ekonomichnyi visnyk ZDIA. 2012.
Balytska V.V. Rentabelnist diyalnosti subyektiv gospodaryuvannya Ukrayiny: otsinyuvannya istynyh rezultativ. Aktualni problem ekonomiky. 2012. №11 (137). P. 120-130. (in Ukrainian).
Batrakova T.I. Upravlinnya efektyvnistyu diyalnosti pidpryyemstva – zaporuka yogo uspishnogo funktsionuvanya. Ekonomichnyi analiz: zbirnyk naukovyh prats. 2015. Volume 19. № 2. P. 13-19. (in Ukrainian).
Burkovska A.V. Vajlyvist i neobhidnist otsinky ta kontrolyu finansovogo stanu agrarnogo pidpryyemstva. Ekonomichnyi forum. 2013. Ext. 3. P. 157-160. (in Ukrainian).
Data from the official website of PJSC "ZERZ". URL: http://zerz.pat.ua/ (date of appeal: 02.02.2018). (in Ukrainian).
Dykan V.L. Kompleksnyi pidhid do upravlinnya stiykym rozvytkom pidryyemstv mashinobuduvannya. Visnyk ekonomiky transport I promyslovosti. 2015. № 49. P. 11–18. (in Ukrainian).
Zvirko G.P. Metodychni pidhody schodo analizu prybutkovosti gospodarskoyi diyalnosti subyekta gospodaryuvannya. Visnyk Natsionalnogo tehnichnogo universytetu "Kharkivskyi politekhnichnyi instytut". 2011. №7. p.28-36. (in Ukrainian).
Zinchenko O.A. Vyznachennya ppokaznykiv rentabelnosti na osnovi velychyny yakosti prybutku. Visnyk ekonomiky transportu i promyslovosti. 2009. № 28. p.150-155. (in Ukrainian).
Lebedeva A.M. Metodychni aspekty analizu rentabelnosti diyalnosti pidpryyemstva. Visnyk ONU im. I. I. Mechnikova. 2012. Т.17 Exp.3-4. p.29 – 36. (in Ukrainian).
Mandzinovska O. Rjvpleksnyi pidhid do analizu ta otsinky finansovo-ekonomichnoyi diyalnosti pidpryyemstv mashinobuduvannya. BusinessInform 2015. № 2. P.125-128. (in Ukrainian).
Shyian A. A. (2007). Ekonomichna kibernetyka: Vstup do modeliuvannia sotsialnykh i ekonomichnykh system [Economic cybernetics: Introduction to modeling social and economic systems]. Lviv: Mahnoliia. (in Ukrainian).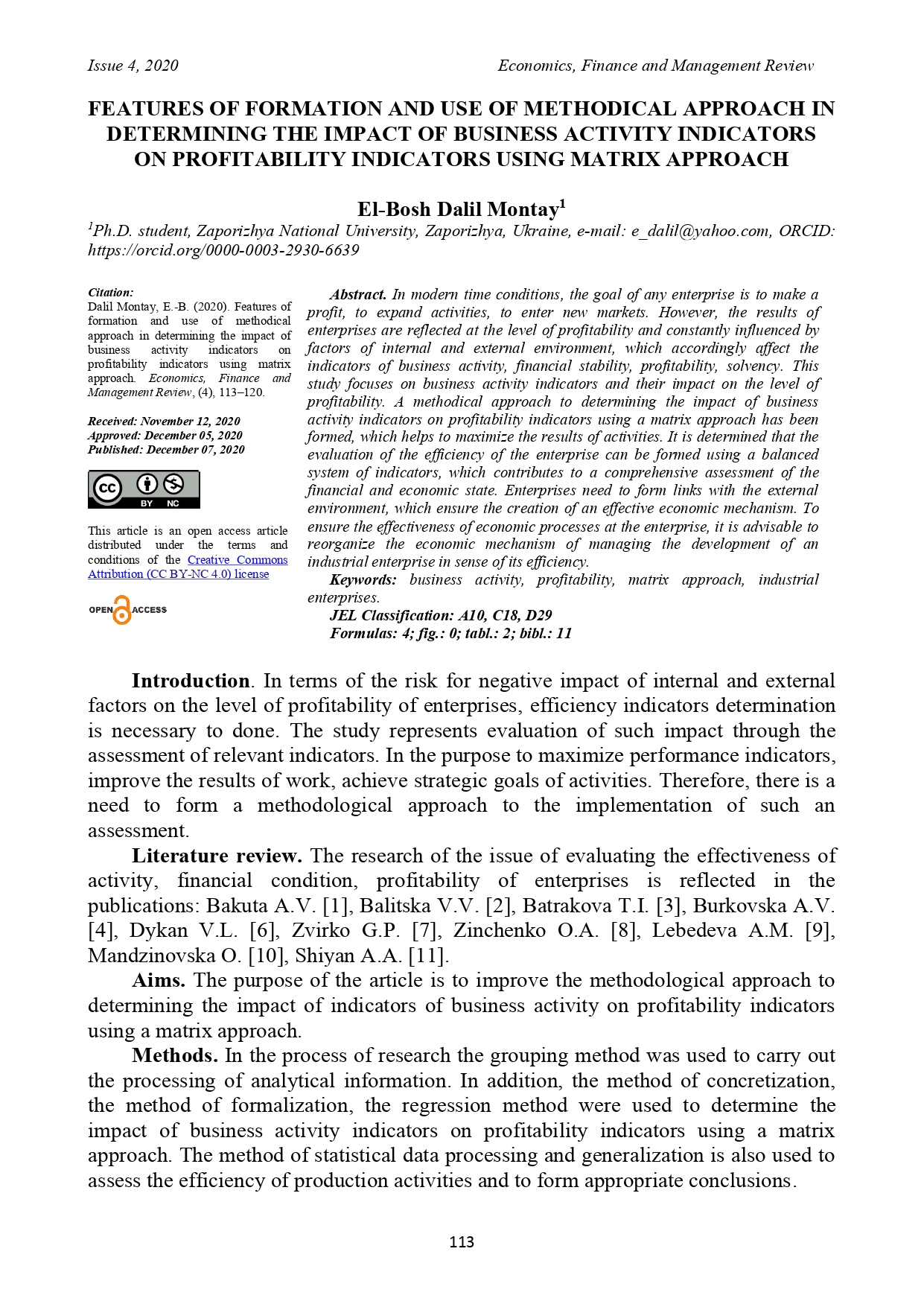 Downloads
How to Cite
Dalil Montay, E.-B. (2020). FEATURES OF FORMATION AND USE OF METHODICAL APPROACH IN DETERMINING THE IMPACT OF BUSINESS ACTIVITY INDICATORS ON PROFITABILITY INDICATORS USING MATRIX APPROACH. Economics, Finance and Management Review, (4), 113–120. Retrieved from https://public.scnchub.com/efmr/index.php/efmr/article/view/149
Section
Chapter 3. Modern management technologies
License
Copyright (c) 2020 El-Bosh Dalil Montay
This work is licensed under a Creative Commons Attribution 4.0 International License.