DEVELOPMENT OF INTEGRATION PROCESSES OF THE DAIRY SUBCOMPLEX OF UKRAINE IN THE CONTEXT OF GLOBALIZATION OF THE WORLD ECONOMY
Keywords:
dairy products, integration, market, transnational corporations, production, consumption, world economy, perspective, development, globalization
Abstract
The article analyzes the current state of the world market of milk and dairy products. It was found that trade in dairy products is developing faster than its production. The rating of producing countries and Ukraine's place in the foreign market are determined. In the process of analysis of world consumption, the potential of dairy products in the domestic market was determined.
The most noticeable modern structural trend in the production of livestock products, including dairy, is the growing importance of intensive vertically integrated formations located near large cities. Thus, from horizontal integration (cooperation and consolidation of production, sales and other opportunities), large companies are increasingly moving to vertical integration, which involves the diversification of their activities in relation to basic production. In addition, the world leaders in the dairy industry are increasingly seeking to merge.
It is revealed that the food supply system at the global level is undergoing large-scale changes. In this regard, the process of integration of the Ukrainian dairy subcomplex into the world system is possible both through the creation of Ukrainian transnational corporations (TNCs) and through the entry into the Ukrainian economy of foreign TNCs. It is studied that on a number of grounds, Ukraine belongs to those countries in which some conditions for civilized business have already been created, but a stable national socio-economic system of modern technological structure has not yet been formed. Such countries are of particular interest for foreign direct investment, as they have the necessary infrastructure, skilled workers and other established factors necessary for the functioning of TNCs. The combination of created and natural factors brings double benefits to TNCs.
Research has shown that TNCs in the context of globalization are the driving force of many key processes in the world and national economies. Acting as a basic player in the process of international competition, they compete with each other, as well as small and medium-sized businesses, transform the institutional environment, structure and boundaries of the national consumer market, form new consumer standards.
Foreign multinational corporations are ready to operate in Ukraine, but are hampered by factors such as unstable and excessive regulation, lack of a sustainable strategy and appropriate national action plan in Ukraine, imperfect national legislation, unclear legal system, instability of economic and political situation, high level of corruption in all spheres of economic activity and inability of the judiciary to perform its functions properly, critical situation in the sphere of independence of the judiciary, low effective demand of Ukrainian consumers, difficulties in communicating with government and privatization bodies, regulatory overload and complexity of the tax system tax burden. Crisis processes are increasingly deteriorating Ukraine's position in the world economy in the medium term.
References
Kobylianska, L., Kaira, L. (2020). Do pytan rozvytku integratsiinykh protsesiv v umovakh globalizatsii.. Ekonomichnyi prostir, (156), P. 37-40. [in Ukrainian]
Matiushenko I., Berenda S., Reznikov V. (2015) Yevrointehratsiia Ukrainy v systemi mizhnarodnoi ekonomichnoi intehratsii. Kharkiv: KhNU im. V.N. Karazina. [in Ukrainian]
OECD/FAO (2016), OECD-FAO Agricultural Outlook 2016-2025, OECD Publishing, Paris. URL https://www.oecd-ilibrary.org/agriculture-and-food/oecd-fao-agricultural-outlook-2016_agr_outlook-2016-en
IFCN Dairy Research Network URL: https://ifcndairy.org/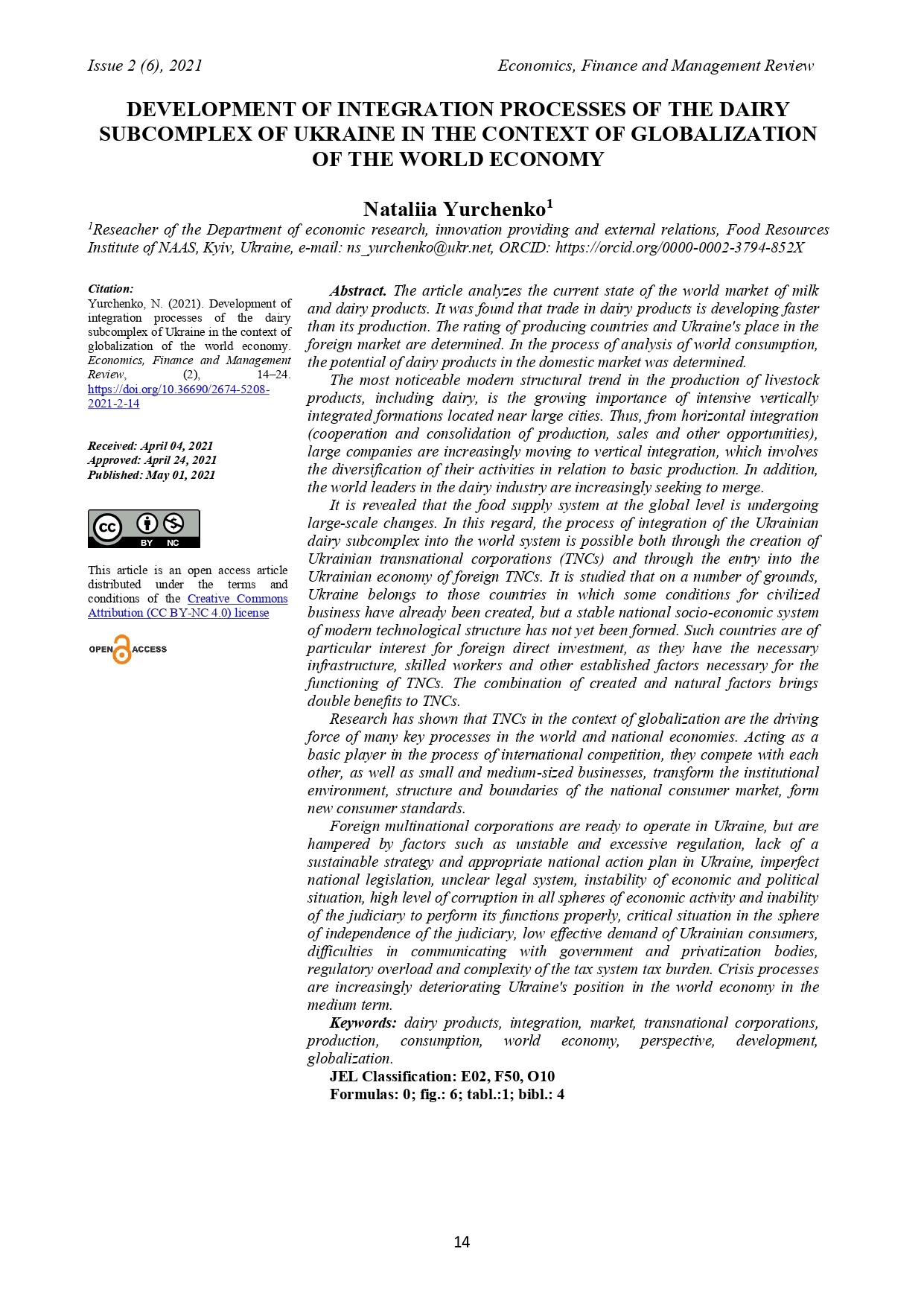 Downloads
How to Cite
Yurchenko, N. (2021). DEVELOPMENT OF INTEGRATION PROCESSES OF THE DAIRY SUBCOMPLEX OF UKRAINE IN THE CONTEXT OF GLOBALIZATION OF THE WORLD ECONOMY. Economics, Finance and Management Review, (2), 14–24. https://doi.org/10.36690/2674-5208-2021-2-14
Section
Chapter 1. Current trends in economic development
License
Copyright (c) 2021 "Scientific Center of Innovative Researches" OÜ
This work is licensed under a Creative Commons Attribution-NonCommercial-NoDerivatives 4.0 International License.