GENERALIZATION OF EXPERIENCE IN USAGE OF CASE TECHNOLOGY IN THE FORMATION OF STUDENTS' SOCIAL SKILLS
Keywords:
interactive technologies, case, case method, social skills, analysis, method of specific situations
Abstract
In the context of a fundamental change in the educational paradigm, the transition to interactive teaching methods, the search for alternative forms in the educational process, which would form in applicants for higher education not only professional but also social skills. Among modern technologies and interactive teaching methods, a special place is given to case technology, which provides the formation of interpersonal interaction as an important higher education skill. Taking it into consideration, the article clarifies the essence of the concept of "case method", by which we mean the analysis of students in a microgroup in the offered situation, usually problematic, with further development of solutions, presentation of the final optimal solution, summarizing. The paper substantiates that working with cases allows to apply theoretical knowledge to solve practical problems, forms a professionally necessary set of competencies, helps to develop students' independent thinking, combining theory with practice. The stages of case technology implementation (preparatory stage, stage of immersion in joint activity, stage of organization of joint activity, stage of analysis and reflection) are specified. The article reveals the importance of this method, which is due to its versatility and ability to solve problems comprehensively. The foreign and national experience of application of case-technology in formation of social skills of students is generalized. The necessity of using the case study method to improve the quality of education in higher education institutions of Ukraine is substantiated.
References
Dolgorukov, A. Metod case-study kak sovremennaya tekhnologiya professional'no-oriyentirovannogo obucheniya [Keys-method as a modern technology of professionally oriented education]. Electronic resource. Retrieved from: http://www.vshu.ru/lections.php?tab_id=3&a=info&id=2600 [in Russian].
Vlasiuk, I.V. (2012) Vykorystannia keis-metodu pry formuvanni profesiinoi ekonomichnoi terminolohii [Using of method of «Case Studies» for formation of professional economic terminology]. Problemy inzhenerno-pedahohichnoi osvity [Problems of engineer-pedagogical education], 37, 196-201 [in Ukrainian].
Andyusev B. E. Keys-metod kak instrument formirovaniya kompetentnostey [The case method as a tool for the formation of competencies]. B. E. Andyusev // Director of the school – 2010. No. 4. Page 61-69. [in Russian].
Vaganova O. I. Metod kejsov v professional'nom obuchenii : uchebno-metodicheskoe posobie [Case study method in vocational training: study guide] O. I. Vaganova. – N. Novgorod : VGIPU, 2011. – 57 p. [in Russian].
Pavlenko O. O., Akal'maz R. V. Vikoristannya metodu Case Studies u navchal'nomu procesі іz zastosuvannyam HІT [Using the Case Studies method in the learning process using HIT]. Electronic resource. Retrieved from: https://cutt.ly/2RWS18r
Vasin'ova N. S. Vykorystannya «case study» v osvitnʹomu protsesi zakladiv vyshchoyi osvity yak neobkhidnyy skladnyk formuvannya u studentiv navychok soft skills [The use of "case study" in the educational process of higher education institutions as a necessary component of the formation of soft skills in students]. Electronic resource. Retrieved from: http://dspace.luguniv.edu.ua/jspui/bitstream/123456789/6545/1/2020.pdf [in Ukrainian].
Surmіn Y. P. Kejs-metod: stanovlennya ta rozvitok v Ukrainі [Case method: formation and development in Ukraine], Y. P. Surmіn // Vіsnik Nacіonal'noi akademіi derzhavnogo upravlіnnya pri Prezidentovі Ukraini. - 2015. - № 2. - S. 19-28. - Retrieved from: http://nbuv.gov.ua/UJRN/Vnadu_2015_2_5 [in Ukrainian].
Gumennikova T. Case study yak skladova chastyna indyvidualizovanoho osvitnʹoho kontentu profesiynoyi pidhotovky maybutnikh sudnovodiyiv [Case study as an integral part of individualized educational content of professional training of future drivers], Aktual'ni pitannya gumanitarnih nauk. Vip 29, tom 2, 2020. 131-137. p.136. [in Ukrainian].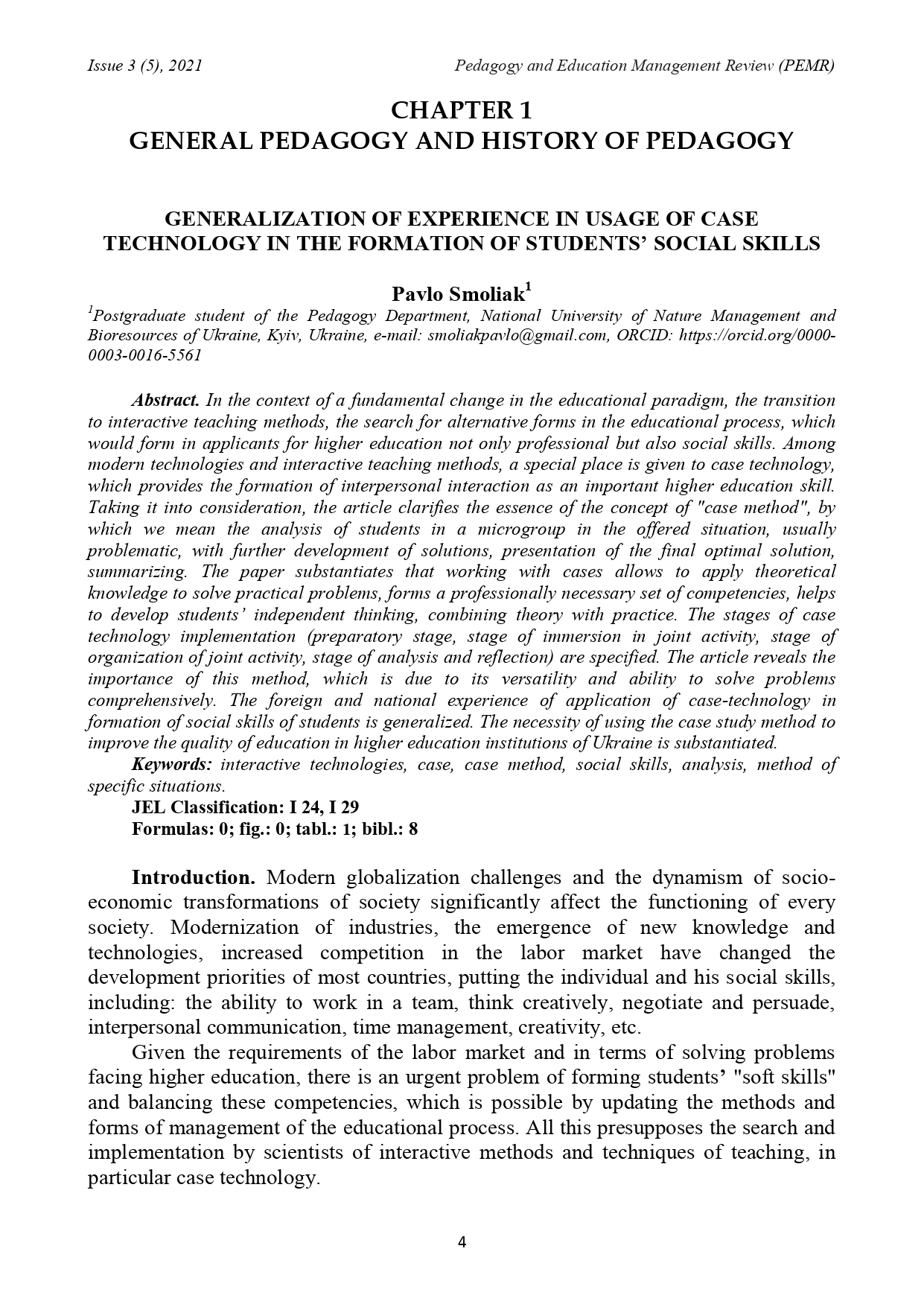 Downloads
How to Cite
Smoliak, P. (2021). GENERALIZATION OF EXPERIENCE IN USAGE OF CASE TECHNOLOGY IN THE FORMATION OF STUDENTS' SOCIAL SKILLS . Pedagogy and Education Management Review, (3), 4–13. https://doi.org/10.36690/2733-2039-2021-3-4
Section
GENERAL PEDAGOGY AND HISTORY OF PEDAGOGY