COMPARATIVE CHARACTERISTICS OF THE TRAINING OF DOCTORS OF PHILOSOPHY IN ECONOMICS IN THE LEADING COUNTRIES OF THE WORLD
Keywords:
economics, doctor of philosophy, educational innovations, development, progress
Abstract
The scientific training of doctors of philosophy is one of the indicators of the country's development and demonstrates the innovative progress of society. The purpose of the article is to compare the features of the training of doctors of philosophy in the leading countries of the world. The main methods that were used in the research are analysis and synthesis, methods of comparative analysis, generalization, which made it possible to achieve the set goal. The article examines the specifics of Training PhDs in Economics, and systematizes the specifics of each country. In the article, a comparative analysis of the system of training economics specialists at the scientific level of doctoral studies in the USA, Canada, Japan, and EU countries is carried out. The main differences were established in such areas as: Program duration; Master's degree requirements; Research flexibility; Funding opportunities; Teaching expectations. It has been established that Universities in Australia, New Zealand and Canada typically follow the American PhD structure: two years of classes plus three years of independent research. A PhD experience there is comparable to the one in the US. Similar programs (in terms of organization) are offered by top Asian schools in Hong Kong, Singapore, and South Korea. In other parts of the world, where economics research capacities are less developed, doctoral studies take various forms, such as employment at the national academy of sciences.
Downloads
Download data is not yet available.
References
Gregory M. Perry (1998). On Training PhDs in Economics: What Can Economics Programs Learn from Those in Agricultural Economics? American Journal of Agricultural Economics. Vol. 80, No. 3 (Aug., 1998), pp. 608-615. DOI: https://doi.org/10.2307/1244567.
Hansen, W.L. "The Education and Training of Economics Doctorates: Major Findings of the American Economic Association's Commission on Graduate Education in Economics." Journal of Economic Literature 29(1991):1054–87.
Scott, F., and Anstine, J.D. "Market Structure in the Production of Economics Ph.D.'s." Southern Economic Journal 64(1997):307–20
Sakhno, H. (2022). 5 key differences between American- and European-style PhD programs. URL: https://cutt.ly/FNr6WfJ.
Barnett JV, Harris RA, Mulvany MJ. A comparison of best practices for doctoral training in Europe and North America. FEBS Open Bio. 2017 Sep 8;7(10):1444-1452. doi: 10.1002/2211-5463.12305. PMID: 28979835; PMCID: PMC5623696.
Powell S and Green H (2007) The Doctorate Worldwide. Open University Press, Maidenhead, UK.
Nerad M and Heggelund M (2008) Toward a Global PhD? Forces and Forms in Doctoral Education Worldwide. University of Washington Press, Seattle, USA: and London, UK.
Hreben, S., Mihus, I., Parashchenko, L., Laptіev, S., & Alkema, V. (2019). The mechanism of financial control over the allocation of budgetary funds depending on the results of scientific activity of a higher education institution. Financial And Credit Activity: Problems Of Theory And Practice, 4(31), 466-476. doi:http://dx.doi.org/10.18371/fcaptp.v4i31.190998.
Abdalqhadr, A., & Mihus, I. (2020). Educational institutions and the development of the concept of social responsibility. Science Notes of KROK University, (1 (57), 94–104. https://doi.org/10.31732/2663-2209-2020-57-94-104
Abdalqhadr, A. (2020). Academic integrity is an extension of your own personal integrity. Economics, Finance and Management Review, (1), 93–98. https://doi.org/10.36690/2674-5208-2020-1-93-98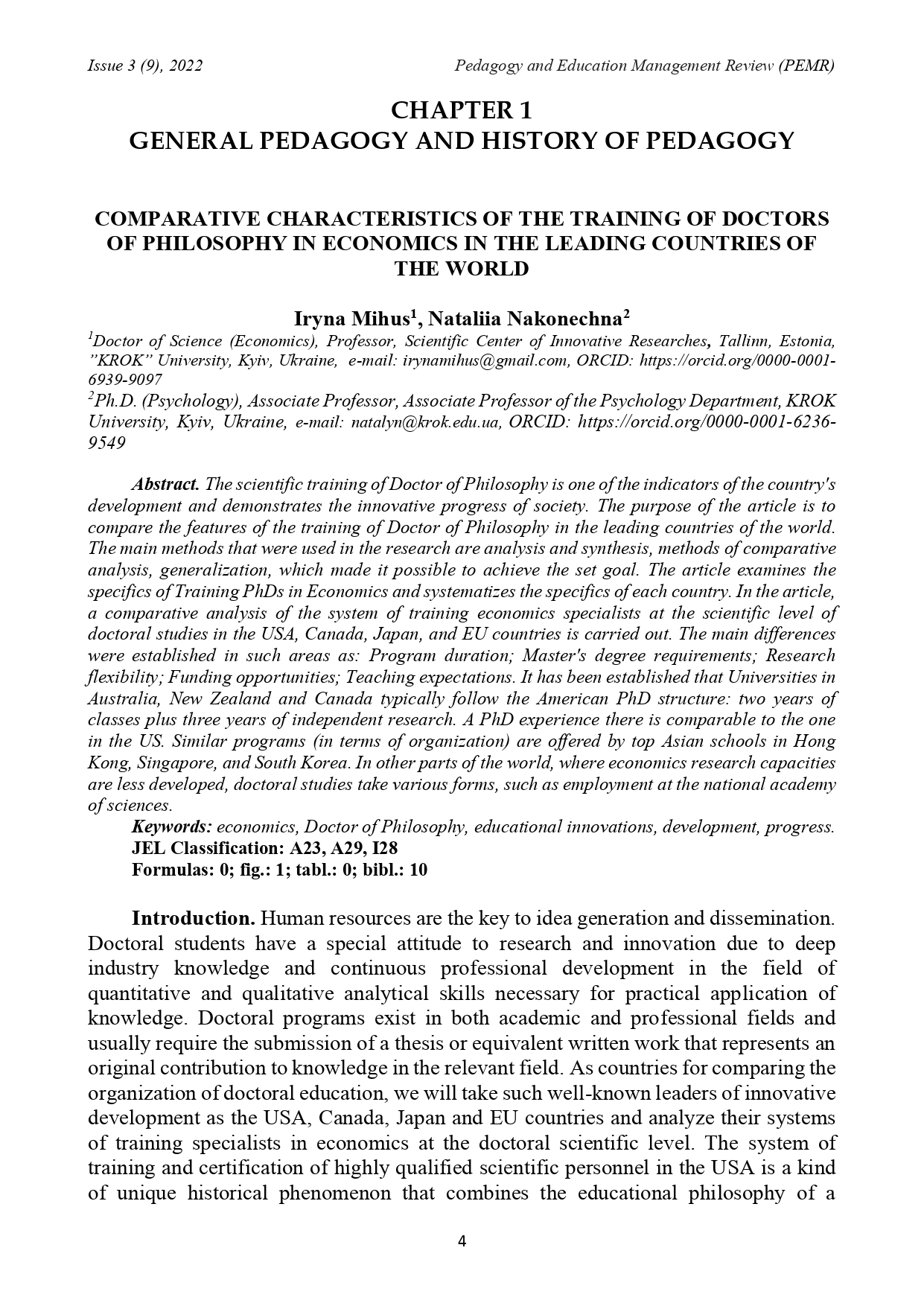 Downloads
How to Cite
Mihus, I., & Nakonechna, N. (2022). COMPARATIVE CHARACTERISTICS OF THE TRAINING OF DOCTORS OF PHILOSOPHY IN ECONOMICS IN THE LEADING COUNTRIES OF THE WORLD. Pedagogy and Education Management Review, (3), 4–12. https://doi.org/10.36690/2733-2039-2022-3-4
Section
GENERAL PEDAGOGY AND HISTORY OF PEDAGOGY
License
Copyright (c) 2022 Iryna Mihus, Nataliia Nakonechna
This work is licensed under a Creative Commons Attribution 4.0 International License.