BYOD CONCEPT IN THE FORMATION OF AN INNOVATIVE EDUCATIONAL ENVIRONMENT FOR THE FUTURE EDUCATION BACHELORS TRAINING
Keywords:
educational space of Ukraine, higher education, professional training, BYOD concept, future education specialists, innovative educational environment
Abstract
One of the main reasons for the increased attention to the problem of introduction of mobile technologies in the educational process is the convenience and ease of use of existing tools for search, creation and use. Using these technologies, you can significantly increase the efficiency of the process of professional training of teachers, to intensify their educational and cognitive and independent activities. In the process of his activity, the teacher has to solve problems related to the search for existing mobile technologies, analyzing them for the feasibility of use in the educational process and creating their own. To train a competent specialist who is able to effectively use the ideas of the BYOD concept to solve the problem of their professional training is an important task of higher pedagogical education. The innovative educational sphere, organized on the basis of the BYOD concept, contains effective means that stimulate creativity in future teachers, reflexive actions, creativity in solving professional problems. It focuses on creating such an environment in higher education that would stimulate each student to take non-standard actions, to search for a creative way out of problematic situations that are so abundant in pedagogical reality. We found that the pedagogical purpose of the BYOD concept can be: propaedeutic acquaintance with the lecture material; classroom lecture for self-study; admission to laboratory classes; virtual laboratory workshop; self-control, etc. Measures for the use of mobile technologies and services in the process of training future teachers should be based on an informatization strategy (IT strategy), which is designed to determine the role and place of mobile technologies in ensuring the activities of an educational institution and solving problems of its development for a certain period. A modern teacher cannot effectively solve professional problems put forward by pedagogical reality if he does not have experience in research and innovation and is not ready to create the necessary atmosphere of scientific research in the context of practical pedagogical work based on the BYOD concept.
References
Chaika, V. M. (2006), Pidhotovka maibutnoho vchytelia do samorehuliatsii pedahohichnoi diialnosti [Preparation of the future teacher for self-regulation of pedagogical activity], Ternopil: TNPU [in Ukrainian].
Johnson, P. (2013), Mobile Application Development for iOS, Packt Publishing Ltd.
Meier, R. (2012), Professional Android 4 application development, John Wiley & Sons.
Ohrt, J., & Turau, V. (2012), Cross-platform development tools for smartphone applications, Computer, 45, 9, 0072-79.
Samochadin, A., Raychuk, D., Voinov, N., Ivanchenko, D., & Khmelkov, I. (2014), MDM based Mobile Services in Universities, International Journal of Information Technology & Computer Science (IJITCS), 13, 2, 35–41.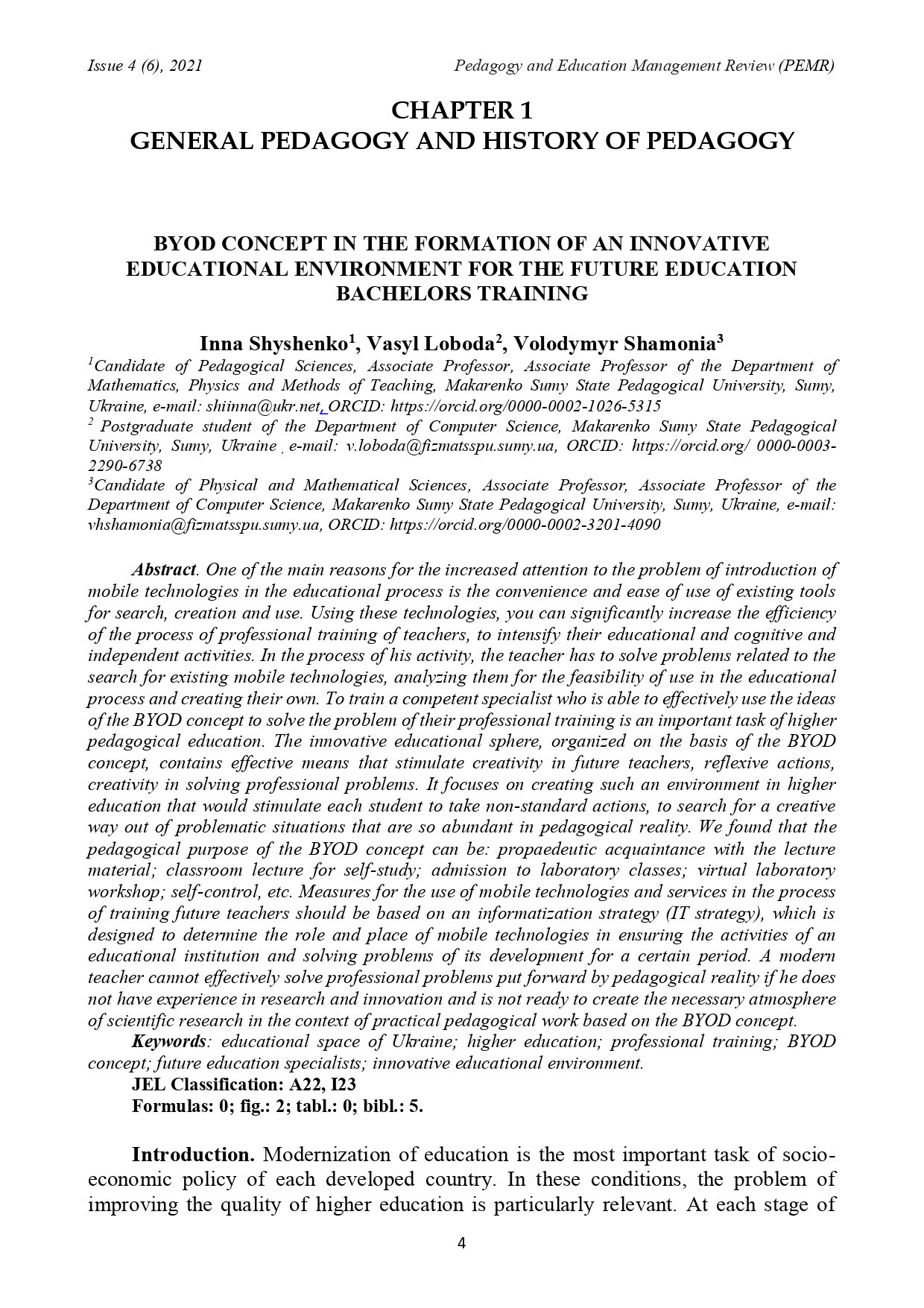 Downloads
How to Cite
Shyshenko, I., Loboda, V., & Shamonia, V. (2021). BYOD CONCEPT IN THE FORMATION OF AN INNOVATIVE EDUCATIONAL ENVIRONMENT FOR THE FUTURE EDUCATION BACHELORS TRAINING. Pedagogy and Education Management Review, (4), 4–11. https://doi.org/10.36690/2733-2039-2021-4-4
Section
GENERAL PEDAGOGY AND HISTORY OF PEDAGOGY