PEDAGOGICAL CONDITIONS FOR THE DEVELOPMENT OF ANALYTICAL THINKING IN APPLICANTS OF HIGHER TECHNICAL EDUCATION
Keywords:
analytical thinking, pedagogical conditions, applicants for higher technical education, motivation, cognitive interest, educational and methodological support, reflexivity
Abstract
In the context of globalization, informatization and automation of labor, there is a need to develop flexible skills that serve as the basis for personal and professional implementation. The World Economic Forum has published the TOP-10 flexible skills that would be demanded in production in 5 years. The first positions are being taken by analytical thinking and innovation. In view of this, there is a need to develop analytical thinking skills for applicants of higher technical education already at the stage of their vocational training so that they are competitive in the labor market. So, the system of higher technical education faces a problem is how to create conditions for the training of a future specialist in engineering specialties, ready to adapt to the new realities of life, capable of personal and professional development and career growth, to teach to distinguish the essential from the inessential, to build fro, more complicated to more simple. The article analyzes the scientific literature on the interpretation of the concepts of "analytical thinking" and "pedagogical conditions". On the basis of the received information, pedagogical conditions for the development of analytical thinking of applicants for higher technical education in the learning process (ensuring motivation for the development of analytical thinking as the way of professional formation; creating cases of professionally oriented tasks and exercises; mastering analytical tools to perform relevant function duties; reflection at all stages of analytical thinking development. To substantiate the pedagogical conditions for the development of analytical thinking of applicants of higher technical education (bachelor's level) such theoretical methods as analysis, synthesis, generalization, abstraction have been used. It has been established that due to developed analytical thinking, future engineers acquire the ability to apply knowledge, skills and personal qualities in the process of analytical activity. Ability to receive qualitatively new knowledge for prompt and productive provision of the decision-making process; work with large amounts of information; they develop attentiveness, long-term memory, intuition, observation, perseverance, responsibility, creativity, attention to attention. o trifles, wide horizons, the ability to bring the matter to completion, etc.
References
Vygotskij, L. S. (1982), Dinamika i struktura lichnosti podrostka. Khrestomatiya po vozrastnoj i pedagogicheskoj psikhologii [Dynamics and structure of the personality of the teenager. Textbook on Age and Educational Psychology], Moscow: Pedagogika, 138–142 [in Russian].
Vygotskij, L. S. (1960), Razvitie vysshikh psikhicheskikh funkcij [Development of higher mental functions], Moscow: Izd-vo APN RSFSR [in Russian].
L. O. Savenkovoi, V. M. Prykhodko (Eds.) (2009), Zbirnyk mini-keisiv z dystsypliny «Komunikatyvni protsesy u navchanni» [Collection of mini-cases in the discipline "Communicative processes in training"], Kyiv: KNEU [in Ukrainian].
Ishchenko, V. S. (2017), Pedahohichni umovy formuvannia analitychnoi kompetentnosti maibutnikh fakhivtsiv iz dokumentoznavstva ta informatsiinoi diialnosti [Pedagogical conditions of formation of analytical competence of future specialists in records keeping and information activity]. Narodna osvita. Elektronne naukove fakhove vydannia, 3 (33). Retrieved from https://www.narodnaosvita.kiev.ua/?page_id=5017 [in Ukrainian].
Karpenko, Ye. M. (2014), Pedahohichni umovy formuvannia informatsiino-analitychnykh umin maibutnikh uchyteliv inozemnykh mov u protsesi fakhovoi pidhotovky [Pedagogical conditions for the formation of information and analytical skills of future teachers of foreign languages in the process of professional training] (avtoref. dys. ... kand. ped. nauk: 13.00.04), Zhytomyr [in Ukrainian].
Korchahina, H. S. (2014), Rozvytok piznavalnoho interesu maibutnikh uchyteliv muzychnoho mystetstva v protsesi fakhovoi pidhotovky [Development of cognitive interest of future teachers of musical art in the process of professional training], Onovlennia zmistu, form ta metodiv navchannia i vykhovannia v zakladakh osvity: Zbirnyk naukovykh prats. Naukovi zapysky Rivnenskoho derzhavnoho humanitarnoho universytetu, Vyp. 9 (52). S. 31–34, Rivne: RDHU [in Ukrainian].
Linkina, N. N. (2002), Pedagogicheskie usloviya modernizacii estestvennonauchnogo obrazovaniya pedagogicheskogo kolledzha v edinom informacionnom prostranstve [Pedagogical conditions of modernization of natural science education of pedagogical college in the unified information space] (dis. … kand. ped. nauk : 13.00.01), Rostov na Donu [in Russian].
Muzyka, O. L., Maistrenko, T. M., Osnadchuk, Yu. O. (2007), Vyshchii osviti – yevropeiskyi riven: dosvid vprovadzhennia kredytno-modulnoi systemy navchannia na sotsialno-psykholohichnomu fakulteti ZhDU imeni Ivana Franka [Higher education – European level: experience in the implementation of credit-modular training system at the socio-psychological faculty of Ivan Franko National University of Lviv], Zhytomyrshchyna: mynule, sohodennia, postup u maibutnie: Naukovyi zbirnyk, Za zah. red. P. Iu Saukh, O. M. Shvydak, I. I. Iarmoshyk ta in., T.2, Zhitomir: Vyd-vo ZhDU im. I.Franka, S. 65-75 [in Ukrainian].
Muranov, A. (1995), V klasse kak v celom mire [In the classroom as in the whole world], Narodnoe obrazovanie, № 6. S. 91–93 [in Russian].
Novikov, A. M., Metodologiya obrazovaniya. Izdanie vtoroe [Methodology of education. Second edition], Moscow: Ehgves [in Russian].
Petrenko, L. M. (2013), Teoriia i praktyka rozvytku informatsiino-analitychnoi kompetentnosti kerivnykiv profesiino-tekhnichnykh navchalnykh zakladiv : monohrafiia [Theory and practice of development of information and analytical competence of heads of vocational educational institutions: monograph], Dnipropetrovsk: IMA-pres [in Ukrainian].
Rubinshtejn, S. L. (1958), O myshlenii i putyakh ego issledovaniya [On thinking and ways of his research], Moscow: Nauka [in Russian].
Slastenin, V. A., Isaev, I. F., Mishchenko, A. I., Shiyanov, E. N. (2002), Pedagogika : [ucheb. posob. dlya stud. ped. ucheb. zaved. [Pedagogy], Moscow : Shkol'naya Pressa [in Russian
Stolyarenko, L. D. (2000), Osnovy psikhologii. Izdanie tret'e [Psychology foundations], Rostov na Donu : Feniks [in Russian].
Tikhomirov, O. K. (1984), Psikhologiya myshleniya. Ucheb.posobie [Psychology thinking], Moscow: MGU [in Russian].
Shevchenko, S. M. (2007), Pedahohichni umovy formuvannia analitychnoho myslennia studentiv vyshchykh tekhnichnykh navchalnykh zakladiv [Pedagogical conditions for the formation of analytical thinking of students of higher technical educational institutions], Pedahohika, psykholohiia ta medyko-biolohichni problemy fizychnoho vykhovannia i sportu: naukova monohrafiia za redaktsiieiu prof. Yermakova S.S., Kharkiv: KhDADM (KhKhPI), № 3. S. 151–154.
Shchedrovickij, P. G. (1993), Ocherki po filosofii obrazovaniya (stat'i i lekcii) [Essays on the philosophy of education (articles and lectures)], Moscow: Pedagogicheskij centr "Ehksperiment", 154 s [in Russian].
Chornyi, O., Herasymenko, L., Zelenska, L. (2020), Diagnosing of Competenciens' Formation of the Future Electro-mechanic Nechnicians by Means of Professionally-oriented Tasks, Proceedings of the International Conference on 2020 IEEE 25th International Conference on Problems of Automated Electrodrive. Theory and practice (PAER), PAER [in English].
World Economic Forum, (2021) Retrieved from https://cutt.ly/KRWS6W5 [in English].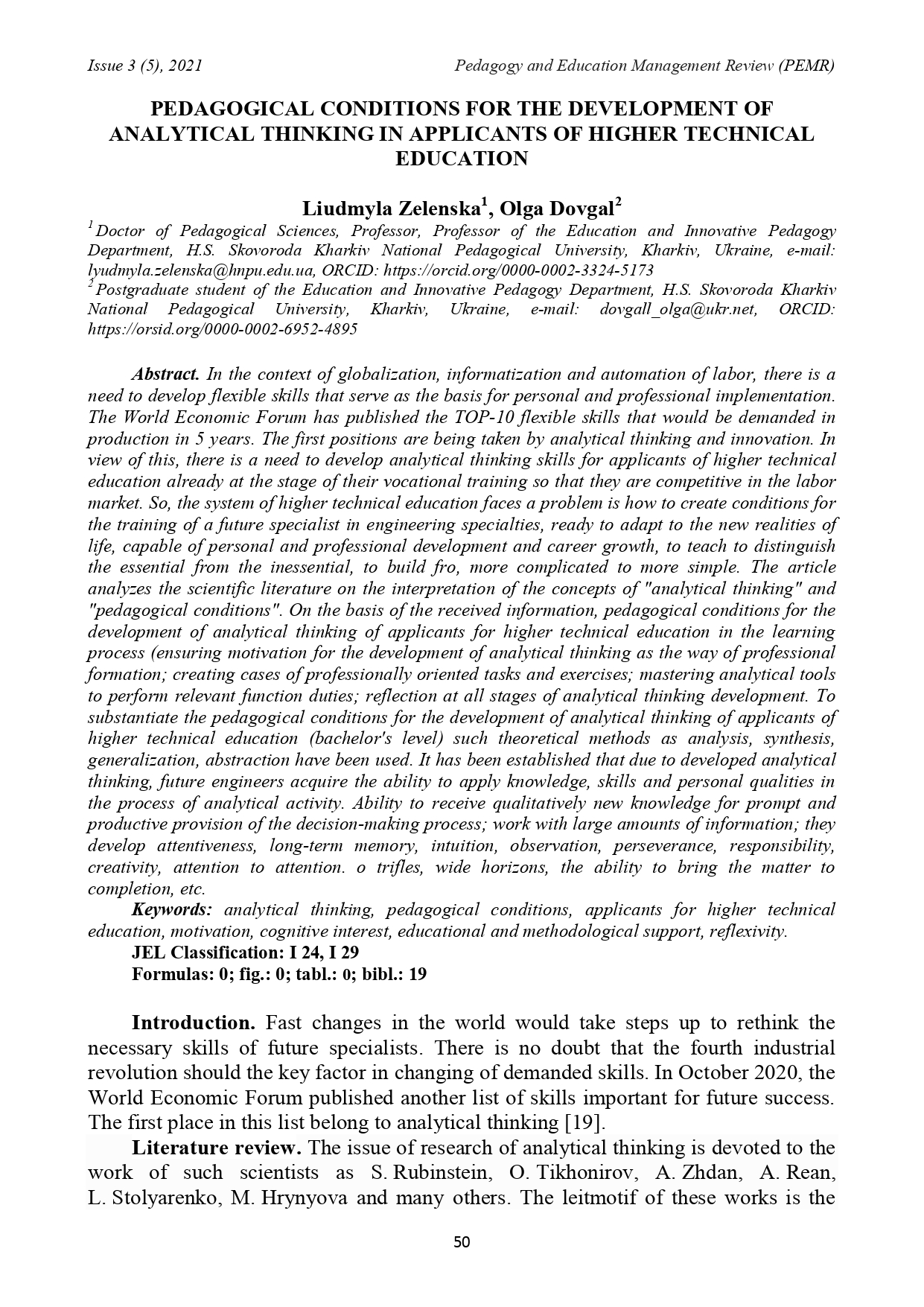 Downloads
How to Cite
Zelenska, L., & Dovgal, O. (2021). PEDAGOGICAL CONDITIONS FOR THE DEVELOPMENT OF ANALYTICAL THINKING IN APPLICANTS OF HIGHER TECHNICAL EDUCATION. Pedagogy and Education Management Review, (3), 50–56. https://doi.org/10.36690/2733-2039-2021-3-50
Section
THEORY AND METHODS OF VOCATIONAL EDUCATION