CREATIVE USE OF THE EXPERIENCE OF FOREIGN LANGUAGE EDUCATION ABROAD IN THE EDUCATIONAL PROCESS OF UKRAINE
Keywords:
foreign language education, research, study, analysis, development, conclusions
Abstract
The article deals with the creative use of the experience of the foreign-language World abroad in the educational process of Ukraine. It is noted that taking into account this circumstance and the general nature of the Ukrainian scientific and pedagogical discourse on the development of foreign Foreign Language Education, the analysis of the problem of creative use of its experience in the educational process of Ukraine is based on the following logic. First, we consistently consider research on the development of foreign language education in foreign countries at certain levels of education (primary, secondary, higher, in particular professional). Therefore. through this prism of this scientific heritage, we summarize the main vectors, aspects, and components of its research: semantic, methodological (technological), organizational and managerial. The author relied on the research of well-known scientists on learning a foreign language in educational institutions. Special attention was paid to the expansion of the socio-cultural context of the content of foreign language education. Attention is focused on the ability of educational applicants to use a foreign language as a means of intercultural communication.  Proficiency in a foreign language gives you the ability to create your own ethnic and socio-cultural identity by comparison. Cognitive development of educational applicants activates their learning activities. It is noted that at the beginning it is necessary to pay attention to strengthening an effective state language policy. It provides a strategy for multicultural language education and the growth of the language culture of the population. This is reflected in the growing number of people who speak at least one foreign language. The beginning of the study of several foreign languages in high school begins.
References
Andreiko, Ya. V. (2013). Inshomovna profesiina komunikatyvna kompetentsiia [Foreign language pro-fessional communication competence]. Ped. nauky : zb. nauk. pr. Vyp. 63. S. 238–241 [in Ukrainian].
Hamaniuk, V. A. (2021), Inshomovnoi osvita Nimechchyni v konteksti zahalnoievropeiskykh intehratsiinykh protsesiv: teoriia i praktyka [Foreign language education in Germany in the context of pan-European integration processes: theory and practice]. Kryvyi Rih: Publishing House. [in Ukrainian].
Glukhova .LO. Linhvokulturni kontsepty ta yikh rol u navchanni studentiv inozemnii movi [Linguo-cultural concepts and their role in teaching students a foreign language http://confcontact.com › 8_Glyhova[in Ukrainian].
Hulpa, L. Iu. (2007), Tendentsii rozvytku inshomovnoi osvity u serednikh navchalnykh zakladakh Uhorskoi Respubliky [Development trends of foreign language education in secondary schools in the Republic of Hungary]. (Diss. ped. Sciences). Carpathians. nat. Univ., Ivano-Frankivsk. [in Ukrainian].
Karpyuk, O. D. (2008), Ievropeiske Movne Portfolio [European Language Portfolio]. Ternopil: Libra Terra. [in Ukrainian].
Nikolaieva, Yu. S. (Ed). (2003), Zahalnoievropeiski rekomendatsii z movnoi osvity: vyvchennia, vykladannia, otsiniuvannia [Pan-European recommendations for language education: study, teaching, assessment]. Kyiv: Lenwith. [in Ukrainian].
Makhinov, V. M. (2012), Stanovlennia movnoi osobystosti v istorii rozvytku yevropeiskoho sotsiokulturnoho osvitnoho prostoru [Becoming a linguistic personality in the history of the development of the European socio-cultural educational space]. Kyiv: Publishing House of NP Drahomanov. [in Ukrainian].
Pershukova, O. O. (2002), Rozvytok sotsialno-kulturnoho komponenta zmistu navchannia inozemnoi movy v yevropeiskii shkilnii osviti [Development of the socio-cultural component of foreign language teaching in European school education]. (Diss. cand. ped. sciences). Inst. pedagogy of the Academy of Pedagogical Sciences of Ukraine, Kyiv. [in Ukrainian].
Kuznyetsova, O. Yu. (2003), Rozvytok movnoyi osvity u serednikh i vyshchykh navchal'nykh zakladakh Velykoyi Brytaniyi druhoyi polovyny XX st. [Development of language education in secondary and higher educational institutions of Great Britain in the second half of the XX century]. (Author's diss. doctor ped. sciences). Kharkiv. [in Ukrainian].
Maksymenko, O. L. (2013), Orhanizatsiyno-pedahohichni zasady profesiyno-oriyentovanoho navchannya inozemnykh mov u krayinakh Yevropeys'koho Soyuzu [Organizational and pedagogical principles of professionally-oriented teaching of foreign languages in the countries of the European Union]. (Diss. cand. ped. sciences). Kyiv. [in Ukrainian].
Smelyans'ka, V. V. (2011), Tendentsiyi rozvytku rann'oho navchannya inozemnykh mov u pochatkovykh shkolakh SShA [Trends in the development of early foreign language learning in US primary schools]. (Diss. cand. ped. sciences). Nizhyn. [in Ukrainian].
Tadeyeva, M. I. (2010), Rozvytok suchasnoyi shkil'noyi inshomovnoyi osvity v krayinakh-chlenakh Rady Yevropy [Development of modern school foreign language education in the member states of the Council of Europe]. Ternopil: Textbook - Bogdan. [in Ukrainian].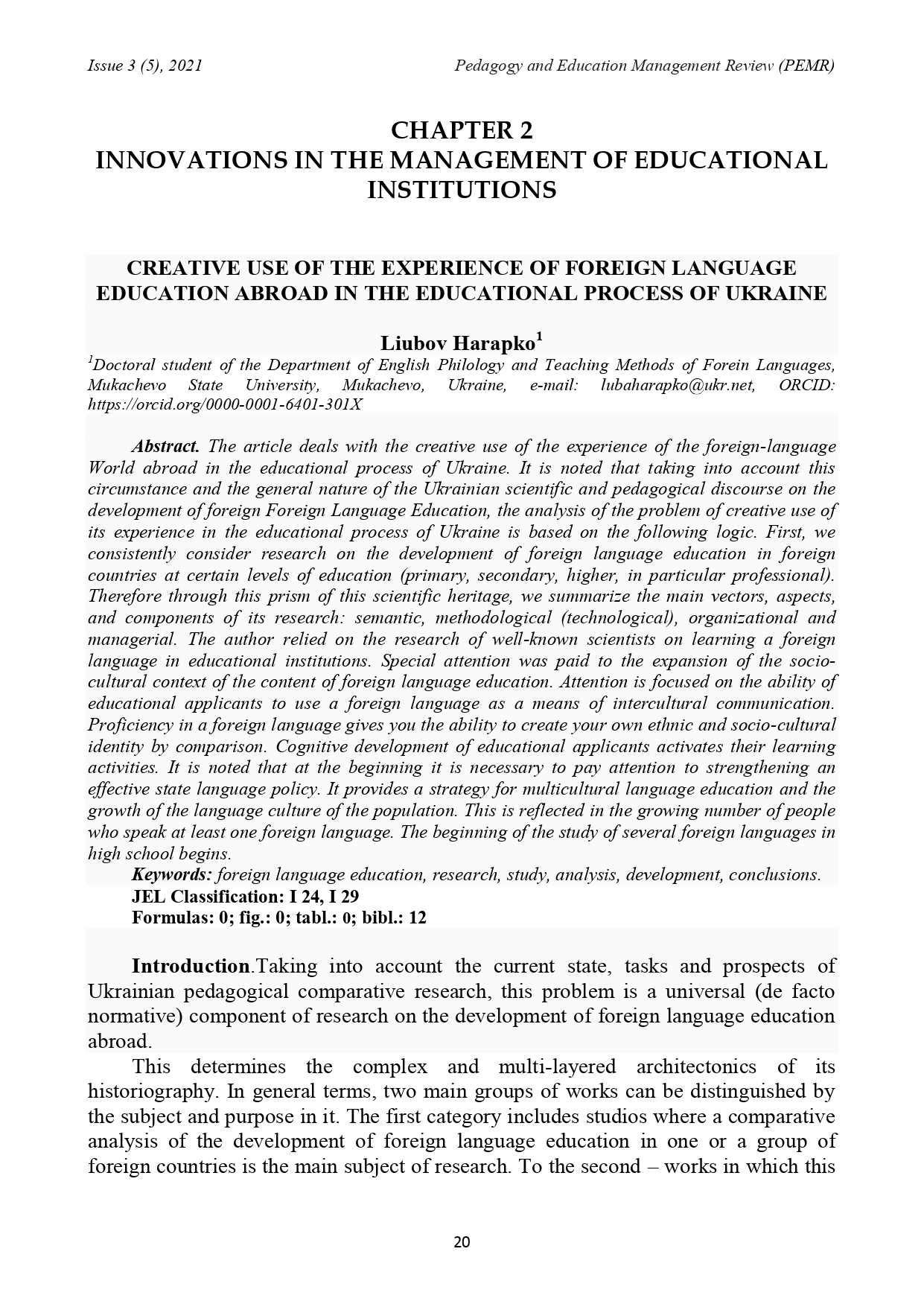 Downloads
How to Cite
Harapko, L. (2021). CREATIVE USE OF THE EXPERIENCE OF FOREIGN LANGUAGE EDUCATION ABROAD IN THE EDUCATIONAL PROCESS OF UKRAINE. Pedagogy and Education Management Review, (3), 20–27. https://doi.org/10.36690/2733-2039-2021-3-20
Section
INNOVATIONS IN THE MANAGEMENT OF EDUCATIONAL INSTITUTIONS