USE OF EDUCATIONAL TRAINING IN THE PROFESSIONAL TRAINING OF FUTURE BIOLOGY TEACHERS IN THE STUDY OF HUMAN AND ANIMAL ANATOMY AND PHYSIOLOGY
Keywords:
training, students of higher education, biology teacher, educational process, training courses, hard skills, soft skills
Abstract
The prospective and effective area of training is the use of training in the educational process for students of natural sciences. The relevance of introducing training technologies into the educational process for the study of human and animal anatomy and physiology by future biology teachers is emphasized. The latest domestic and foreign scientific researches and publications on the use of training technologies in the educational process are analyzed. The features of the use of training in the training of future specialists in a higher educational institution are characterized. It is shown that the training technology is a collective form of organization of training, helps to carry out training taking into account individual characteristics, promotes self-realization of the future professional and the choice of an adequate pace of learning. The expediency of using the training in the training of biology teachers in the development of certain aspects of the disciplines of human anatomy and physiology, namely: reproductive health, methods of contraception, rational nutrition, hardening, healthy lifestyle, is determined. A plan of training sessions for the cycle is proposed: «Show Awareness and Prudence», their topics and goals are defined. The questionnaire survey of higher education students of the Faculty of Natural Sciences and Geography of Pavlo Tychyna Uman State Pedagogical University, which took place before and after the training sessions on the following topics, was analyzed: «Human Immunodeficiency Virus (HIV) and Acquired Immunodeficiency Syndrome (AIDS)», «Sexually Transmitted Infections (STIs)». The effectiveness of the training in the educational activities of future biology teachers was evaluated. We consider it promising to introduce training technologies for the training of a biologist during higher education at the university.
Downloads
Download data is not yet available.
References
Antonova O. Ye., Polishchuk N. M. (2016). Pidhotovka vchytelia do rozvytku zdorovia zberezhuvalnoi kompetentnosti uchniv: monohrafiia [Preparing teachers for the development of students' health competence: a monograph] Zhytomyr : Vyd-vo ZhDU im. I. Franka, 248 p. [in Ukrainian].
Vashchenko L. S. (2005). Osnovy zdorovia. Knyha dlia vchytelia [Health Basics. A teacher's book] K. : Geneza, 240 p. [in Ukrainian].
Veilandie V. (2008). Pedahohichnyi treninh yak tekhnolohiia indyvidualizatsii pidhotovky fakhivtsiv u vyshchii shkoli [Pedagogical training as a technology of individualizing the preparation of specialists in higher education] Kultura zdorovia yak predmet osvity : zb. nauk. prats za materialamy shostoi mizhnar. nauk.-metod. konf., 29–30 travnia, r. Kherson : PP Vyshemyrskyi V.S., P. 17−20 [in Ukrainian].
Velykyi tlumachnyi slovnyk suchasnoi ukrainskoi movy (2005). [Large explanatory dictionary of the modern Ukrainian language] / uklad. i holov. red. V. T. Busel. Kyiv ; Irpin : Perun, 1728 p. [in Ukrainian].
Vorontsova T. V., Ponomarenko V. S. (2012). Zakhysty sebe vid VIL. Treninhy zhyttievykh navychok: metodychnyi posibnyk dlia pedahoha-trenera [Protect yourself from HIV. Life skills trainings: a methodical manual for a teacher-trainer] Ternopil : Navchalna knyha–Bohdan, 208 p. [in Ukrainian].
Kontseptsiia navchannia zdorovoho sposobu zhyttia na zasadakh rozvytku navychok (2005). [The concept of teaching a healthy lifestyle based on skills development] / Avt.-uporiadn. Mari-Noel Belo. K. : Heneza, 80 p. [in Ukrainian].
Kocherha O. M. (2014). Osoblyvosti vykorystannia treninhovykh tekhnolohii u protsesi formuvannia praktychnoi komponenty profesiinoi pidhotovky maibutnoho uchytelia [Peculiarities of using training technologies in the process of forming the practical component of professional training of future teachers] Molodyi vchenyi, № 2 (05). P. 116–119. [in Ukrainian].
Miliutina K. L. (2004). Teoriia ta praktyka psykholohichnoho treninhu : navch. Posib [Theory and practice of psychological training: a tutorial] Kyiv : MAUP,. 192 p. [in Ukrainian].
Pedagogicheskiy entsiklopedicheskiy slovar (2003). [Pedagogical Encyclopedic Dictionary] / gl. red. B. M. Bim-Bad. M. : BRE, 528 p/ [in Russian].
Polishchuk N. M. (2012). Pidhotovka vchytelia do rozvytku zdoroviazberezhuvalnoi kompetentnosti uchniv [Preparing teachers for the development of students' health competence.] Zhytomyr : Vyd-vo FOP Yevenok, 168 p. [in Ukrainian].
Romanova N., Poliakova H. (2013). Osoblyvosti treninhovoho navchannia maibutnikh fakhivtsiv u vyshchomu navchalnomu zakladi [Peculiarities of training of future specialists in higher educational establishments] Naukovyi chasopys NPU imeni M. P. Drahomanova. Seriia 11. Sotsialna robota. Sotsialna pedahohika : zbirka naukovykh prats. Vypusk 17, ch. 3. P. 177–185. [in Ukrainian].
Semenova A. V. (2006). Rozvytok profesiinoi kompetentnosti fakhivtsiv zasobamy paradyhmalnoho modeliuvannia (interaktyvnyi treninh) : navch.-metod. Posibnyk [Development of professional competence of specialists by means of paradigmatic modeling (interactive training): educational and methodical manual.] Odesa, 130 p [in Ukrainian].
Skyba M. (2016). Formuvannia umin ekoloho-pedahohichnoi diialnosti maibutnikh uchyteliv biolohii u protsesi treninhu [Forming skills of ecological and pedagogical activity of future biology teachers in the process of training] Pedahohichnyi protses: teoriia i praktyka. Seriia : Pedahohika, № 4 (55). P. 124–129. [in Ukrainian].
Tekhnolohii navchannia doroslykh (2006). [Adult teaching technologies] / uporiad. : O. Hlavnyk, H. Bevz. K. : Hlavnyk, [seriia «Bibliotechka sotsialnoho pratsivnyka»]. 128 p. [in Ukrainian].
Treninhove navchannia v zakladi vyshchoi osvity : navchalno-metodychnyi posibnyk (2018). [Elektronnyi resurs] [Training in a higher education institution educational and methodical manual [Electronic resource]]/ M. V. Afanasiev, H. A. Poliakova, N. F. Romanova ta in. ; za zah. red. profesora M. V. Afanasieva. Kharkiv : KhNEU im. S. Kuznetsia, 323 p. [in Ukrainian].
Fishchuk O. S. (2021). Treninh yak efektyvnyi metod praktychnoi pidhotovky studentiv-biolohiv [Training as an effective method of practical training of biology students.] Psykholohichni perspektyvy. 2020. Vyp. 35. P. 148–161. URL: http://nbuv.gov.ua/UJRN/Ppst_2020_35_13 (data zvernennia: 20.10.).
Tsurul O. A. (2017). Metodyka orhanizatsii ta provedennia seminariv: osoblyvosti pidhotovky maibutnikh uchyteliv biolohii [Methods of organizing and conducting seminars: peculiarities of training future biology teachers] Pedahohichni nauky: teoriia, istoriia, innovatsiini tekhnolohii. № 9 (73). P. 130–140. [in Ukrainian].
Silva M. N. P., Lago E. C., Nery I. S., Almeida C. A. P. L., Tapety F. I., Maia A. B. B., da Silva E. S. (2020). Elderly health: professional training and performance in primary health care. Bioscience Journal, 36(4). [in English].
Guidarelli L. (2015). Professional training and research: which resources? Italian Journal of Pediatrics, 41(Suppl 2): A41. [in English].
Jayaram S., Musau R. (2017). Soft Skills: What They Are and How to Foster Them. Bridging the Skills Gap, Technical and Vocational Education and Training: Issues, Concerns and Prospects, 26. 101–122. [in English].
Laker D. R., Powell J. L. (2011). The differences between hard and soft skills and their relative impact on training transfer. Human Resource Development Quarterly, 22, 111–122. [in English].
Mampane S. T. (2017). Professional Training and Lifelong Learning for School Heads of Departments: A Gateway for Headship Continuous Improvement. In: Amzat I., Valdez N. (eds) Teacher Empowerment Toward Professional Development and Practices. Springer, Singapore, [in English].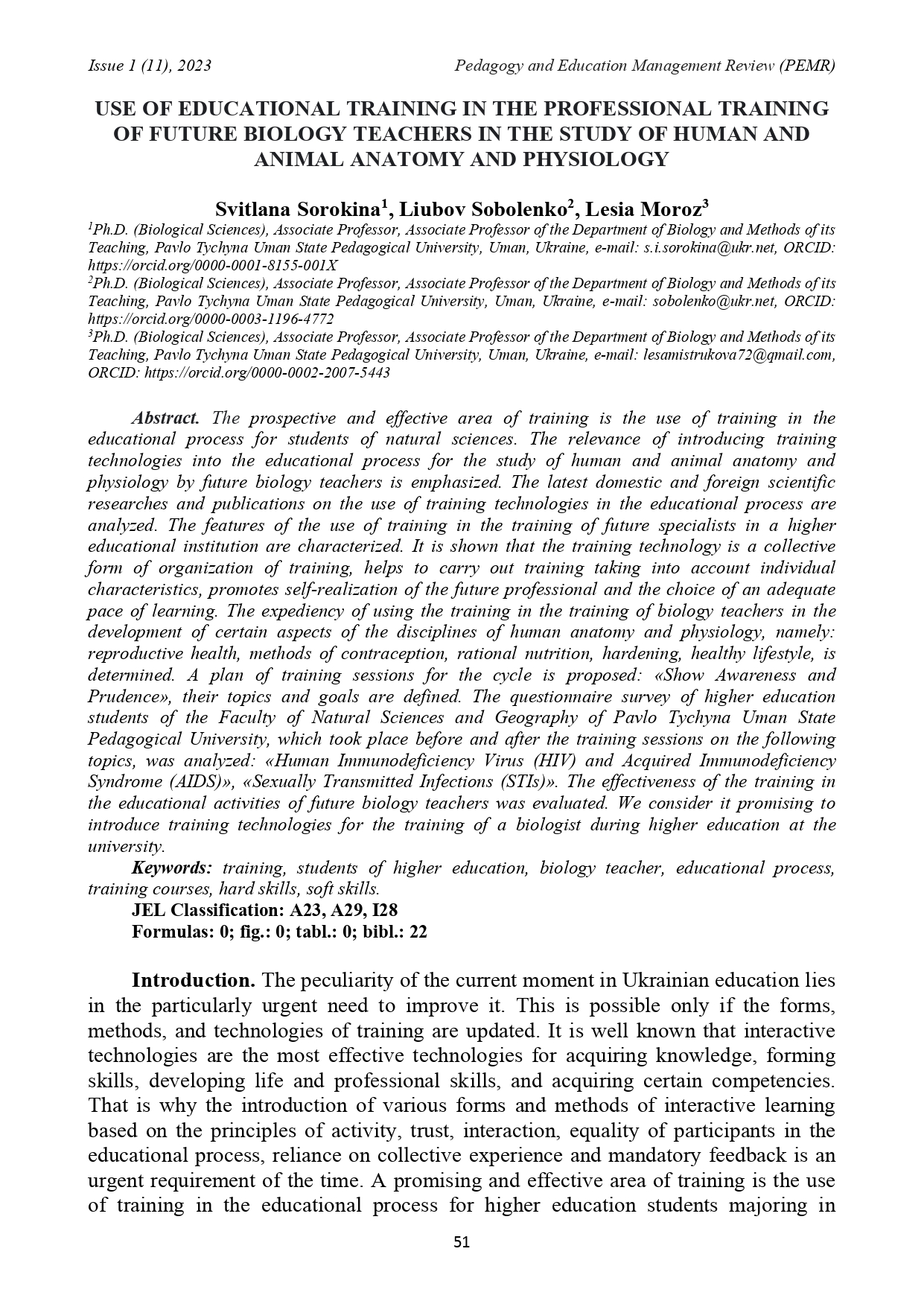 Downloads
How to Cite
Sorokina, S., Sobolenko, L., & Moroz, L. (2023). USE OF EDUCATIONAL TRAINING IN THE PROFESSIONAL TRAINING OF FUTURE BIOLOGY TEACHERS IN THE STUDY OF HUMAN AND ANIMAL ANATOMY AND PHYSIOLOGY. Pedagogy and Education Management Review, (1), 51–57. https://doi.org/10.36690/2733-2039-2023-1-51
Section
THEORY AND METHODS OF VOCATIONAL EDUCATION
License
This work is licensed under a Creative Commons Attribution 4.0 International License.