PROFESSIONAL TRAINING OF THE MODERN TEACHER IN THE CONDITIONS OF DISTANCE EDUCATION
Keywords:
institution of higher education, distance learning, innovative forms of professional training of modern teachers, distance learning technologies
Abstract
The article reveals the specifics of the organizationdistance learning as an innovative form of professional training of a modern teacher. It was established that modern distance education is an extensive system of knowledge transfer at a distance using various means and technologies, which helps students obtain the necessary information for use in practical activities, while distance learning is a form of organization of the educational process and pedagogical technology, the basis of which is a controlled independent student work and wide application of modern information and communication technologies in education. Distance learning uses the following concepts: asynchronous / asynchronous modes; web resources of educational disciplines (programs), distance courses; distance learning web environment; distance form of education in higher education institutions. In the conditions of distance learning in higher education institutions, the use of modern technologies is provided, such as: information and communication technologies of distance learning – technologies for creating, storing, storing and accessing distance courses (electronic resources) of educational disciplines (programs), as well as ensuring the organization and support of educational process using specialized software and information and communication tools; psychological and pedagogical technologies of distance learning – a system of means, techniques, steps, the consistent implementation of which ensures the fulfillment of the tasks of education, education and personality development; distance learning technologies – a complex of educational technologies (in particular, psychological-pedagogical and information-communication) that provide an opportunity to implement the distance learning process. It has been established that distance learning can be implemented through the use of a distance form as a separate form of education; the use of distance learning technologies to provide education in various forms: institutional (full-time – day, evening; part-time, distance; online); individual (external; family or home; pedagogical patronage; workplace or production); dual.
Downloads
Download data is not yet available.
References
Activation of the educational process in modern higher education. Composition. L. A. Yakymova. Kyiv: State Enterprise «Personal Publishing House», 2010. 255 p.
Bystrova Yu. V. Innovative methods of education in higher education of Ukraine. Law and innovative society. 2015. No. 1(4). P. 27-28.
Bialik O.V., Dzyubenko I.A. Educational innovations in higher education: teaching. manual. Uman: Visavy, 2021. 219 p.
Innovations in higher education: problems, experience, prospects: monograph. P. Yu. Saukh [et al.]. Zhytomyr: Department of ZhDU named after I. Franka, 2011. P. 14-319.
The concept of distance education development in Ukraine. URL: http://uiite.kpi.ua/2019/06/03/1598/
Regulations on distance learning at Uman State Pedagogical University named after Pavel Tychyna (New edition) URL: https://udpu.edu.ua/documents/doc.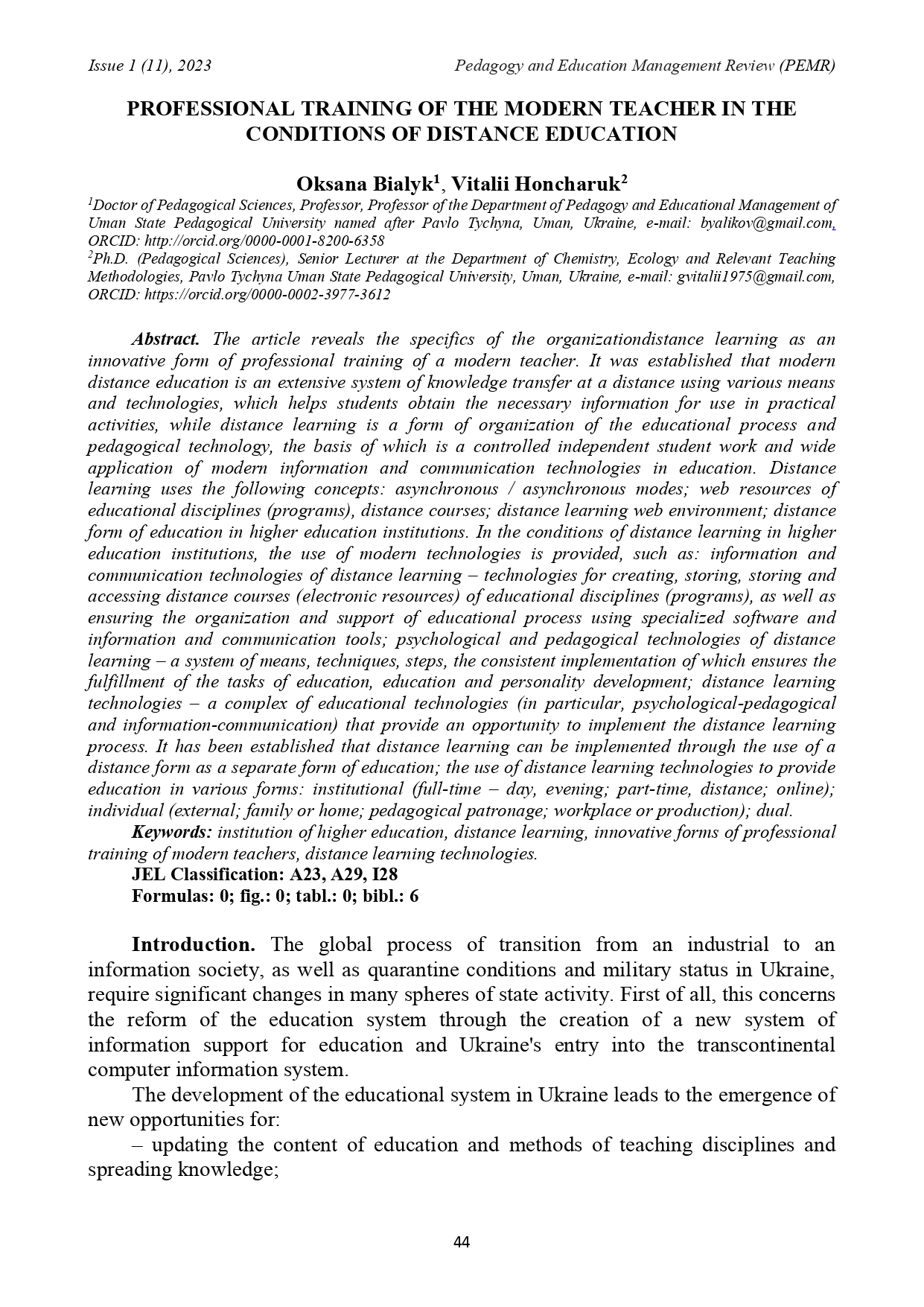 Downloads
How to Cite
Bialyk, O., & Honcharuk, V. (2023). PROFESSIONAL TRAINING OF THE MODERN TEACHER IN THE CONDITIONS OF DISTANCE EDUCATION. Pedagogy and Education Management Review, (1), 44–50. https://doi.org/10.36690/2733-2039-2023-1-44
Section
THEORY AND METHODS OF VOCATIONAL EDUCATION
License
This work is licensed under a Creative Commons Attribution 4.0 International License.