SPECIALTYES OF FORMATION OF ETHNOCULTURAL COMPETENCE OF FUTURE PHILOLOGISTS IN HIGHER EDUCATION INSTITUTION
Keywords:
cultural competence, general cultural competence, ethnocultural competence, ethnoculture, process of formation, future teachers-philologists
Abstract
A young man needs to learn the ability to analyze and evaluate the national culture achievements, to know the ethno-cultural space of the nation. Young generation of Ukrainians will be able to prepare a philologist who will have a high level of ethnocultural competence. In the new educational documents the cultural competence is among the key competences of the teacher-philologist. This competence implies teacher's knowledge of the vocabulary with the national-cultural component, the names of objects and phenomena of traditional Ukrainian life, customs, traditions, folk art. Among the key competences of a secondary school graduate we take into account the general cultural competence, the structure of which is dominated by ethno-cultural one. The ethnocultural competence of the person includes knowledge of a considerable number of elements of ethnic culture, ranging from elementary non-verbal communication (gestures, rhythms, poses, facial expressions, glances) to generalizing moral and legal norms, customs. In the above-mentioned cultural competence of a teacher-philologist, we also single out such component such the ethnocultural competence, which will indicate its ability to perceive itself as a carrier of a particular ethnoculture. The process of ethnocultural competence formation does not end with the school graduation, but happens throughout the life of a person. However, a certain degree of its formation during school years plays an important role in the personality formation. Therefore, higher education institution should direct its educational work on the formation of the ethnocultural competence of the future teacher-philologist, which will depend on the level of formation of such competence of the students, and later of the next generations of Ukrainians. This work provides for the future philologists obtaining the objective knowledge of Ukrainian ethnic culture, spiritual and moral values and mental features of the Ukrainian nation.
References
Belova, N. A., Kashkareva, E. A. (2015) Methodical Ways of Enhancement of Personal Communicative. Asian Social Science. Vol. 11. №. 8, рр. 19–25.
Bereziuk, O. S. (2015) Metodychni zasady formuvannia etnokulturnoi kompetentnosti osobystosti [Methodical bases of formation of ethnocultural competence personality]. Educational discourse. № 3 (11), pp. 13–21. [in Ukrainian].
Vovk, M. P. (2014) Folklore studies in classical universities of Ukraine (second half of the nineteenth and early twentieth centuries) [Folklore in classical universities of Ukraine (second half of the XIX – beginning of the XXI century)]: teaching. manual. Kyiv: In-t ped. Education and Adult Education of NAPN of Ukraine. 202 p. [in Ukrainian].
Нoncharuk, V. A, Нoncharuk, V. V. (2020) Zmist i meta formuvannia etnokulturnoi kompetentnosti pedahoha v konteksti osvitnikh zmin [The content and purpose of the formation of ethnocultural competence of the teacher in the context of educational change]. Proceedings of the 2nd International Scientific and Practical Conference «Scientific Research in XXI Century» (February 6–8, 2020). Ottawa, Canada: Methuen Publishing House, рр. 38–42 [in Ukrainian].
Dauvrin, M., Lorant, V. (2017) Cultural competence and social relationships: a social network analysis. International Nursing Review, рр. 195–197.
Zaritska, V. (2010) Movno-kulturolohichnyi aspekt formuvannia profesiinoi kultury suchasnoho pedahoha [Linguistic and cultural aspect of professional formation culture of the modern teacher]. Ukrainska mova v kulturnomu prostori Skhidnoi Ukrainy: Materialy mizhrehionalnoi naukovo-praktychnoi konferentsii. Donetsk: Ukrainian Cultural Center, pр. 90–99 [in Ukrainian].
Zinchenko, V., Udovychenko, L., Maksymenko, A., Gevorgian, K., Nesterenko, T., Honcharuk, V. 2021. Aprendizaje basado en proyectos en la formación de futuros filólogos [Project-based learning in the formation of future philologists]. Revista de la Universidad del Zulia. 12, 35 (nov. 2021), 134-147. DOI:https://doi.org/10.46925//rdluz.35.08.
Kontseptsiia natsionalnoho vykhovannia studentskoi molodi Lvivskoho natsionalnoho universytetu imeni Ivana Franka [The concept of national education of Lviv student youth Ivan Franko National University]. URL: http://prima.lnu.edu.ua/general/vicerector_train/concept_vykh_molodi.htm [in Ukrainian].
Lisovyi, V. Etnokultura. Filosofskyi entsyklopedychnyi slovnyk. URL: http://slovopedia.org.ua/104/53397/1083560.html .
Savchuk, B. (2004) Ukrainska etnolohiia [Ukrainian ethnology]: navch. posibnyk. Ivano-Frankivsk: Lileia-NV. 559 p. [in Ukrainian].
Semenoh, O. M. Profesiina pidhotovka maibutnikh uchyteliv ukrainskoi movy i literatury [Professional training of future teachers of the Ukrainian language and literature]: monohrafiia. Sumy: GDP «Mriya-1» Ltd., 2005. 404 p. [in Ukrainian].
Siavavko, Ye. (2009) Narodoznavcha kultura vykladacha yak skladova filosofsko-etychnoi kontseptsii pedahohichnoi diialnosti u vyshchii shkoli [Ethnographic culture of the teacher as a component of philosophical and ethical concepts of pedagogical activity in higher school]. Visnyk Lvivskoho universytetu. Seriia pedahohichna. Vyp. 25. Ch. 1, рр. 213–220 [in Ukrainian].
Khutorskoy, A. V. (2003) Key Competencies as a Component of Person-Oriented Education [Key competencies as a component of personality-oriented education]. Public Education. № 2, рр. 58–64 [in Russian].
Shulha, M. Kompetentnist etnokulturna [Ethnocultural competence]. Etnichnyi dovidnyk: poniattia ta terminy. URL: http://etnography.national.org.ua/glossary/k.html [in Ukrainian].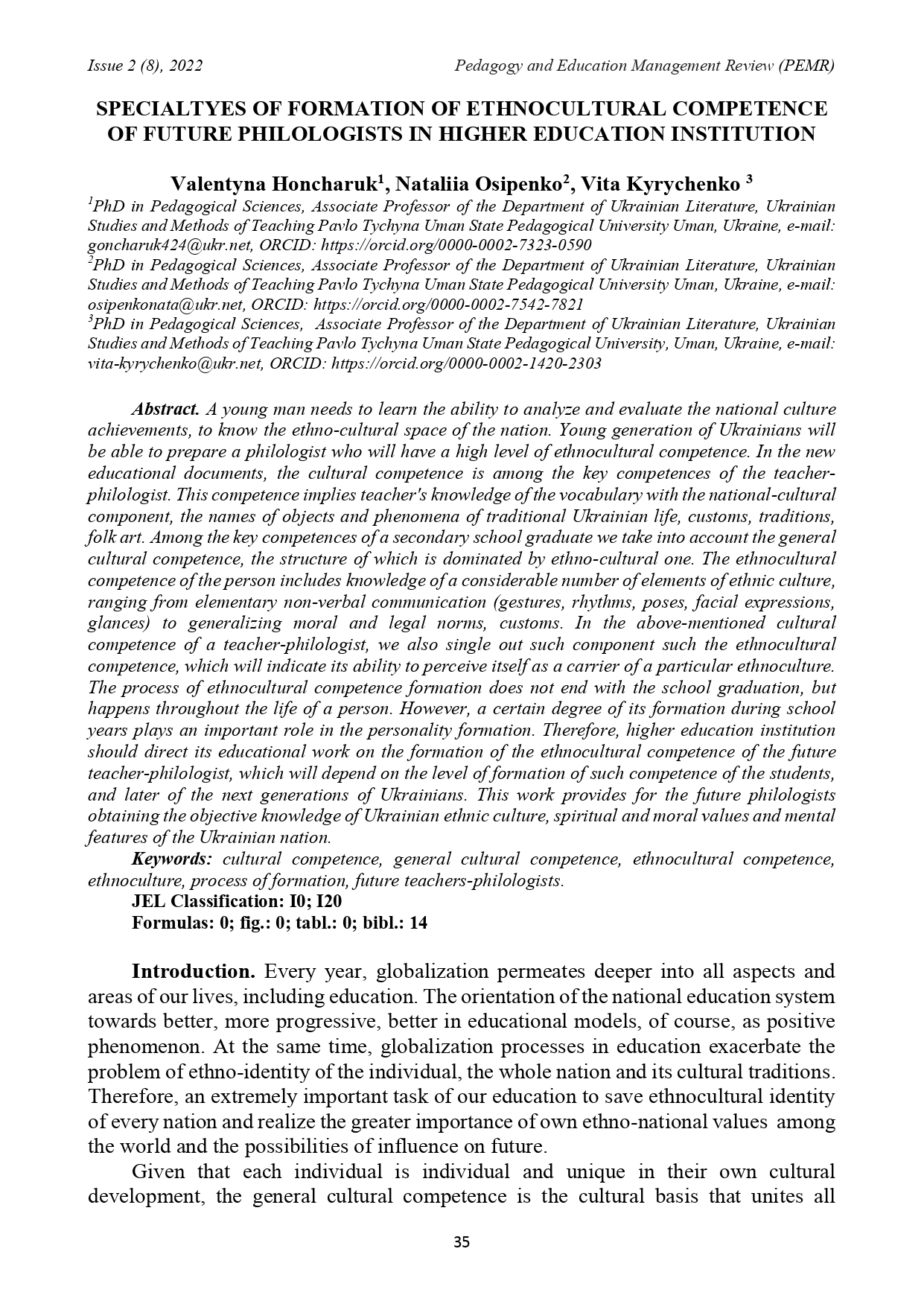 Downloads
How to Cite
Honcharuk, V., Osipenko, N., & Kyrychenko, V. (2022). SPECIALTYES OF FORMATION OF ETHNOCULTURAL COMPETENCE OF FUTURE PHILOLOGISTS IN HIGHER EDUCATION INSTITUTION. Pedagogy and Education Management Review, (2), 35–41. https://doi.org/10.36690/2733-2039-2022-2-35
Section
THEORY AND METHODS OF VOCATIONAL EDUCATION
License
Copyright (c) 2022 Valentyna Honcharuk, Nataliia Osipenko, Vita Kyrychenko
This work is licensed under a Creative Commons Attribution-NonCommercial-NoDerivatives 4.0 International License.