Preserving national identity of Ukrainian higher education in the context of globalization
Keywords:
higher education, globalization, national self-identification, national self-identity, international cooperation, European integration, innovation
Abstract
The article reveals the impact of globalization on changes in the field of higher education, which are characterized by creation of a unified European educational space, increasing the importance and awareness of the need for purposeful training of the national elite in the country's universities. It was found out that with the development of globalization educational services extended beyond the national borders, transnational and international educational programs are developing. Among the reasons for  high growth rate of the global system, the article highlights: increasing the number of adults receiving additional education in one form or another, and  rapid introduction of information technology in the educational process (distance learning courses, e-textbooks, curricula, e-learning systems, etc.). In the context of globalization, the task of strengthening internal national, civic ties, patriotic unity of the nation, the people gains more importance, because globalization is a tendency not only to the unity of the world, but also to intensifying - in a civilized framework - competition between nations. And only a consolidated nation will be able to realize its own national interest and effectively defend it in relations with other states. It is revealed that nation-building is impossible without national self-conscience  and self-identification; higher education in Ukraine as an institution of human development is intended to ensure  personal direction of human development on intellectual, spiritual and moral background; state support is not a decisive factor in the development of higher education, but is a guarantee of maintaining national identity and self-identification in the context of globalization.
References
Vitvyts'ka, S. S. (2015), Praktykum z pedahohiky vyshchoyi shkoly: navch. Posibnyk [Practical Course on Pedagogy of Higher Education], K.: Tsentr navchal'noyi literatury. [in Ukraine]
Vitvyts'ka, S. S. (2014), Suchasni tekhnolohiyi pidhotovky mahistriv v umovakh stupenevoyi pedahohichnoyi osvity [Modern technologies of masters' training in the context of multy-stage pedagogical education], Visnyk Kyyivs'koho mizhnarodnoho universytetu, K.: KMU, Seriya: Pedahohichni nauky. Vyp. 5. [in Ukraine].
Hura, O. I. (2008), Teoretyko-metodolohichni osnovy formuvannya psykholoho-pedahohichnoyi kompetentnosti vykladacha vyshchoho navchal'noho zakladu v umovakh mahistratury [Theoretical and methodological foundations of forming psychological and pedagogical competence of a teacher of a higher educational establishment in the magistracy], Avtoref. dys. na zdobuttya nauk. stupenya d-ra ped. nauk: spets. 13.00.04 "Teoriya i metodyka profesiynoyi osvity". [in Ukraine].
Lazarev, V. S., Stavrinova, N. N. (2006), Kriterii i urovni gotovnosti budushchego pedagoga k issledovatel'skoy deyatel'nosti [Criteria and levels of readiness of the future teacher for research activities], Pedagogika, № 2. [in Russian].
Passov, Ye. I. (2002), Kul'turosoobraznaya model' professional'noy podgotovki uchitelya: filosofiya, soderzhaniye, realizatsiya [Cultural model of professional training of a teacher: philosophy, content, implementation], Ínozemní movi, № 4. [in Russian].
Shcherbakova, T. N. (2013), Tvorchestvo v deyatel'nosti sovremennogo pedagoga [Creative work in the activities of a modern teacher], Aktual'nyye voprosy sovremennoy pedagogiki: materialy IV mezhdunarodnoy na-uchnoy konferentsii, (g. Ufa, noyabr' 2013 g.) Ufa: Leto. [in Russian].
Vyshnievskyi, O. (2020), Ukrainskyi natsionalnyi kharakter. [Ukrainian national character]. Natsionalne vykhovannia. [in Ukrainian].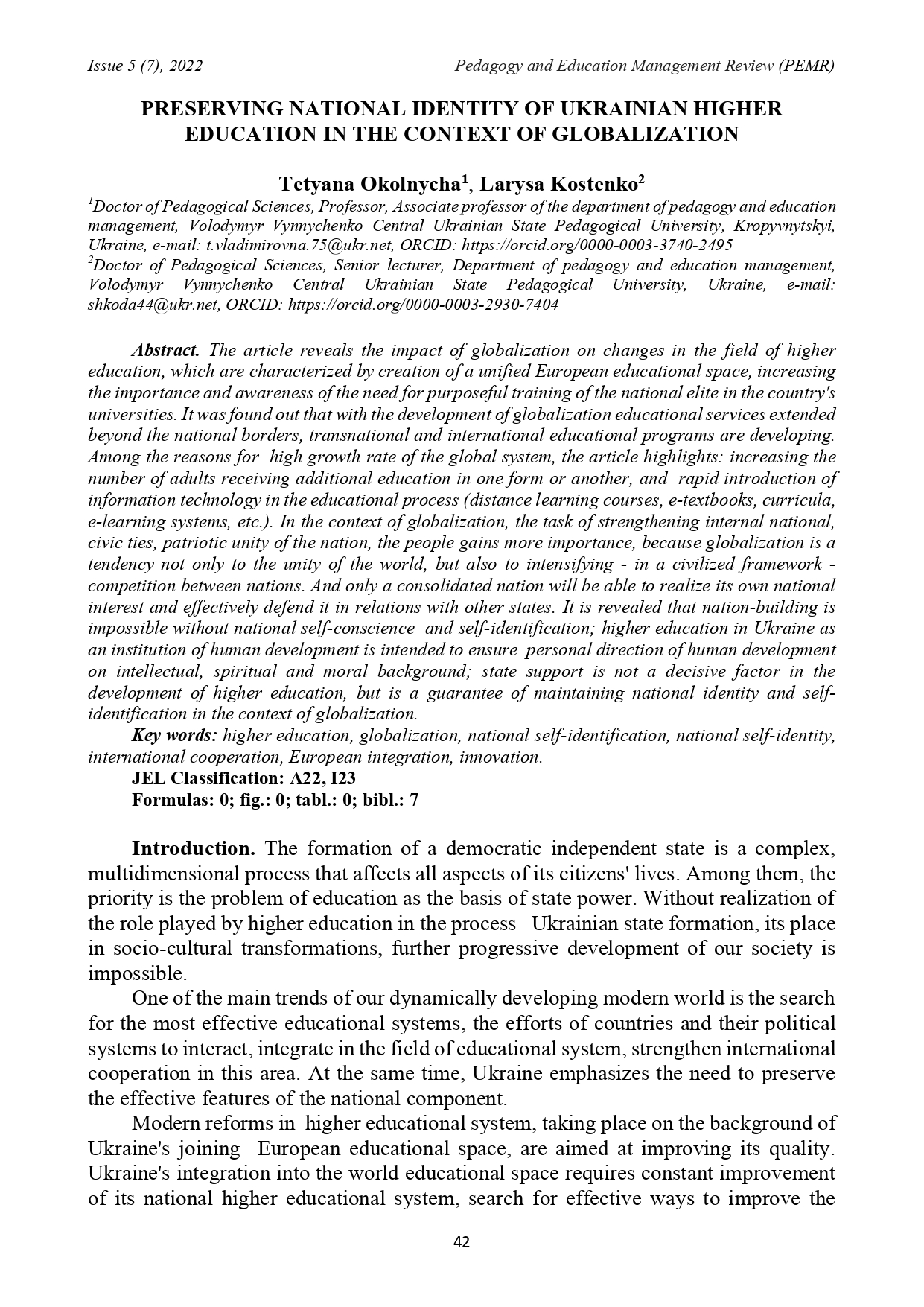 Downloads
How to Cite
Okolnycha, T., & Kostenko, L. (2022). Preserving national identity of Ukrainian higher education in the context of globalization. Pedagogy and Education Management Review, (1), 42–48. https://doi.org/10.36690/2733-2039-2022-5-42
Section
THEORY AND METHODS OF VOCATIONAL EDUCATION
License
Copyright (c) 2022 "Scientific Center of Innovative Researches" OÜ
This work is licensed under a Creative Commons Attribution-NonCommercial-NoDerivatives 4.0 International License.