ADVANCING THE EFFECTIVE PRINCIPLES OF INTERACTIVE LANGUAGE TEACHING
Keywords:
interaction, interactive principles, activities, communicative skills, teacher's functions, motivation, teaching, method, abilities, imitation
Abstract
Learning foreign languages seems to become more and more increasing requirement of modern education. International relations are extended and  strengthened through the exchange of scientific, technical, and cultural information. In this situation, issue of effective teaching methods have always been widely discussed in educational world community as finding the effective ones is the task of primary importance.
Teachers of foreign languages make their contribution to all aspects of education of pupils. The task of the teacher at the lesson is: to organize lots of practice and these practical exercises should be oriented on using the target language for the normal purposes basic to all strategies and techniques.  There are some useful principles and methods of teaching foreign languages. Interactive language teaching methods may be related to content being studied in the language, whether literary, historical, philosophical, scientific or sociological. The  interactive methods of foreign language teaching is not only new or mysterious, new techniques but also new forms, new principles, new approaches, new methods in teaching process. Interactive training encourages and gives learners to create comfortable condition of learning, also learners feel their successfulness, develop creativity, intellectual and communicative abilities. All modern students should be offered the selection of contents and approaches.  Most of the strategies deal with pair and group work and promote interaction. Encouraging students to develop their own strategies is an excellent means of stimulating the learner to develop tools of interaction.
References
Brown H. Doudlas. (2000). Principles of Language Learning and Teaching. Fourth Edition. White Plains, NY; Pearson Education. 260p.
Jeremy Harmer. (2003). How to teach English? Longman Publishing Group. 198p
Rivers Wilga M. (2002). Interactive Language Teaching. New York: Cambridge University Press. 394p.
Miralyubov A. A. (1982)«Theoretical principles and methods of teaching foreign languages» [Miralyubov A. A. «Teoretychni pryntsypy ta metody vykladannya inozemnykh mov»] 456p
Stevick E. (1998). Images and Options in the Language Classroom. Cambridge University Press. 164p.
Wilga M. Rivers. (1998). Caring and Sharing in the Foreign Language Classroom. Unpublished Articles of Harvard University. –270p.
Woodward T. (1999). Process in EFL. Teacher Training. Unpublished M. Phil. dissertation. University of Exeter. 112p.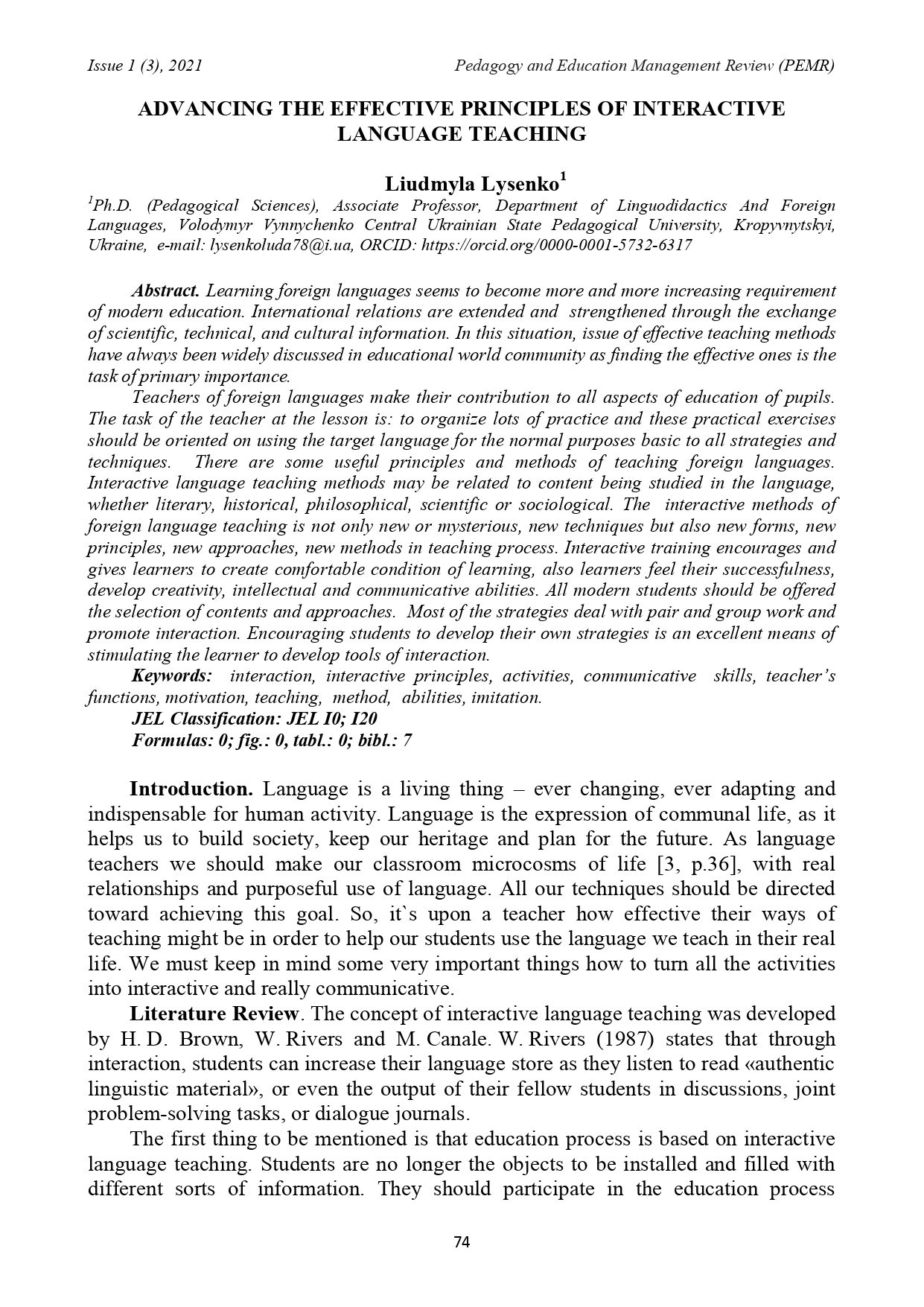 Downloads
How to Cite
Lysenko, L. (2021). ADVANCING THE EFFECTIVE PRINCIPLES OF INTERACTIVE LANGUAGE TEACHING. Pedagogy and Education Management Review, (1), 74–79. https://doi.org/10.36690/2733-2039-2021-1-74
Section
THEORY AND METHODS OF VOCATIONAL EDUCATION