A COMPETENT APPROACH TO THE TRAINING OF LAWYERS IN "CYBERTERRORISM"
Keywords:
law, information, information technology, cyber security, cyberterrorism, competent approach, training, lawyer
Abstract
As a result of the extremely wide use of modern information and communication technologies in all spheres of existence, society has become vulnerable to cybernetic influences. The flows of information transmitted, stored and processed in cyberspace are constantly increasing, which requires their proper protection against unauthorized access for criminal purposes. Given the widespread concern about cyberterrorism and the frequent use of the term "cyberterrorism" today, many international organizations have made efforts to combat this threat. A special place among institutions that can directly or indirectly counter cyberterrorism is occupied by universities that offer bachelor's and master's degrees in law and cyber security, in particular cyber terrorism. The presence of qualified personnel specializing in both legal knowledge and knowledge in the field of information technology will contribute to the creation of prerequisites for effective countermeasures against cyber terrorism in Jordan and in other countries of the world. The purpose of the article is to investigate the role of the law college in training lawyers capable of countering cyberterrorism. In order to assess the influence of external and internal factors on the activities of the Jadara University College of Law, the study conducted a survey of four categories of respondents: students, their parents, employees and employers. All respondents were offered questionnaires with a list of questions, the purpose of which was to reveal the level of awareness regarding the definition of criteria that could potentially be included in the new master's degree program in the specialty "Cyberterrorism". Based on the results of the research, the main competencies that future students of the master's degree "Cyberterrorism" should possess are established, namely: in the field of international law; in the field of international relations; in the field of international and national security; in the field of information technologies; in the field of cyber security; in the field of communication technologies, etc. Hence, Jadar University College of Law makes a direct contribution to the social, cultural and economic development of society, and graduates of the College of Law are important ambassadors of the College and play a key role in maintaining safety in the community and providing space and improving opportunities for members of the local community to access the College of Law and use the various services it provides.
Downloads
Download data is not yet available.
References
Toffler, Alvin. (1991). Powershift: Knowledge, Wealth, and Violence at the Edge of the 21st Century. New York : Bantam Books.
Defending against Cybercrime and Terrorism: A New Role for Universities URL: https://heinonline.org/HOL/LandingPage?handle=hein.journals/fbileb74&div=7&id=&page=
Cohen, F. (1987). Computer viruses: Theory and experiments. Comput. Secur., 6, 22-35.
Collin B. (1997). Future of Cyberterrorism: The Physical and Virtual Worlds Converge. Crime and Justice International; 13(2), 15-18.
Daniel M. Stewart & Eric J. Fritsch (2011). School and Law Enforcement Efforts to Combat Cyberbullying, Preventing School Failure: Alternative Education for Children and Youth, 55:2, 79-87, DOI: 10.1080/1045988X.2011.539440
Finn, J. (2004). A survey of online harassment at a university campus. Journal of Interpersonal Violence, 19: 468–483.
Ybarra, M. L., Mitchell, K. J., Wolack, J. and Finkelhor, D. (2006). Examining characteristics and associated distress related to Internet harassment: Findings from the Second Youth Internet Safety Survey. Pediatrics, 118: 1169–1177. [Crossref], [PubMed], [Web of Science ®], [Google Scholar]
Sameer Hinduja & Justin W. Patchin (2011) Cyberbullying: A Review of the Legal Issues Facing Educators, Preventing School Failure: Alternative Education for Children and Youth, 55:2, 71-78, DOI: 10.1080/1045988X.2011.539433
Öğün et al. TERRORIST USE OF CYBER TECHNOLOGY. (2021) Eskişehir Technical Univ. J. of Sci. and Tech. B – Theo.Sci. Vol: 9 – 2021 Iconat Special Issue 2021
Dorothy E. Denning. A View of Cyberterrorism Five Years Later. URL: https://apps.dtic.mil/sti/pdfs/ADA484928.pdf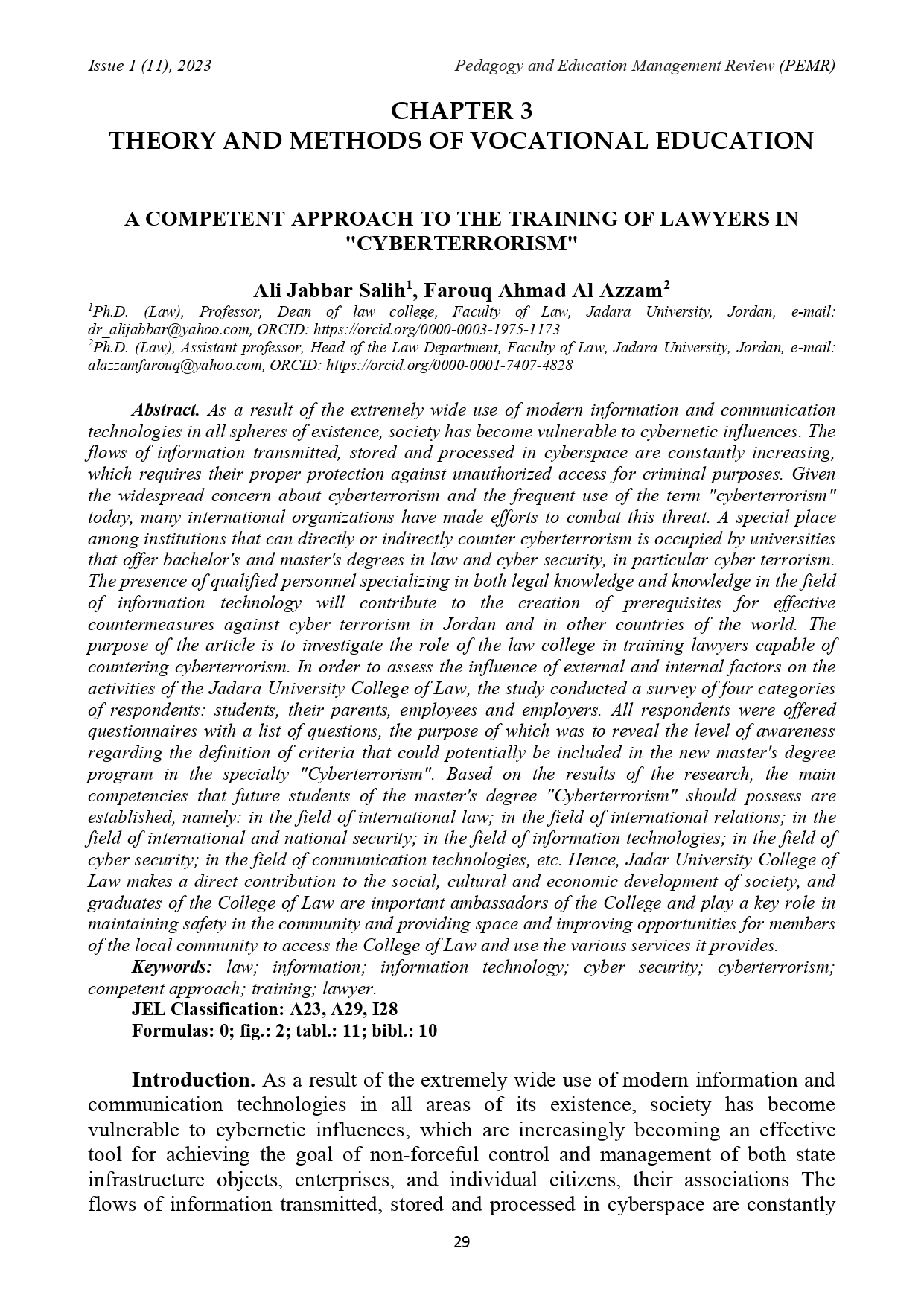 Downloads
How to Cite
Salih, A. J., & Al Azzam, F. A. (2023). A COMPETENT APPROACH TO THE TRAINING OF LAWYERS IN "CYBERTERRORISM". Pedagogy and Education Management Review, (1), 29–43. https://doi.org/10.36690/2733-2039-2023-1-29
Section
THEORY AND METHODS OF VOCATIONAL EDUCATION
License
This work is licensed under a Creative Commons Attribution 4.0 International License.