LEGAL ASPECTS OF STATE REGULATION OF INVESTMENT ACTIVITY
Keywords:
state regulation, investment activity, investments, economic growth, investment partnership, investment policy
Abstract
In the article the basic principles of state regulation of investment processes in country, and the stimulation prospects of attracting investment into the economy are analyzed. The purpose of the article is to develop specific measures to improve public policy on investment and increase investment in the economy. The author used system method of scientific research, as well as method of analysis and synthesis. A necessary condition for attracting a sufficient amount of investment is a high level of investment attractiveness, which is based on the legal framework of state regulation of investment activities and the stability of economic processes. The tendencies of investment policy at the present stage of development of the economy and developed measures to support domestic producers, the preservation and growth of social and economic potential of the regions, providing expanded reproduction, stabilization and support economic growth are studied. The use of investment partnerships as an implement of state policy that will allow to use available economic resources of the country efficiently is offered.
References
Transnational Corporations: The International Legal Framework, UNLTNC, 205.
Bradlow D. and Escher A. (eds), 1999. Legal Aspect of Foreign Direct Investment.
Brewer T.L. and Young S. 1998.
Fernandez, P. and Bilan, A. 2013. 110 Common Errors in Company Valuations. International Journal of Economics & Business Administration, 1(1), 33-78.
See 'CFIUS Annual Report to Congress' for CY 2019, available at https://home.treasury.gov/system/files/206/CFIUS-Public-Annual-Report-CY-2019.pdf.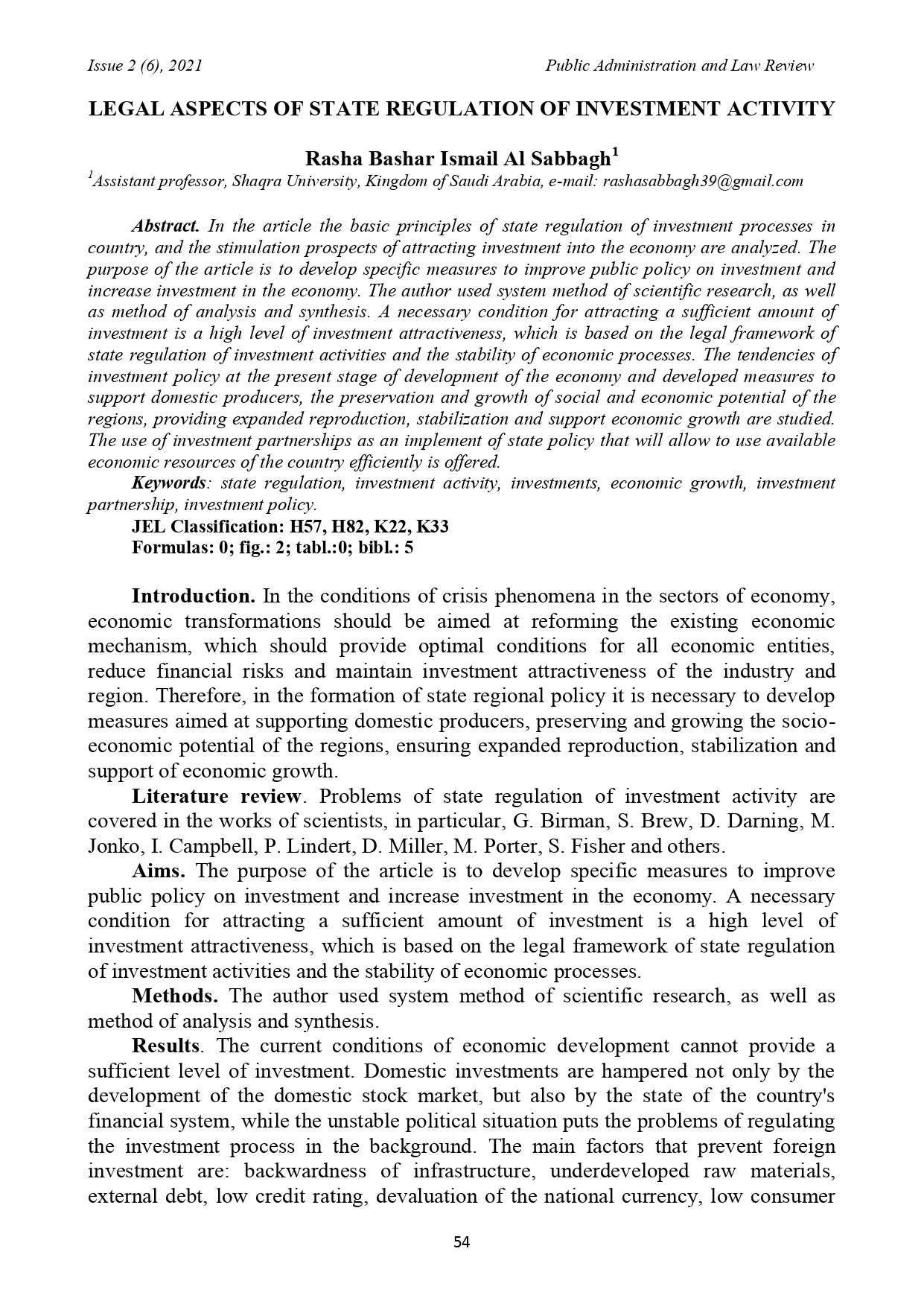 Downloads
How to Cite
Al Sabbagh, R. B. I. (2021). LEGAL ASPECTS OF STATE REGULATION OF INVESTMENT ACTIVITY. Public Administration and Law Review, (2), 54–59. https://doi.org/10.36690/2674-5216-2021-2-54
Section
CHAPTER 2. LEGAL RELATIONS: FROM THEORY TO PRACTICE
License
Copyright (c) 2021 "Scientific Center of Innovative Researches" OÜ
This work is licensed under a Creative Commons Attribution-NonCommercial-NoDerivatives 4.0 International License.