DEVELOPMENT OF LEGAL TOOLS OF STATE MANAGEMENT IN THE FIELD OF ENSURING BIOLOGICAL SAFETY IN UKRAINE
Keywords:
biological safety, legal liability, punishment, biological technologies, laboratory safety
Abstract
The paper is dedicated to issues on improving legal tools of state management in the field of providing biological safety in Ukraine. It is emphasized that establishing of measures of relevant legal liability has to be considered as effective means for providing appropriate state of biological safety and stimulation of lawful conduct of all subjects. Issues of lawful conduct in the field of providing biological safety have exclusively applied nature and often stipulate activities of researchers in the field of biological technologies, and entrepreneurs who are involved into the relevant direction of commercial use of biological technologies. It is outlined, that liability is an effective tool for legal influence on social relationship aimed to providing of biological safety. In our opinion, functions of legal liability in the field of providing biological safety have to include the next ones, namely: preventive (protective, of a warning character) which boils down to preventing new offenses, precautions; penalty (punitive) which boils down to punishing the guilty person, the meaning of which is imposing measures of negative consequences of a personal, property or organizational nature (material fines, prohibitions on conducting research or carrying out production) to them; restorative (compensatory) which aims to restore illegally violated property or personal rights, compensation for material or moral damage, losses (in case of socially negative consequences). It is indicated, that improving the mechanism of legal liability for biological safety involves updating the legislation on largely all types of liability known in modern legal theory. These types of liability are as follows: civil (in the case of compensation for material and moral damage); criminal (in the case of application of measures of influence of criminal  and legal character; it can be applicable to both legal entities and individuals); administrative (in the case of less social harm of the offense); disciplinary (in case of violations of labour duties).
References
Alekseev, N. N. (1998), Osnovy filosofii prava [Fundamentals of philosophy of law], St. Petersburg, Russia, 216 p.
Holubovskyi, V. (2011), "Legitimate behavior - a condition for stable development of society (philosophical and legal aspect)", Pidpryiemnytstvo, hospodarstvo i pravo, №11, pp. 29-32.
Hulievska, H. Yu. and Serhieieva, S. M. (2011), "Bioethics and human rights: international legal aspect", Forum prava, № 3, pp. 196–200.
Dokumenty katolytskoi tserkvy pro shliub ta simiu. Vybrane vid Leva KhIII do Ivana Pavla II [Catholic Church documents on marriage and family. Selected from Leo XIII to John Paul II], LBA, Lviv, Ukraine, 169-170 pp.
Tsvik, M. V. Petryshyn, O. V. and Avramenko, L. V. and other (2009), Zahalna teoriia derzhavy i prava [General theory of state and law], Prawo, Kharkiv, Ukraine, 385 p.
Lypynskyi, D. A. (2003), Problemy yuridicheskoj otvetstvennosti [Problems of legal liability], Yurydycheskyi tsentr Press, St. Petersburg, Russia, 11 p.
Omelchuk, O. M. (2012), Povedinka liudyny: sotsialno-pravovyi vymir [Human behavior: the socio-legal dimension], Khmelnytskyi universytet upravlinnia ta prava, Kharkiv, Ukraine, 384 p.
Radchenko, O. V. and Radchenko, O. O. (2018), "The ontological essence and anthropological nature of the societal phenomenon of state power", Visnyk Natsionalnoi akademii Derzhavnoi prykordonnoi sluzhby Ukrainy (Seriia "Derzhavne upravlinnia"), №2, retrieved from : https://nadpsu.edu.ua/wp-content/uploads/2018/12/visnik_2_2018_du.pdf.
Akimov, O. (2020). Public administration: robustness and the systemic genesis aspect. Public Administration and Law Review, (1), 46-54. https://doi.org/10.36690/2674-5216-2020-1-46-54.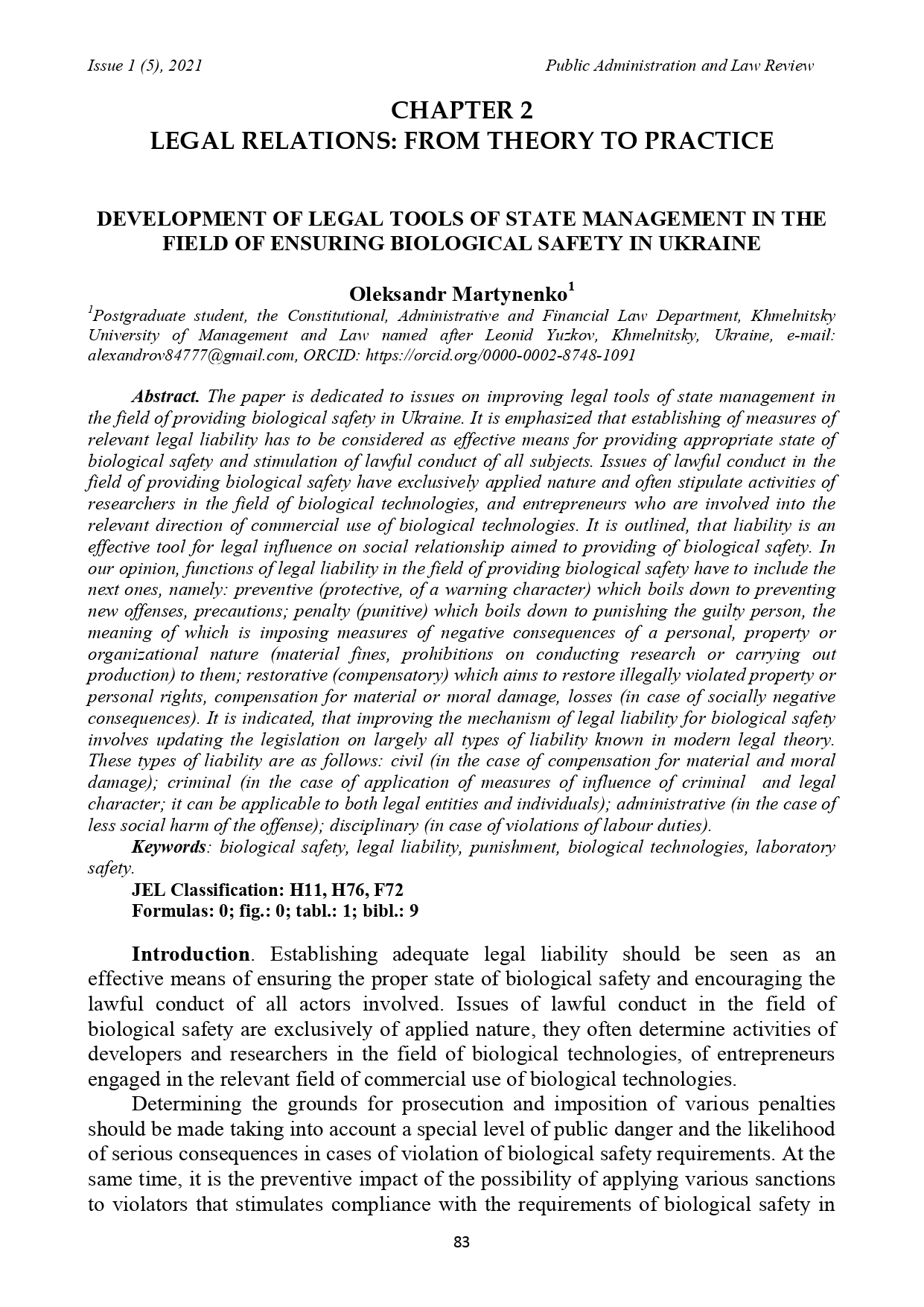 Downloads
How to Cite
Martynenko, O. (2021). DEVELOPMENT OF LEGAL TOOLS OF STATE MANAGEMENT IN THE FIELD OF ENSURING BIOLOGICAL SAFETY IN UKRAINE. Public Administration and Law Review, (1), 83–91. https://doi.org/10.36690/2674-5216-2021-1-83
Section
CHAPTER 2. LEGAL RELATIONS: FROM THEORY TO PRACTICE