PECULIARITIES OF THE TRANSFORMATION'S PROCESS MANAGEMENT OF MEDICAL INSTITUTIONS OF CHILDREN'S INSTITUTIONAL CARE AND UPBRINGING INTO AN INCLUSIVE ENVIRONMENT FOR CHILDREN WITH DISABILITIES
Keywords:
public administration, children, social services, medical services, deinstitutionalization, inclusion, institutional institution, medical institution, evaluation, reform, decentralization
Abstract
The effective implementation of the deinstitutionalization and transformation reform of institutions of children's institutional care and upbringing is currently one of the priorities of the state's social policy, because the future renewal of the country's human resources potential and further prosperity and well-being of Ukraine depends on the ability to socialize children and provide quality social, medical, educational services for children and families with children and their harmonious development. In accordance with the principles of deinstitutionalization and decentralization reform, local governments have to ensure the development of all types of health care, development and improvement of the medical institutions network, determining the need and forming orders for staff for these institutions, provision in accordance with the legislation of privileged categories of the population with medicines and medical devices, including families with children with disabilities (Article 32 of the Law of Ukraine "On Local Self-Government in Ukraine"). At the same time, the health care institutions network should be formed taking into account the needs of the population in medical care, the need to ensure the proper quality of such services, timeliness, accessibility for citizens, efficient use of material, labor and financial resources (Article 16 of the Fundamentals of the Legislation of Ukraine on Health Care). Adhering to the above principles in the Lviv region to comply with the order of the head of the Lviv regional state administration № 719/0/5-19 from 05.07.2019 "On conducting a comprehensive assessment of the municipal institution of the Lviv regional council" in "Orphanage № 2 for children with central nervous system disorders and mental disorders" in the period from July 22 to October 21, 2019 was carried out a comprehensive assessment process in order to further transform this institution. The results of this assessment and medical statistics provided an opportunity to analyze the need of Lviv region for inclusive medical rehabilitation services for children and families with children.
References
Informatsiia z ofitsiinoho saitu Tsentru medychnoi statystyky Ministerstva okhorony zdorovia Ukrainy. [Information from the official website of the Center for Medical Statistics of the Ministry of Health of Ukraine.] (2019). URL: http://medstat.gov.ua/ukr/main.html [Ukraine]
Informatsiia z ofitsiinoho saitu Upovnovazhenoho Prezydenta Ukrainy z prav dytyny. Reforma systemy internativ. [Information from the official website of the Presidential Commissioner for Children's Rights. Boarding school reform.] (2019). URL: http://diplatform.org.ua/ [Ukraine]
Pid maskoiu turboty. Zvit za rezultatamy analizu sytuatsii v budynkakh dytyny. [Under the mask of care. Report on the results of the analysis of the situation in orphanages.] (2020). URL http://hopeandhomes.org.ua/wp-content/uploads/2020/12/Zvit-PID-MASKOIu-TURBOTY.pdf [Ukraine]
Statystychnyi zvit. Lyst departamentu okhorony zdorovia Lvivskoi oblasnoi derzhavnoi administratsii do holovy Koordynatsiinoi rady z pytan zakhystu prav ditei ta realizatsii reformy systemy instytutsiinoho dohliadu i vykhovannia ditei pry Lvivskyi oblasnii derzhavnii administratsii. [Statistical report. Letter from the Department of Health of the Lviv Regional State Administration to the Chairman of the Coordination Council for the protection of children's rights and implementation of the reform of the children's institutional care and upbringing system at the Lviv Regional State Administration.] (25.12.2020)
Moisa Bohdan (2017). Propozytsii do polityky shchodo reabilitatsii osib z porushenniamy zdorovia. [Policy proposals for the rehabilitation of people with disabilities.] URL: https://parlament.org.ua/wp-content/uploads/2017/09/Propozicii_Politiki_reabilitacii_zdoroviya-1.pdf [Ukraine]
Informatsiia z ofitsiinoho saitu sluzhby u spravakh ditei Lvivskoi oblasnoi derzhavnoi administratsii. [Information from the official website of the Children's Service of the Lviv Regional State Administration.] (2020). URL: https://loda.gov.ua/di_reforma_zarady_ditey_lvivshchyny [Ukraine]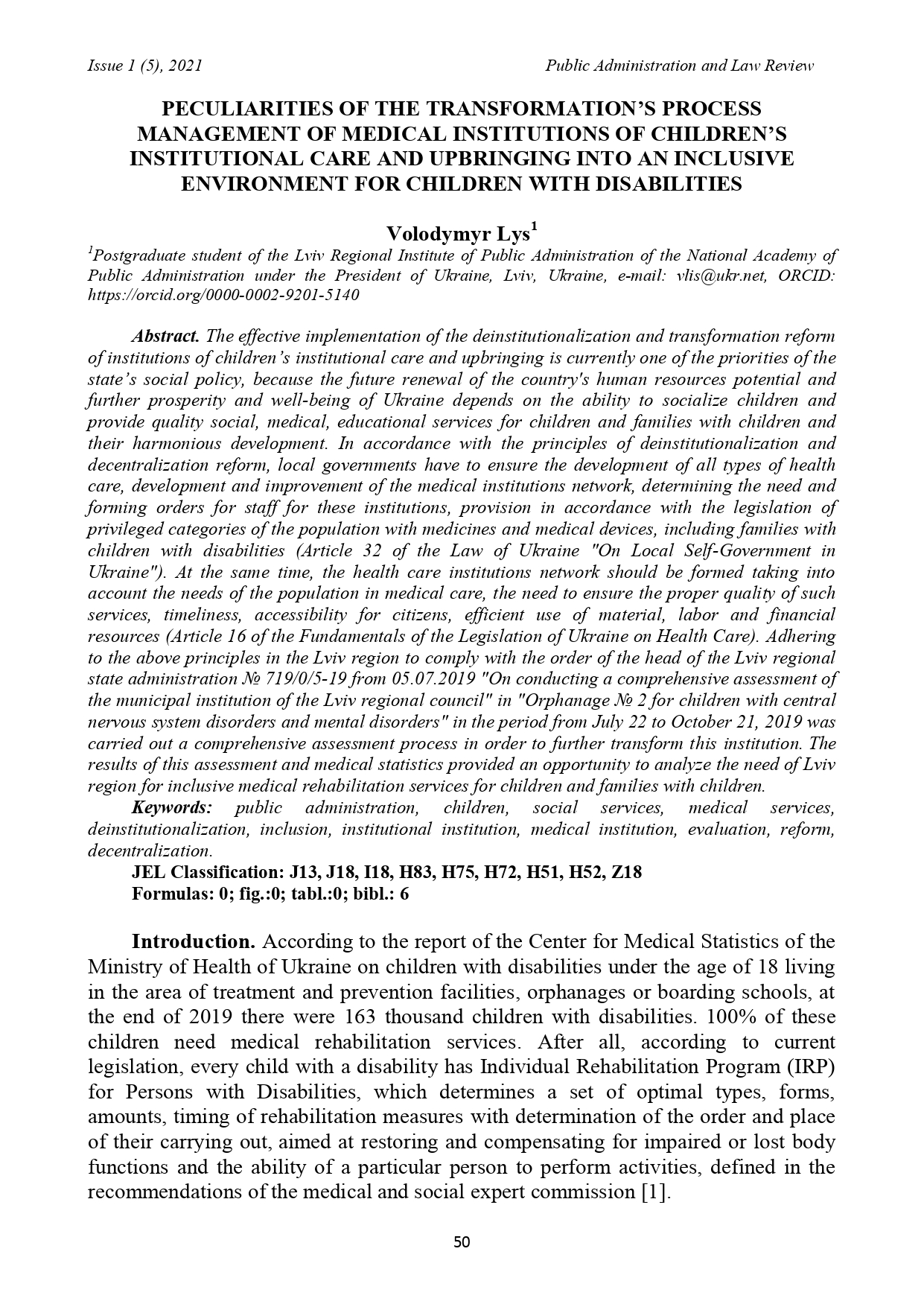 Downloads
How to Cite
Lys, V. (2021). PECULIARITIES OF THE TRANSFORMATION'S PROCESS MANAGEMENT OF MEDICAL INSTITUTIONS OF CHILDREN'S INSTITUTIONAL CARE AND UPBRINGING INTO AN INCLUSIVE ENVIRONMENT FOR CHILDREN WITH DISABILITIES. Public Administration and Law Review, (1), 50–60. https://doi.org/10.36690/2674-5216-2021-1-50
Section
CHAPTER 1. MODERN TRENDS IN PUBLIC ADMINISTRATION