ISLAM IN THE STATE SECURITY POLICY OF MUSLIM COUNTRIES: PROBLEMS AND TRENDS
Oleksandr Aulin

KROK University
Keywords:
public policy, securitization of Islam, government agencies, government, radical Islamists, Salafists, ideology
Abstract
The relevance of the article is that today more and more countries are suffering from terrorist attacks and other manifestations of religious and ethnic intolerance. The purpose of the article is to analyze the security sector of the state policy of the leading Muslim countries on Islam with the identification of the most successful approaches that can be used by the state authorities to prevent the manifestations of radical Islamism in Ukraine. Based on the objectives of the study, methods of system analysis, structural-functional and analogy method in public administration were used. As a result, the structural features of the securitization of Islam, as well as the conditions and principles of its application in the public policy of leading Muslim countries. Causal links have been established that have influenced the need to counter radical Islamism. The main ways to solve the problem are identified, taking into account the relationships and structural-functional features of the environment identified during the study. Biggest part of such actions is carried out by supporters of Islam, a significant number of whom also live in modern Ukraine. In this context, it is important to have an objective view of the situation in Muslim communities, where radical Islamists make up a small percentage and, moreover, have a big number of opponents.  Most often they are public authorities. The security policy of Muslim states is twofold. First, measures are taken to spread their influence abroad by disseminating their own interpretation of the holy Islamic books, while leveling similar activities by other Muslim countries in their information space. Second, countering local radical Islamism in the system of state security policy is ensured through the securitization of Islam. Measures to securitize Islam in leading Muslim countries are systemic, well-coordinated, and use all available resources. In order to improve Ukraine's state policy on Islam, the most effective practices of securitization of Islam, tested in the leading Muslim countries, have been proposed.
References
Aulin O.A., Brilov D.V., Prorochenko N.O., Yarosh O.A. (2019). Islam i politika: ideologiya, ruhi, organizaciyi [Islam and politics: ideology, movements, organizations]. Kyiv: DEONIS PLUS Ltd
Aslı Aydıntaşbaş (2018). Kendi elimizle Afganistan kuruyoruz Retrieved from https://www.cumhuriyet.com.tr/koseyazisi/948171/Kendi_elimizle_Afganistan_kuruyoruz.html
Khaled A. Beydoun (2018). The Saudi regime does not represent Islam. Retrieved from https://www.aljazeera.com/opinions/2018/10/20/the-saudi-regime-does-not-represent-islam/
Barry Buzan, Ole Weaver, Jaap de Wilde (1998). Security: A New Framework for Analysis. Boulder, CO: Lynne Rienner
Dedok N. (2019). Narodnye modzhahedy «Mudzhahidin Halk» [People's Mujahideen "Mujahideen Hulk"]. Moscow, St. Petersburg: Samoopredelenie. Retrieved from https://avtonom.org/freenews/ narodnye-modzhahedy-mudzhahidin-halk-novaya-kniga-izdatelstva-samoopredelenie
6. M. Faradzhallah (2014). Ministerstvo po delam religii Egipta i universitet «Al-Azhar» ne imeyut otnosheniya k VAOO «Alraid» [Egyptian Ministry of Religious Affairs and Al-Azhar University have nothing to do with AJSC Alraid]. Retrieved from http://arab.com.ua/ru/news/132905
A.A. Kondral (2020). Koncepciya gosudarstvennogo upravleniya v ideologii associacii «Bratev-musulman» [The concept of public administration in the ideology of the Muslim Brotherhood Association]. Retrieved from https://www.researchgate.net/publication/342354479_Koncepcia_gosudarstvennogo_upravlenia_v_ideologii_associacii_Bratev-musulman
Kosach G. (2013). Saudovskaya Araviya: vlast, ulemy i antisistemnaya oppoziciya [Kosach G. Saudi Arabia: Power, Ulema and Anti-System Opposition]. Retrieved from https://cyberleninka.ru/article/n/saudovskaya-araviya-vlast-ulemy-i-antisistemnaya-oppozitsiya-bogoslovsko-politicheskiy-otvet-protivnikam-rezhima/
Ali Hosseini Khamenei (2015). Leader's Speeches in 26th commemoration ceremony of Imam Khomeini. Retrieved from http://en.imam-khomeini.ir/en/c103_ 11963/egallery/Leader_s_Speeches_in_26th_commemoration_ ceremony_of_ Imam_ Khomeini/page20.
Ali Younes (2016). Jordan's Islamists hopeful about making electoral gains. Retrieved from https://www.aljazeera.com/news/2016/9/20/jordans-islamists- hopeful- about-making-electoral-gains.
Jewel Topsfield, Karuni Rompies (2017). Indonesia bans Islamic organisation Hizbut Tahrir to protect Pancasila. Retrieved from https://www.smh.com.au/world/i ndonesia-bans-islamic-organisation-hizbut-tahrir-to-protect-pluralism-20170719-gxeaae.html.
Mawlood, S. (2020). Global view of the main reasons terrorism emergence. Public Administration and Law Review, (3), 95-108. https://doi.org/10.36690/2674-5216-2020-3-95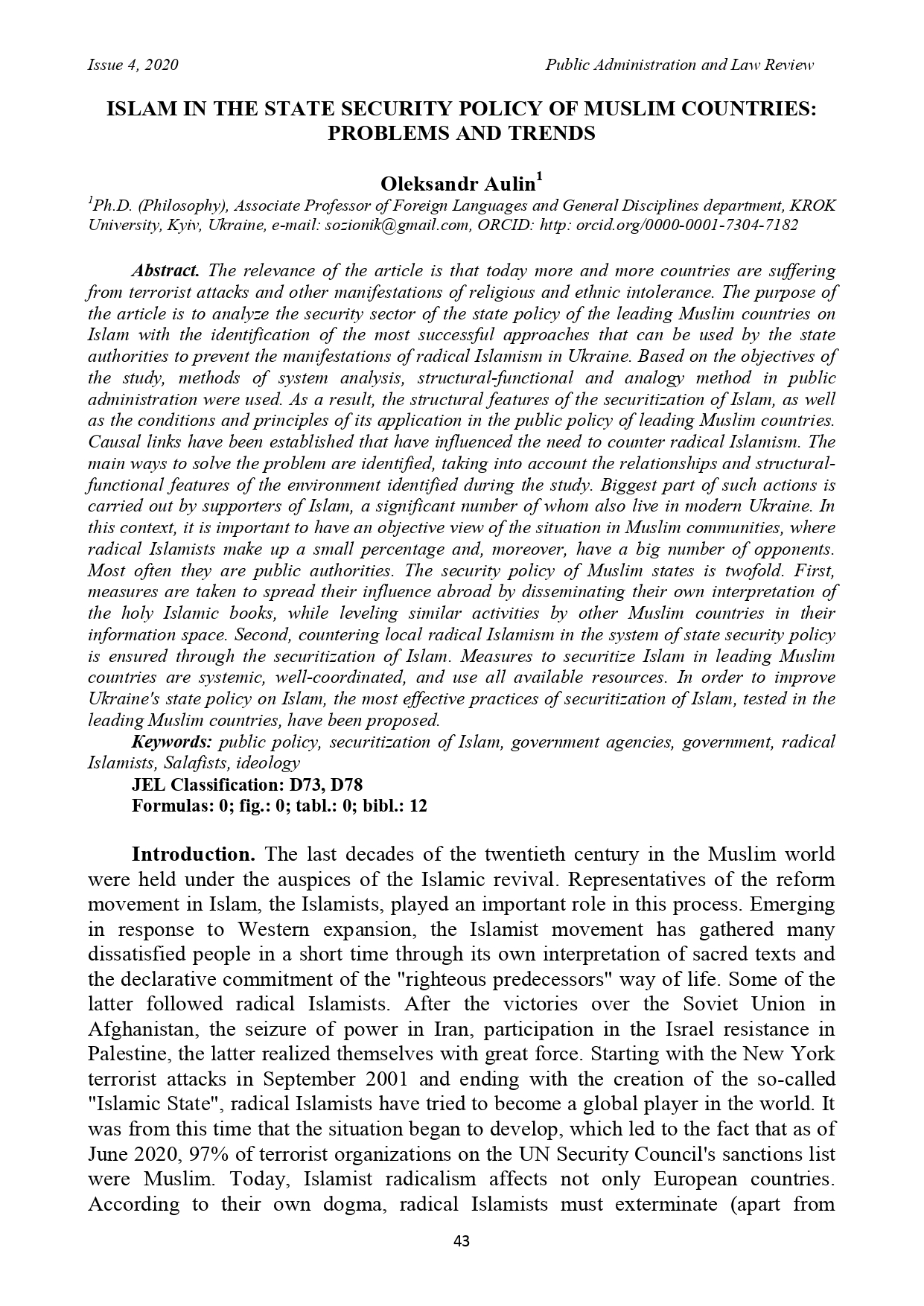 How to Cite
Aulin, O. (2020). ISLAM IN THE STATE SECURITY POLICY OF MUSLIM COUNTRIES: PROBLEMS AND TRENDS. Public Administration and Law Review, (4), 43-48. https://doi.org/10.36690/2674-5216-2020-4-43
Section
CHAPTER 1. MODERN TRENDS IN PUBLIC ADMINISTRATION
Copyright (c) 2020 Scientific Center of Innovative Researches OÜ
This work is licensed under a Creative Commons Attribution-NonCommercial-NoDerivatives 4.0 International License.