THE INFLUENCE OF THE MEDIA ON THE MENTAL STATE OF YOUNG PEOPLE
Keywords:
mass media, mental influence, crime, criminality
Abstract
The article analyzes the concept and content of the media, and how the media affect the mental state of young people. Identified scientists dealing with this issue. It is defined how the media influences the further behavior of young people, namely the choice of idols, style of clothing, profession. What factors are used to influence, namely: TV stars, songs in another language. The media exert social, cultural and psychological influence on society, shaping the needs of people and these needs are not always related to material goods. It is analyzed how the media influences the criminal behavior of young people and with the help of which factors.
Downloads
Download data is not yet available.
References
Rybakova L.N. The life line of a young person: value orientations and coping strategies // Personal values: collection of articles. scientific. tr. int. scientific-practical seminar "Personality in the modern world: to be or to seem?" International scientific conference. Dulatov readings (Kostanay, April 11-12, 2014) Retrieved from: https://www.isras.ru/index.php?page_id=1198&id=3131&printmode.
Yurchenko V.M. & etc. (2011). Problems of sustainable development of regions: information security of a multi-ethnic society (based on materials from the South of Russia). 244 p., pp. 167–168.
Sorokin P.A. (1992). Person. Civilization. Society.
Sukhniv V.I. (2009). Internet Control: Trend and Practice. The strategy of the Russian. No. 2., P. 79–88.
The case of Varvara Karaulova. (2020). Retrieved from: https://ru.wikipedia.org/?oldid=106587796.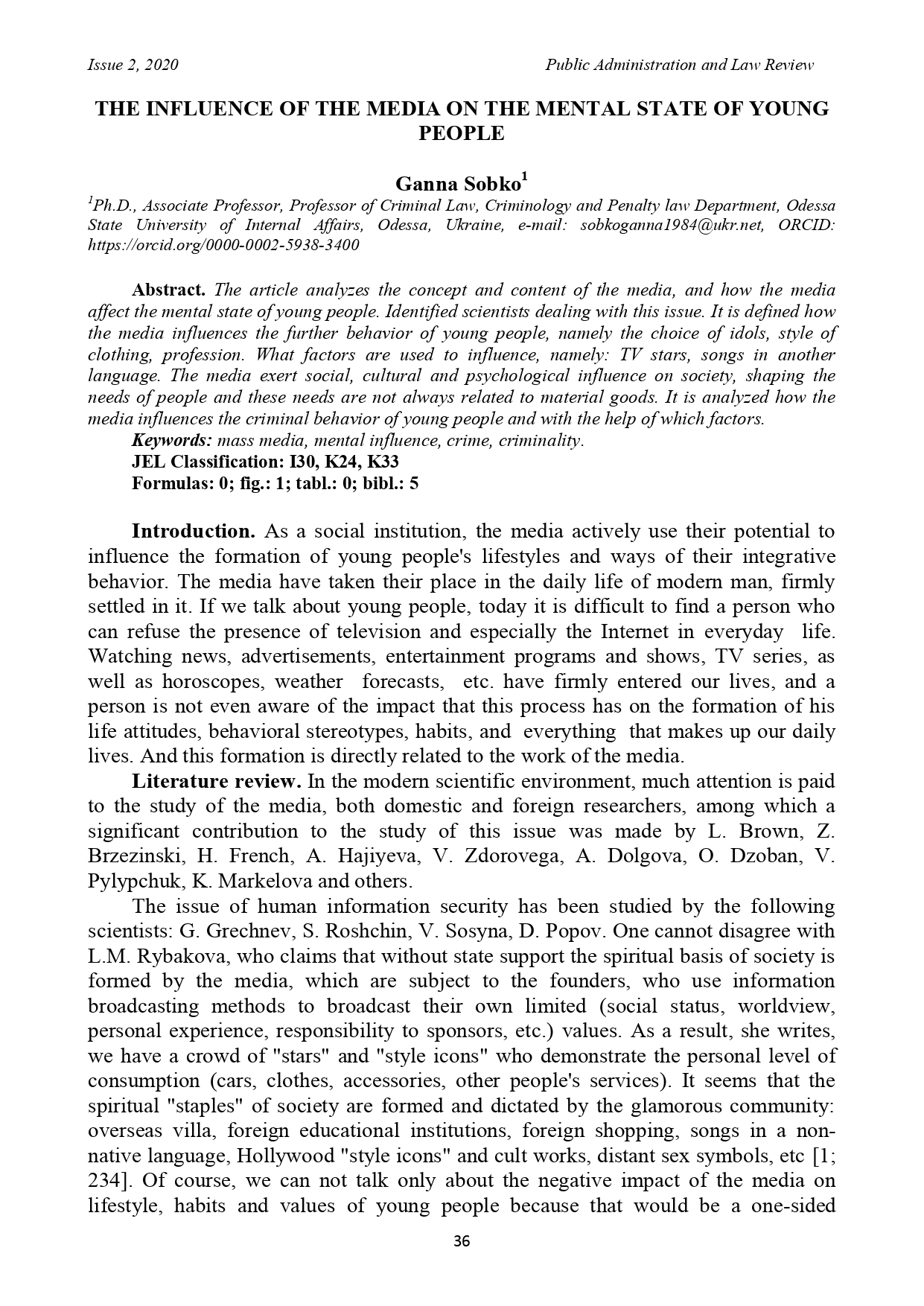 Downloads
How to Cite
Sobko, G. (2020). THE INFLUENCE OF THE MEDIA ON THE MENTAL STATE OF YOUNG PEOPLE. Public Administration and Law Review, (2), 36–41. https://doi.org/10.36690/2674-5216-2020-2-36
Section
CHAPTER 2. LEGAL RELATIONS: FROM THEORY TO PRACTICE
License
Copyright (c) 2020 Scientific Center of Innovative Researches OÜ
This work is licensed under a Creative Commons Attribution 4.0 International License.