SPECIALIST IN PHYSICAL TRAINING: ESSENTIAL CHARACTERISTICS
Keywords:
profession, specialty, qualification, specialist in physical education, professional activity
Abstract
On the basis of scientific resources the article gives the analysis of following concepts: «profession», «specialty», «qualification» and «specialist». Different approaches to treating these concepts in the modern science are revealed in the article. The structural components of professionally aimed individual are allocated and analyzed in details: professional orientation, professional competence, professionally important qualities and professionally important physiological properties. The meaning of the concept «a specialist in physical training» is given in the article as well as the list of main competences of graduates of higher educational institutions of physical training and teacher training direction. Among them great attention is paid to: forming the basis of rational behavior, aesthetic norms and skills in the training process; assistance in labor, intellectual and aesthetic education of pupils during the lesson of physical training; forming the essentials of self-behavior of an individual in the process of physical training. The criteria of readiness for professional activity of the modern professional in physical training are defined: forming the basic and professional economic culture of the individual of an employee; value-semantic orientations; attitude to the profession; forming the systemic integrational skills; the awareness about peculiarities of the region and regional peculiarities of the system of physical education; willingness to participate in development of the market field; the acceptance of responsibility for their own career; willingness to provide competition using moral methods; realizing by the specialist the scientific reduction of basic theories into elaboration of conceptual fundamentals of professional activity in conditions of market economy.
Downloads
Download data is not yet available.
References
Arshava, І.F. (2019). Age aspect of psychological rehabilitation potential of patients with depressive disorders and its influence on the process of rehabilitation . Science and education a new dimension. Series : Pedagogy and Psychology. Vol. VII (77), Issue: 188. Budapest : Society for Cultural and Scientific Progress in Central and Eastern Europe, pp. 77 – 79.
Bengel, J. (2018) Education, advanced and further training in the field psychology in rehabilitation . Rehabilitation (Stuttg). Vol. 53(2), pp. 124 – 130.
Bennabi D. (2015). Risk factors for treatment resistance in unipolar depression. A systematic review . J. Affect. Disord. Vol. 171, pp. 137 – 141.
Bohlmeijer, E. (2011). Efficacy of an early intervention based on acceptance and commitment therapy for adults with depressive symptomatology: Evaluation in a randomized controlled trial. Behav Res Ther. Vol. 49(1), pp. 62 – 67.
Caza, A. (2010). Psychological capital and authentic leadership. Asia-Pacific Journal of Business Administration. Vol. 2, №.1, pp. 53 – 70.
Christian, A. (2011) Coping style as a mediator of the relationship between depressive symptoms and deliberate self-harm. Crisis. Vol. 32, № 5, pp. 272 – 279.
Chung, J. (2018). Relationships among resilience, self-esteem, and depressive symptoms in Chinese adolescents. J. Health Psychol. Vol. 19, pp. 13 – 59.
Constand, M.K. (2014). Scoping review of patient-centered care approaches in healthcare. BMC Health Serv Res. Vol. 14, pp. 271–272.
Coventry, P. (2015). Integrated primary care for patients with mental and physical multimorbidity: cluster randomised controlled trial of collaborative care for patients with depression comorbid with diabetes or cardiovascular disease . BMJ. Vol. 350, pp. 637– 638.
Culbertson, S. (2010). Feeling good and doing great: The relationship between psychological capital and well-being. Journal of Occupational Health Psychology. Vol.15. № 4, pp. 421 – 433.
Burlakova, I, Sheviakov, O. (2021). Psychologycal predictors of the formation of health-preserving competentmess of future specialists. Public administration and Law Review. 4(8), pp. 74-79.
Sheviakov, O. Burlakova, I, Kornienko V.,Vakulik V., Slavska Y. (2022). The history of medicine as an element of the psychoprophylaxis of the crisis of professional training among veterinary medical specialists. Public administration and Law Review. 3(11), pp. 77-85.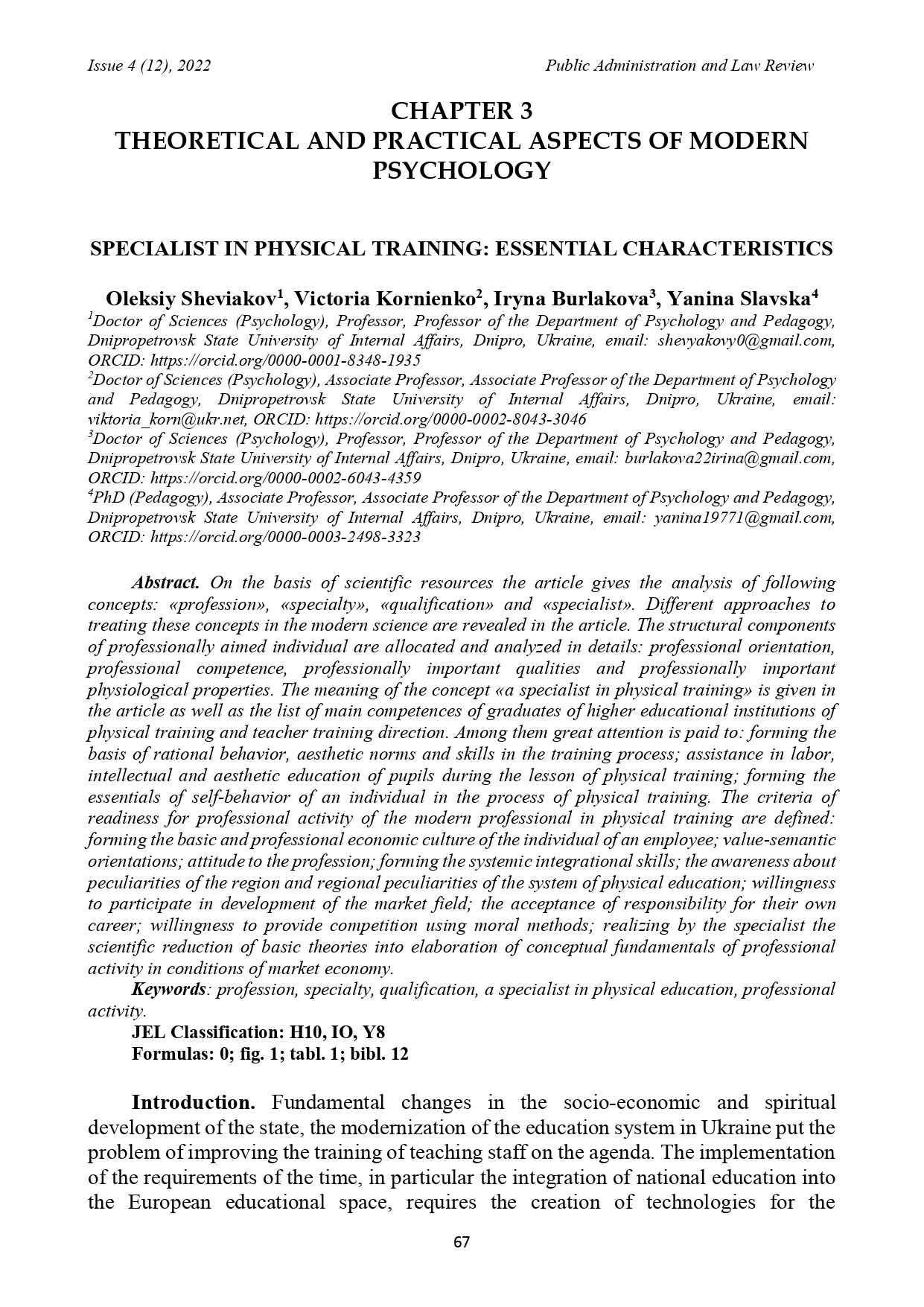 Downloads
How to Cite
Sheviakov, O., Kornienko, V., Burlakova, I., & Slavska, Y. (2022). SPECIALIST IN PHYSICAL TRAINING: ESSENTIAL CHARACTERISTICS. Public Administration and Law Review, (4), 67–74. https://doi.org/10.36690/2674-5216-2022-4-67
Section
CHAPTER 3. THEORETICAL AND PRACTICAL ASPECTS OF MODERN PSYCHOLOGY
License
Copyright (c) 2022 Oleksii Sheviakov, Victoria Kornienko, Iryna Burlakova, Yanina Slavska
This work is licensed under a Creative Commons Attribution 4.0 International License.