MECHANISMS OF PUBLIC SERVICES DELIVERY: THE EUROPEAN EXPERIENCE FOR UKRAINE
Keywords:
state-administrative reforms, decentralization, development of the state strategic planning, innovative reform technologies, public-private partnership, government, business, public sphere
Abstract
The academic paper presents a review of the conditions and methods of using the European experience of providing public services by state authorities in Ukraine. The development and implementation of effective mechanisms for the provision of services at various levels of administration and the state management is an urgent issue for modern Ukraine. Primarily, it is an analysis and adaptation of the European experience of administration to the conditions and features of the Ukrainian statehood development. The purpose of the research is to highlight foreign experience in public services delivery and algorithms for its adaptation to the realities of public administration in Ukraine. The research methodology contemplates an integrated approach; methods of analysis and synthesis, as well as methods of interdisciplinary research have been also used. As a result, it has been established that the general experience of European countries, which should be taken into account by Ukraine, is the direction towards a transparent, effective policy of organizing the provision of public services, reforming the legislative framework, and partnership. In practice, this makes it possible to implement the citizens' rights and freedoms, to meet the needs of the society as a whole, to direct the work of the authorities towards achieving results in public administration. The further perspective of the research in the administration sphere lies in determining the ways of implementing the best foreign experience in the provision of public services and their adaptation to the realities of public administration and legislation in Ukraine.
References
Bukhanevich, O.M. (2016). Theoretical, legal and praxeological principles of providing administrative services in Ukraine. Unpublished manuscript, Kyiv, Ukraine, 42 p.
Europe 2020. (2010). A strategy for smart, sustainable and inclusive growth. Brussels: European Commission, 34 p. Retrieved from URL: http://eur-lex.europa.eu/LexUriServ/LexUriServ.do?uri=
Law on the peculiarities of the provision of public services (2021). Retrieved from URL: On the peculiarities of providing publ ... | as of 15.07.2021 № 1689-IX (rada.gov.ua)
Zaidel, M. (2012). Public-private partnership: European experience and Ukrainian realities. Bulletin of V.N. Karazin KhNU, series "Issues of Political Science", № 1007, 152-157
Ivanov, A.A. (2007). Administrative law of foreign countries. M.: Spark, 60 p.
Kovbasiuk, Yu., Kravchenko, S. (2014). Problems and prospects of public administration reforms in Ukraine at the present stage. NAPA Bulletin, 4, 5-16
Kolodii, A. (2016). The problem of choosing the form of state governance in Ukraine (in the context of constitutional reform). Scientific notes of the Institute of Political and Ethnonational Studies named after I.F. Kuras NAS of Ukraine, 3-4 (83-84), 187-211.
Manzhula, A. (2017) Implementation of foreign experience in providing public services in the domestic legislation of Ukraine as one of the areas of education reform. Journal "ScienceRise: Juridical Science", 2(2), 45-49. doi: 10.15587/2523-4153.2017.118829
Malynovskyi, V. Ya. (2008). Current state and prospects of public administration reform in Ukraine. NAPA Bulletin, 1, 15–22.
Regulski, J. (2003). Local government reform in Poland: an insider's story. Budapest: OSI/LGI, 263. Retrieved from URL: http://lgi.osi.hu/publications_datasheet.php?id=245
Tyshchenkova, I.O. (2015). Classification of electronic services provided by public administration bodies. Scientific Bulletin of Uzhhorod National University. "Law" Series, 3, 32, 70–74.
Filipova, N.V. (2015). Changing the relationship between the concepts of "state administration", "public administration", "public governance" in the system of social-political transformation. State administration: improvement and development, 6. Retrieved from URL: http://www.dy.nayka.com.ua/?op=1&z=865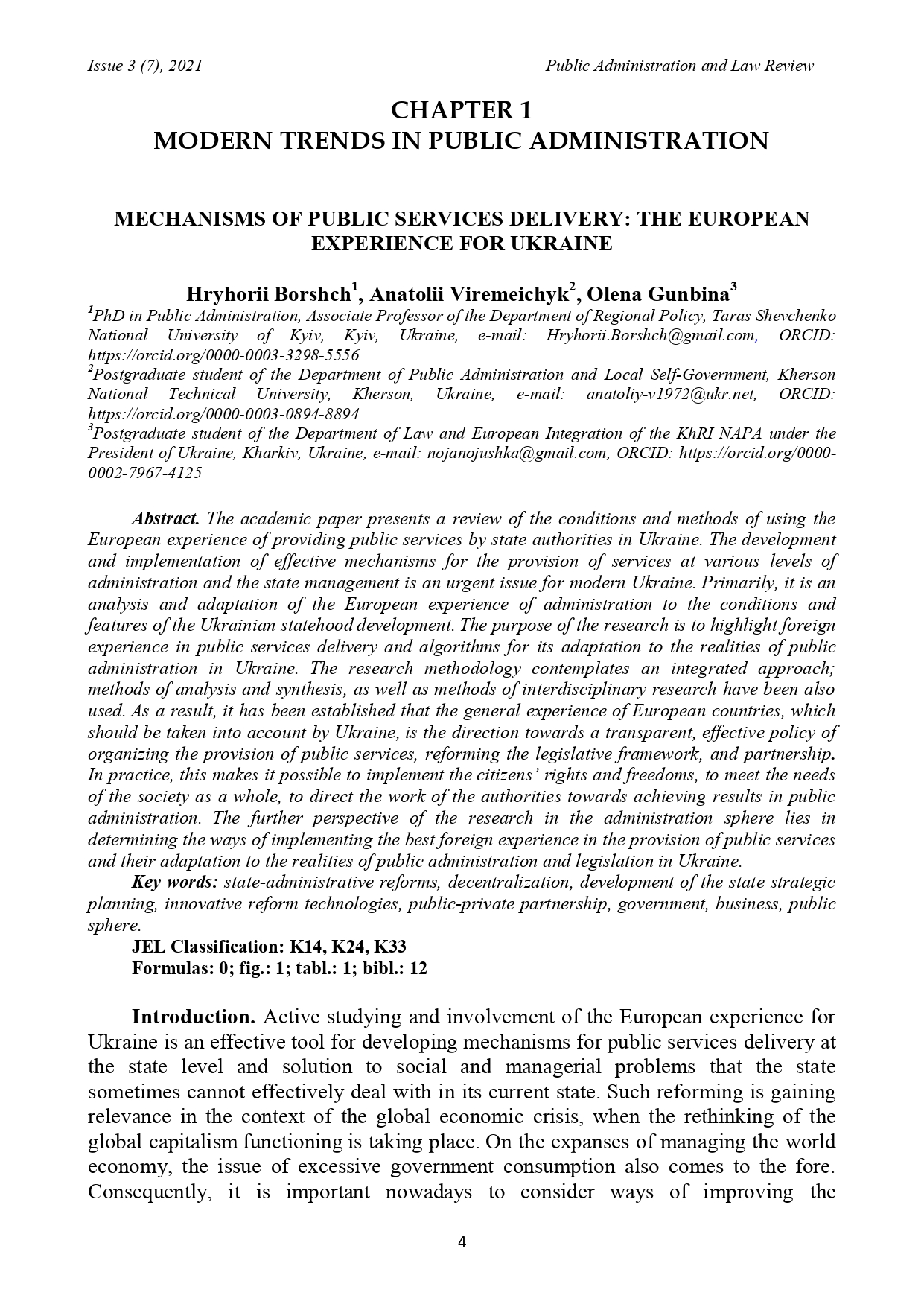 Downloads
How to Cite
Borshch, H., Viremeichyk, A., & Gunbina, O. (2021). MECHANISMS OF PUBLIC SERVICES DELIVERY: THE EUROPEAN EXPERIENCE FOR UKRAINE. Public Administration and Law Review, (3), 4–10. https://doi.org/10.36690/2674-5216-2021-3-4
Section
CHAPTER 1. MODERN TRENDS IN PUBLIC ADMINISTRATION
License
Copyright (c) 2021 "Scientific Center of Innovative Researches" OÜ
This work is licensed under a Creative Commons Attribution-NonCommercial-NoDerivatives 4.0 International License.