DISTANCE EDUCATION FOR LAW STUDENTS IN THE ARAB WORLD: TRENDS AND ISSUES
Keywords:
distance learning, law students, Information and Computer Technology, distance learning benefits, problems in the practice of using ICT, barriers to the development of distance learning
Abstract
The purpose of this study is to show how e-learning is being developed in the Arab world and its relevance to the issues of general and higher education in the Arab countries. The study is based on the research materials conducted in Egypt, Saudi Arabia, Jordan, Algeria. Recognizing the existing realities in the world and expressing a positive attitude to distance learning, the authors of the works described in this review analyze the opportunities and benefits of distance education for law higher education in Arab countries. They mark the flexibility and convenience of distance learning, which allows geographically dispersed students and especially those who live in areas of military conflicts, continue their education, attend a course of lectures of a leading specialist in their professional field. Among the disadvantages of this form of education the authors drew attention to the lack of live communication between students and a lecturer, implementation of group projects, selectivity of students in relation to the asynchronous communication, low saturation of distance courses in terms of content and others. It is also about the barriers that arise during the development of this sphere of education: lack of strength of the infrastructure equipment, network connection speed, difficulty of preparation and development of educational programs for law students in their native language (Arabic) and others.
References
Al-Mahdi, Suzan Mohammed. Distance education and its Hopefully role in educational institutions / research presented scientific Annual Sixteenth Congress, distance education in the Arab world, the Egyptian Society for Education and comparison, education mechanism in Boor Said, Suez Canal University, Egypt, 2008.
URL: https://kenanaonline.com/files/0100/100245/201%افتراضية20%فصول.pdf (date of application: 4.11.2020).
Al-Mousa, Abdullah bin Abdul Aziz, Al-Mobarak, Ahmed bin Abdul Aziz. E-learning principles and application, Riyadh: Humaidhi Press, 2005.
Bakhti, Ibrahim. Virtual learning Teaching and Research Center. URL: http://bbekhti.online.fr/trv_pdf/EAD.pdf (дата обращения: 19.03.2021).
Bruce J.C., Bond S.T., Jones M.E. Teaching epidemiology and statistics by distance learning // Statistics in Medi- cine. 2002. Vol. 21. P. 1009-1020.
Darwish Ehab. E-learning, features, justified, requirements, potentials. Dar Al-Sahab, Cairo, 2009.
Fahy Patrick, J. Indicators of support in online interaction // International Review of Research in Open and Distance Learning. Vol. 4, No. 1, 2003. URL: http://www.irrodl.org/contact/v5/n1/fahy.html.
Katz, Y.J., Yablon, Y.B. Online university learning: Cognitive and affective perspectives. // Campus Wide Infor- mation Systems, 2003. 20 (2).
Speed, F.M., & Hardin, H. Teaching statistics via distance: Duplicating the classroom experience // Communica- tions in Statistics: Simulation and Computation, 2001, 30 (2).
Stephenson, R.W. Statistics at a distance // Journal of Statistics Education, 9 (3), 2001. URL: http:// www.amstat.org/publications/jse/v9n3/stephenson.html (date of application: 15.03.2021).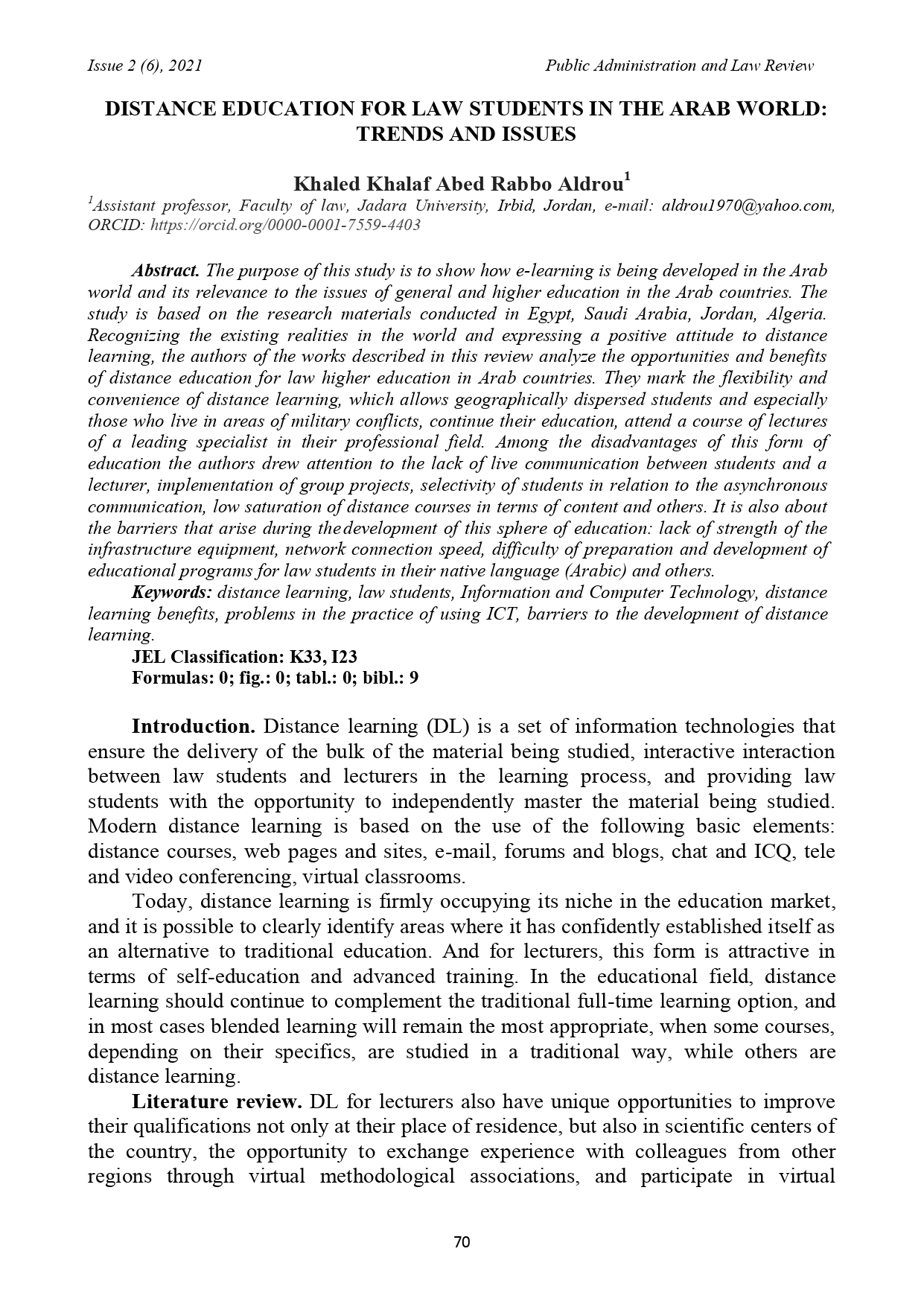 Downloads
How to Cite
Khaled Khalaf Abed Rabbo Aldrou. (2021). DISTANCE EDUCATION FOR LAW STUDENTS IN THE ARAB WORLD: TRENDS AND ISSUES. Public Administration and Law Review, (2), 70–74. https://doi.org/10.36690/2674-5216-2021-2-70
Section
CHAPTER 2. LEGAL RELATIONS: FROM THEORY TO PRACTICE
License
Copyright (c) 2021 "Scientific Center of Innovative Researches" OÜ
This work is licensed under a Creative Commons Attribution-NonCommercial-NoDerivatives 4.0 International License.