Problems of WEB technology's introduction in the informatics and mathematics future bachelors training
Keywords:
higher education, future bachelors, professional training, informatics and mathematics training, introduction of web technologies
Abstract
The article highlights the main tasks for the introduction of web technologies in the education sector. The study of the use and implementation of norms and methods of teaching future bachelors in the process of teaching mathematics and computer science courses using web resources requires special study. The introduction of web technology in the higher education system can be carried out in the following areas: support and functioning of the local network of faculties and the university as a whole; organization of the educational web portal or website, where all materials created by teachers and students can be accumulated; transferring library resources to electronic and providing access to them through the local network; involvement of all university teachers in the creation and use of open educational resources; formation of educational web space on the basis of web technologies. Each of these areas requires the availability of highly qualified personnel in the education system, and especially teachers and lecturers who would ensure the study of computer science and mathematics at the appropriate level. It becomes clear that the processes of informatization and mass global communication of society create a new social order in the higher education system for the training of computer scientists who have fundamental knowledge in computer science and mathematics and are able to use modern web technologies in future careers. Mathematical training of future specialists in computer science with the use of web resources should be cross-cutting and carried out both in the process of studying mathematical disciplines and through the introduction of appropriate special courses and workshops. It is this training that allows the future specialist to develop the appropriate skills and abilities. Systematic, purposeful use of web resources in the process of studying computer science disciplines allows students to deepen their understanding of educational material, increase learning motivation, provide creative, research direction, develop practical skills on specific material with a mandatory focus on professional tasks. to be a specialist in computer science.
References
Barber M., Donnelly K., Rizvi S. (2012) Oceans of Innovation. The Atlantic, the Pacific, Global Leadership and the Future of Education. London: Institute for Public Policy Research.
Miniwatts Marketing Group. Internet World Stats: Usage and Population Statistics, (2007), Access Mode: http://www.internetworldstats.com/.
Netcraft. Internet nachinayet umen'shat'sya [The internet starts to shrink], (2009), URL : http://e-commerce.com.ua/9492. [in Russian].
O'Reilly, T. (2005), What Is Web 2.0: Design Patterns and Business Models for the Next Generation of Software, Access Mode: http://www.oreillynet.com/pub/a/oreilly/tim/news/2005/09/30/ /what-is-web-0.html.
Obrazovaniye: onlayn-vyzovy traditsionnoy sisteme (2017), [Education: Online Challenges to the Traditional System], Prosvetitel'skiy media proyekt ob obrazovanii Newtonew [Newtonew Educational Media Project on Education], URL: https://newtonew.com/analytics/issledovanie-kak-onlajn-obrazovanie-menjaet-obrazovatelnuju-sistemu. [in Russian].
Shih, R.C. (2011), Can Web 2.0 technology assist college students in learning English writing? Integrating Facebook and peer assessment with blended learning, Australasian Journal of Educational Technology, 27, 5, 829–845.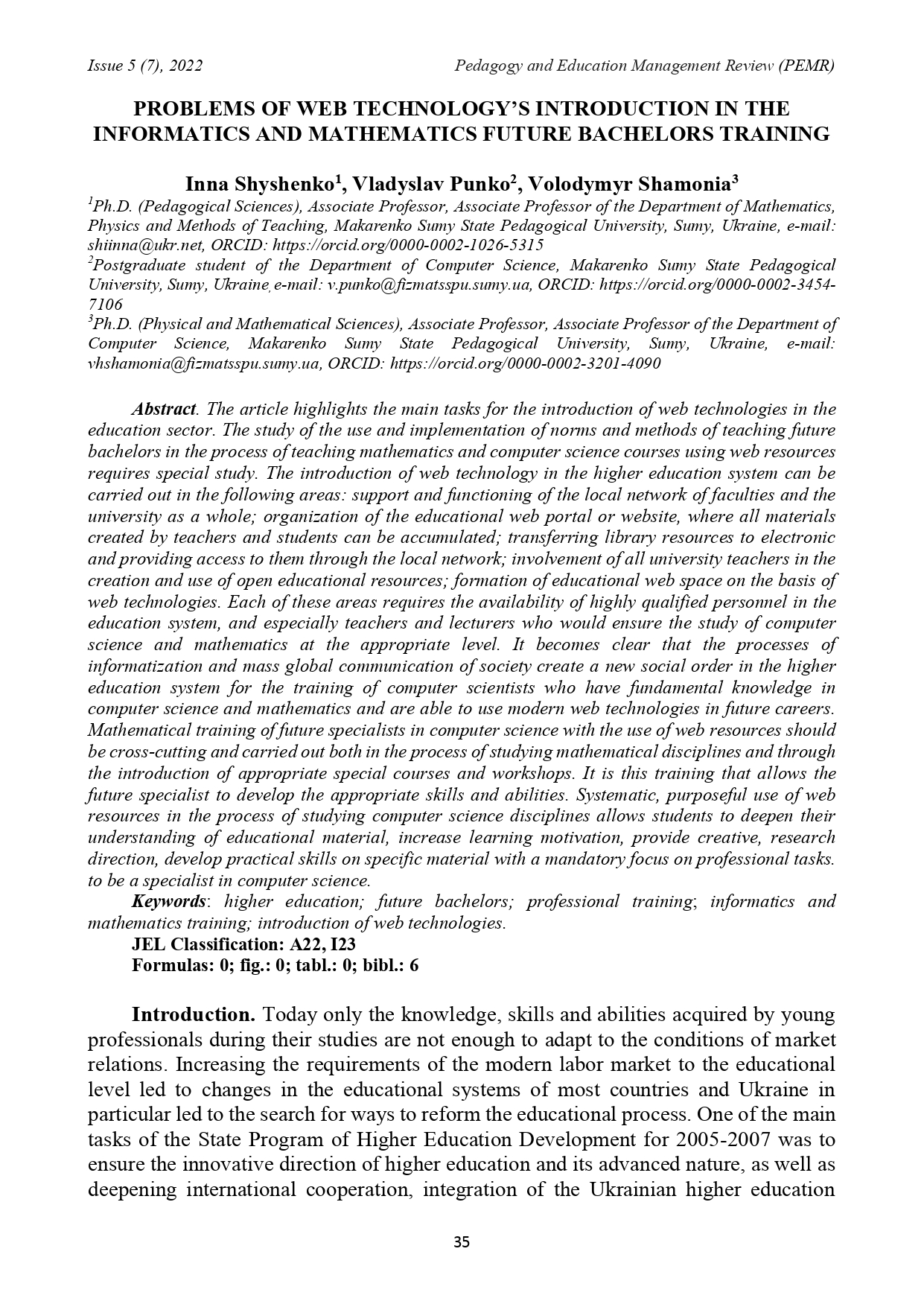 Downloads
How to Cite
Shyshenko, I., Punko, V., & Shamonia, V. (2022). Problems of WEB technology's introduction in the informatics and mathematics future bachelors training. Pedagogy and Education Management Review, (1), 35–41. https://doi.org/10.36690/2733-2039-2022-5-35
Section
THEORY AND METHODS OF VOCATIONAL EDUCATION
License
Copyright (c) 2022 "Scientific Center of Innovative Researches" OÜ
This work is licensed under a Creative Commons Attribution-NonCommercial-NoDerivatives 4.0 International License.